How to Throw a 'I Hate Valentine's Day' Party
Nishtha Asrani , NDTV | Updated: February 14, 2014 12:22 IST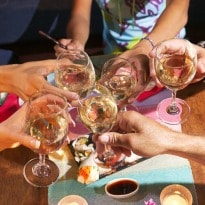 If you don't like the concept of this 'day of love' and are sick of the lovey-dovey couples around you giving each other red fluffy toys, then read on.

We are going to tell you how to throw a 'I Hate Valentines Day' Party.

Step One

Get together with your single friends. Bug them into attending this duo. You obviously don't want the party to flop.


Step Two: Menu

Chuck aside the romantic meals and get set cooking. Here's a serve one ONLY menu for all the guests. Because guess what? JOEY DOESN'T SHARE FOOD!

Drink: Beer and some more beer. Or if you prefer some cocktails.
Starters: Cheesy Nachos
Main: Personal pizza
Dessert: Cupcakes. Why cupcakes? Cupcakes are just cakes for selfish people who hate to share.
A must on the menu: Jell-O-Shots!


Step Three: Music and more

Music
One of the top songs on your playlist should be 'Love stinks' from the wedding singer.
Go easy on romantic songs because trust me no one at your party wants to get all 'Devdas' and cry out 'WHY DOESN'T SHEEE LOVEEE MEEE?'



Movies
You can rent The Godfather; He's just not that into you; My bloody valentine or The break up.


Step Four: Drinking games

TEQUILAAAAA!
Nothing else spices up a singles party than drinking games. You can play the classics like 'Never have I ever' or deviate and invent some games on your own.
Take a shot every time anyone utters the word love.
Flip through channels and every time there is a sappy movie / love special marathon on TV, everyone takes a shot.


Step Five: Dress code

No body wears red, pink, purple or any other 'love color'. People can wear whatever they want. Heck, you can even wear Homer Simpson pajamas. Nobody's gonna judge you!


Step Six: Decor

NO HEARTS. NO CUPID. NOTHING RED. THE END.

Also, advisable -



If by now you've come up with some better ideas please leave a comment. We would love to read them.

Related Love Recipes:

Chilled Strawberry Cheesecake

Strawberry Souffle

Strawberry Crumble

Chocolate Strawberry Cake

Honey Sponge Cake

Chocolate Hazelnut Twists

Basil Butter Bread

Two Minute Brownie

3 Minute Chocolate Cake

Cheese Fondue

Fettuccine In Cherry Tomato Sauce

Mutton and Eggplant Lasagne

Light Chicken Fiesta

Baked Stuffed Potatoes

Cous Cous Studded Cottage Cheese


Related Articles:

Valentine's Day food: how to get your partner's pulse racing

Valentine's Day: 7 foods to make anyone fall in love


For the latest food news and recipes, like us on Facebook or follow us on Twitter and get the NDTV Cooks app for Android or iOS.