The
summer fruits
come with an abundance of nutrients that keep you healthy and hearty during the trying heat of the season. Some of the best picks from the summer harvest include mangoes, plums, papayas, peaches and apricots. While everyone is going gaga over ripe and raw mangoes (which honestly taste the best out of the fresh summer produce)
Raid
actor Ileana D'Cruz is tripping on two of the most low-calorie summer fruits - peaches and raspberries. D'Cruz, who is quite a foodie and who also loves to cook, often shares what she's eating at the moment on her Instagram page.
The actor, whose performance opposite Ajay Devgn in their latest hit Raid has been applauded, has a huge fan following on social media. On Wednesday, Ileana posted the picture of a bowl of fruits with what looked like yogurt, and we couldn't stop staring at the beautifully tinged ripe peaches in there. Have a look!Also Read: Summer Special: 6 Seasonal Fruits With Highest Water Content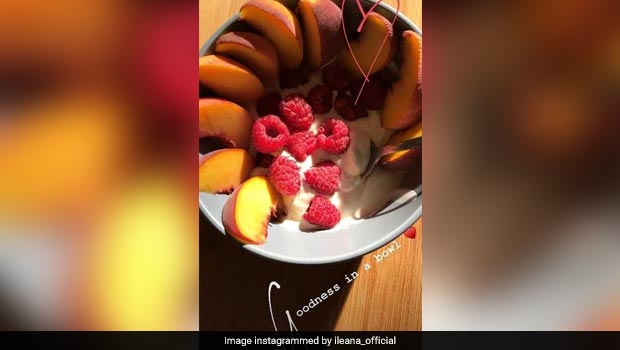 Doesn't that look delicious? A fruit bowl is one of the healthiest snacks you can have during summers, especially if you are trying to lose weight. Not only do fruits give you an instant boost of energy with the least amount of calories, they also keep you hydrated and ensure a supply of all essential nutrients to your body. Raspberries are extremely beneficial, and have anti-ageing properties and antioxidants.Also Read: Dry it, Freeze it, Spice it: Inspired Ideas to Reboot Your Fruit
Raspberries are also excellent sources of vitamin-C, manganese, dietary fibre, as well as iron, folate and copper. Peaches are also high in fibre and low in calories as they have no saturated fat, and hence, one of the best summer fruits to eat while you're on a diet. Peaches are also rich in minerals like calcium, potassium, magnesium, iron, manganese, phosphorous, zinc and copper. Adding yogurt (plain and low-fat if you are dieting) to the mix will make your fruit bowl even more nutritious and will enhance its weight loss promoting ability.
Yogurt isn't just a great probiotic that promotes digestive health; it is also a great source of protein and calcium. Scientific studies have pointed towards the weight loss and belly fat burn ability of yogurt. So, if you want to stay on track with your diet regime during the summers and lose weight in a healthy way, you must eat like Ileana D'Cruz!