With spring in the rear-view mirror and temperatures rising, it's time to add some cool,
refreshing drinks
to your
summertime
arsenal. And if any drink was made for laid back sipping on a porch in the sweltering heat, it's iced tea. Legend has it, iced tea was invented during the St. Louis World's Fair in Missouri, back in 1904. A
tea
plantation owner modified his product to beat the heat by pouring his regular tea through iced pipes, and the rest is history.
Tea
is already one of the best things you can slurp on,
enriched with antioxidants
(known as flavonoids), helps boosts immunity, increase your
metabolism
and gives you a burst of
energy
. How's that for
sweet
? Just like Frances Hoarding rightly put, "Tea is the magic key to the vault where my brain is kept". And iced tea? It's like sunshine in a glass.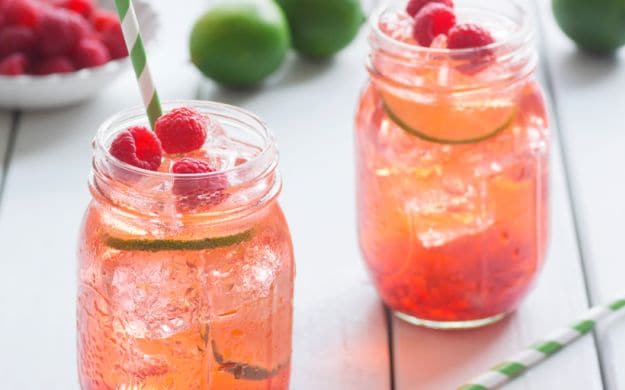 "The secret to making great iced tea is to use great quality tea. And while we've all grown up slurping on lemon and peach iced teas, there is so much more to explore", says Chef Jaydeep Mukherjee, Indigo Delicatessen, New Delhi. Many small boutiques and cafes are experiment with exotic tea blends, and going beyond the traditional black tea leaves. "Use whole lead teas, single origin teas, organic teas and serve chilled. I wouldn't do so much as add a herb to them – just as is – chilled! Maybe sweetened and served with a twist of lime, that's it!", says Chef Jaydeep.Think: White tea with a kiss of rose or acai-
mango
or raspberry-
mint
or lemongrass-marigold. Garnishes, brewing methods, sweeteners and add-ins make it really easy to step up your iced tea game this summer, and even help transform iced tea into the ideal mocktail
(or cocktail)
for outdoor parties. Executive Sous Chef Mukesh Sharma, The Westin Hyderabad Mindspace, says "I love to play around with flavours when it comes to iced tea and include ingredients such as Kaffir Lime and Orange Zest, Blackberry and Basil, Lime and Lavender, even Lemongrass and Honey for added flavour".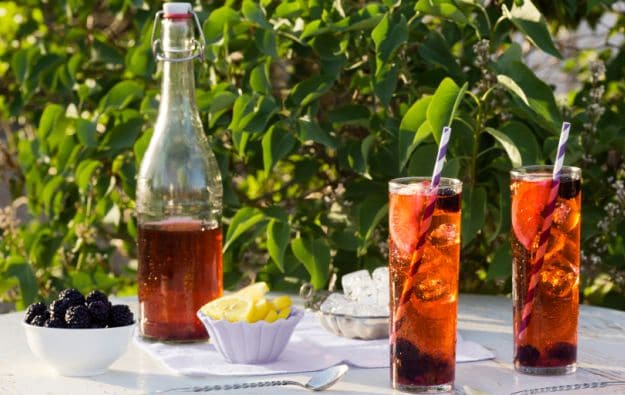 Mr. Amit Anand, Owner of Mingle Tea says, "A brew of Orange and Mint Green Tea works beautifully as an iced tea for the
summer
. Not only are oranges packed with high levels of
vitamin C
, but mint helps you cool down. You can blend it with some soda, a splash of
lime
,
a spoonful of honey
and voila! Even a pitcher of
Pineapple
and Vanilla Iced Tea is really refreshing. It's black tea, and makes for a brilliant concoction especially if you add a dash of lemon juice".The best thing about making your iced tea is limiting the amount of sweetener you add (or not adding any), sans the
chemicals
. And these cold infusions make for a great solution for people who avoid drinking a
hot cuppa
.Now if you believe that nothing screams summer quite like mangoes, you'll love this gorgeous
Peach
and Mango Iced Tea recipe, with a White Tea base. It's really simple, tastes divine
(and makes for a perfect picture)
. Did you know: Studies suggest that White Tea may have the highest levels of antioxidants as compared to all other types of tea? You're in for a treat.
Mango and Peach White Iced Tea
Ingredients:
10 glasses purified water
5-6 White Tea bags
2 peaches (pitted and diced)
1 cup mango (chopped)
1 tablespoon honey (optional)Instructions:1. Boil water in a large saucepan, and remove from heat.2. Steep the white tea bags for about 7 minutes, then transfer tea to a large mixing bowl. Allow the tea to cool down for 30 minutes approximately.3. In the meanwhile, mix chopped peaches, mango, and 1 tablespoon honey (to taste) in a smaller mixing bowl.4. Then transfer the fruits to a large pitcher, and pour the cooled tea into the pitcher.5. Stir to combine, chill in the refrigerator and serve over ice.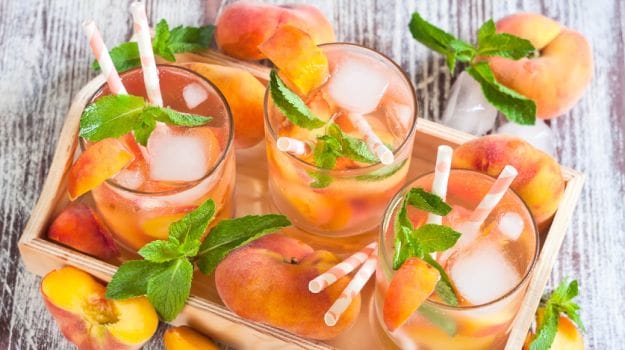 Chilled Darjeeling First Flush with Mango & Mint
Recipe by Chef Jaydeep Mukherjee, Indigo Delicatessen, New Delhi
Ingredients:
8 teaspoons Darjeeling first flush tea
4 cups Water
4 teaspoons Honey
Lime juice and zest (of 1 lime)
Mango (preferably ripe Alphonso mango, peeled and sliced)
8 fresh mint leavesMethod:
1. Bring water to a boil, and then remove from fire to cool.
2. Then add the tea leaves to a large pot and allow to steep for 4-5 minutes.
3. Strain tea into a clean jug and hold in a deep freezer.
4. Add honey, lime juice and zest from 1 lime to the tea.
6. Add iced water (sans the ice) to the tea to make enough for 4 glasses and also to dilute the tea which would otherwise be very intensely flavoured.
7. Add mangoes and mint to the chilled tea and serve in tall glasses.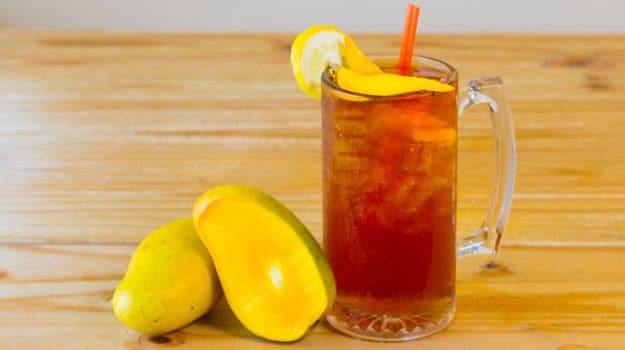 "To make
Thai
Iced Tea, all you need to do is add 2 tablespoons
coconut milk
and 1 tablespoon condensed milk to a regular glass of iced tea. If you want to make it boozy, add a splash of coconut rum or spiced rum", says Home-Chef Malini Sawhney.If you have an upset
stomach
, brew some peppermint tea to ease gastrointestinal distress. You can even throw in some freshly sliced
ginger
to speed up your recovery."Contrary to popular belief, Chilli Chai which is a strong black
tea
works well for the
summers
too. With small pieces of
chilli
and a tangy aftertaste, it's one of my favourites. After all, darker teas yield a stronger flavour. You can also add a kick of
lemon
juice for good measure", adds Mr. Amit Anand.If you love a mean Old Fashioned
(I sure do!)
, spruce up your tall glass of iced tea with 2 tablespoons of your go-to
bourbon
and 1 tablespoon of maple syrup (to taste). Stir well and serve with a slice of
orange
or maraschino cherry. You can even tag team it with 2-3 drops of Angostura bitters.Got some
Chamomile tea
bags lying in your pantry? Keep scrolling.
Chamomile, Mint, Apple Iced Tea
Recipe by Chef Kunal Kapur
Ingredients:
5 Chamomile Tea bags
15-20 mint leaves
1 lemon
5-6 fresh jasmine blossoms
10 cups water
1/2 cup apple Juice
Ice cubesMethod:1. Boil water and remove from heat. Add chamomile tea bags and let it steep for 8-10 minutes.2. Throw in some mint leaves, jasmine and juice of 1 lemon.3. Pour into a glass over some ice. Top it off with apple juice and serve chilled.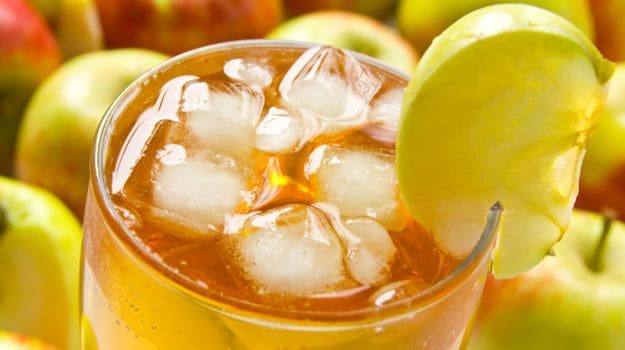 How to Make The Best Iced Tea Ever
To start with, you need to brew a pitcher of regular iced tea. Boil 8 cups of
water
over medium-high heat. Add 6-8 tea bags of your choice, depending on how strong you like your
tea
. Let it steep for 8-10 minutes, then remove the bags and let the tea cool to room temperature before pouring it into an ice-filled pitcher. Here's a
scrumptiously simple recipe
and 5 quick tips you need to know.1. Steep tea bags for 10 minutes only, else the tea ends up turning bitter.2. "The temperature at which you brew teas is really important. If you brew teas that need cooler temperatures with boiling water, the result could be bitter", adds Mr. Amit Anand, Owner of Mingle Tea. To brew black and darker-coloured oolong teas, use boiling water. But for
green
, white and lighter oolong
teas
, use cooler water (around 170 to 180 degrees).3. Add a sweetener (preferably
honey
) when the tea is warm so it dissolves easily and evenly.4. Wait until the tea has cooled down to room temperature before refrigerating.5. You can always make a little more than you think you'll need, and keep it in the fridge. But not for
too
long. It's highly recommended to drink it within 24 to 48 hours if stored in a sealed container so that it doesn't risk taking on the flavor of other items in your
fridge
.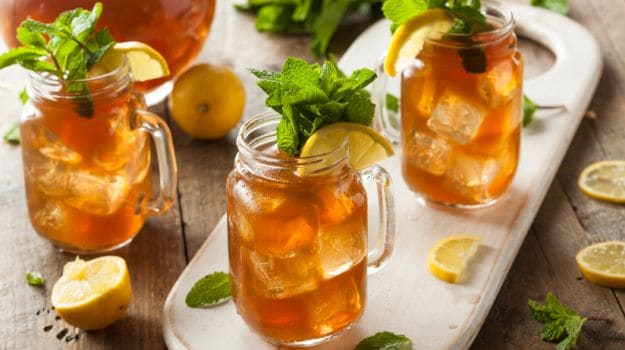 Note: When life hands you lemons, add a slice to your iced tea.
So, what are you waiting for? We're up for another tall glass of iced tea already!