Gone are the days when we, as kids, could be pleased with a regular birthday party. Things have changed now and so have kids' preferences. A simple platter of patty, chips and cake has been replaced by a whole table spread of pizzas, pasta, beverages and whatnot. Blame it on their exposure or peer pressure, kids want a fanciful affair to celebrate their special day, and parents are ready to oblige. But if you are planning a relatively small affair and don't want to go all out and hire caterers or order from outside, you can easily prepare the 'fancy' dishes of kids' liking at home and not let them down.


We have planned the perfect menu for your child's not-so-extravagant but exciting birthday party. It has some of the most popular yet easy-to-make dishes that all kids want on their birthday menu. Be the chef for your kid's birthday and they will love their favourite foods served to their friends with the extra dose of love.


(Also Read: 11 Best Kids Lunch Box Recipes)
5 Popular Recipes For Your Kid's Birthday Party
1. Mango Smoothie
Now you can't serve either a carbonated, drink or a boring nimbu pani as refreshments. This yummy Mango Smoothie will be a definite hit at a summer birthday party. The sweet and mushy mango is blended with cold milk and sweetened further to make it a delightful drink to welcome your child's guests. Click here for the recipe.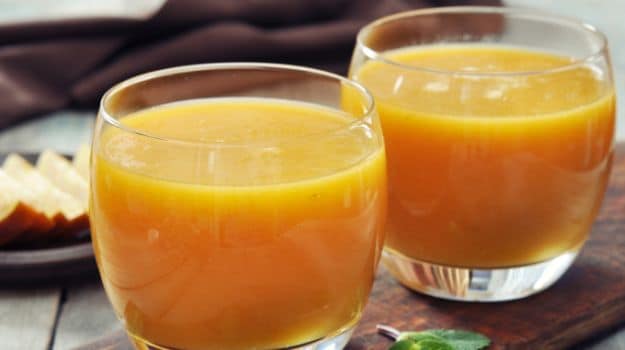 2. French Fries
If you want a fuss-free and mess-free starer for the party, there can be nothing better that bowlful of French Fries. It's just convenient that kids like the plain salted potato fries, so all you need is a basic recipe to make them. Click here to find the recipe of simple French Fries.
3. Margherita Pizza
You may choose to be unique and play around with the menu at your own whim, but dare not miss this one out. Pizza is a must at a kids' birthday party, period. And out of the many options available, Margherita Pizza is the safest bet. So here is an easy recipe of Margherita Pizza that should be the first one to be on your checklist.
4. White Sauce Pasta
While pizza tops the list, pasta comes close on its heels. Pasta dunked in gobs of creamy and cheesy white sauce is something every kid likes. Try this recipe for your kid's birthday and see all the other kids gorge on it. Click here for an easy white sauce pasta recipe.
5. Banana Pudding
While the birthday cake will always be the main attraction, you can extend your menu to serve this delicious dessert to round up the meal. This simple pudding recipe is so easy to make that you won't mind putting in some extra effort to rev up the spread.
Birthdays have always been special for kids growing up. Make it memorable for your child with this well-thought-out menu.
About Neha GroverLove for reading roused her writing instincts. Neha is guilty of having a deep-set fixation with anything caffeinated. When she is not pouring out her nest of thoughts onto the screen, you can see her reading while sipping on coffee.