When it comes to food, it's tough to please children. Making them eat those healthy greens can indeed turn out to be a tedious task for many. We understand that it's easy to run out of ideas when it comes to your kid's lunch box. Hence, it gets imperative to play around with the regular ingredients to prepare something that is immensely appealing to the eyes and palate. Therefore, we bring to you a stellar recipe for kids that is not only incredibly delicious, but also provides enough nutrition for their steady growth and development. Made using six easily available ingredients, these canapes are sure to be your kids' favourite. How, you ask? It is because the canapes are star-shaped, which is sure to catch their attention and interest!

Moreover, preparing the same dishes day after day may also turn out to be monotonous for you as well. This recipe will be a welcome variation, both for you and your kids. All you need is a star-shaped steel mould and a few ingredients listed below.


(Also Read: 9 Best Recipes For Kids: Chocolate Pops, Baked Pasta, Pizza & More)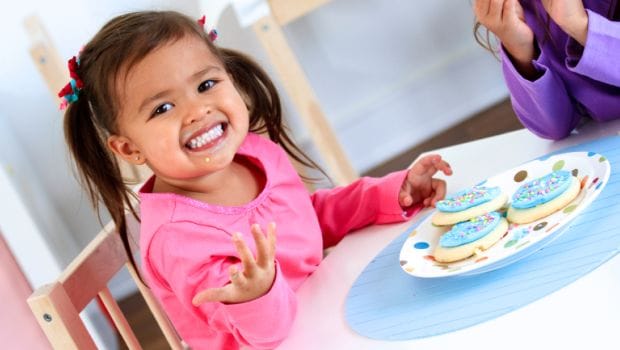 These canapes are sure to be your kids' favourite

How To Make Star-Shaped Canapes For Kids:

Ingredients:

Cheese - 5 Slices
Salmon - 100 grams
Bread - 5 Slices
Lemon - 1 small
Cucumber - 1 large
Butter - 1 tsp

Method:

To begin with, remove the corners of each bread slice and toast them on a tawa (skillet) using butter.
Now, use the star-shaped steel mould and press it against the bread slice to extract the desired shape.
Repeat the same procedure with cheese slice, salmon, and cucumber.
Put all the remaining ingredients over one another, wherein the toasted bread has to be at the bottom, followed by cheese, salmon, cucumber and then again toasted bread.
Secure the stack with the help of a toothpick and squeeze a bit of lemon juice over it.
Make multiple canapes and serve them to your kids.

Note: There is enough room for experimentation in this canape recipe. You can customise the ingredients as per your kids' liking and make it wholesome and delicious. We would recommend you to use feta cheese as it healthier in comparison to its other varieties.

So, the next time your kids pester you to prepare 'something unique'. Get hold of all these ingredients and make a super delish snack for them. It is super-easy to prepare and won't take much of your effort. If you are looking for more such quirky kids' special recipes, click here.