One must have at least five portions of fruits and vegetables in a day, that's what experts and nutritionists suggest. Fresh fruits and veggies come packed with essential micronutrients and a good dose of fiber that help the body detoxify and be shielded against harmful antibodies. But not all fruits and vegetables are the same in size and volume, so how do you assess how much makes a good portion? BodyPower presents the National Health Service, UK guide to fruit and vegetable sizes. This can be an easy way to know where you stand in term of portions consumed daily.
1. 5-a-Day Fruit Portions
Small-sized fresh fruit
Two or more small-sized fruits would be equal to one portion. Some examples would include plums, kiwi fruit, six lychees, three apricots, 14 cherries or seven strawberries.
Medium-sized fresh fruit
One piece of fruit equals to one portion. Eg a banana, an apple, a pear or an orange.
Large fresh fruit
This one goes for large fruits like melons, papaya, pineapple, etc. One portion would be half a grapefruit, one slice of fruits like melon, papaya, two slices of mango or one large slice of pineapple.
Dried fruits
One portion of dried fruit would be somewhere close to 30gms. You can consume one heaped tablespoon of currants or raisins, one tablespoon of mixed fruit, three prunes, two figs or a handful of dried banana chips. Always remember that most dried fruits are high in sugar and can therefore be bad for your teeth. You can try swapping dried fruit for fresh fruit, especially between meals. This way you minimise the possibility of tooth decay by consuming dried fruits as part of your meal.
Tinned or canned fruit
One portion of tinned or canned fruit is roughly the same quantity as fresh fruit portion. Always choose fruit canned in natural juice over syrup.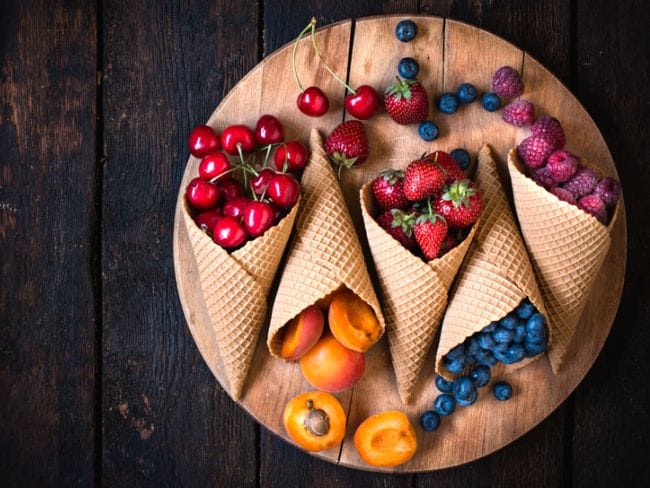 2. 5-a-Day Vegetable Portions
Green vegetables
When it comes to green veggies, one portion equals to two broccoli spears or four heaped tablespoons of cooked leafy vegetables, spring greens or green beans.
Cooked vegetables
Three heaped tablespoons of cooked vegetables would make one portion. This would include veggies like peas, carrots, sweet corn, or eight cauliflower florets.
Salad vegetables
A small, 5cm piece of cucumber, three sticks of celery, one medium tomato or seven cherry tomatoes would count as one portion.
Tinned and frozen vegetables
This would be roughly the same quantity as a portion of fresh veggies. For tinned veggies choose the ones that are canned in water, with no added sugar or salt.
Note:Potatoes don't fit in your 5 a day. Same goes for cassava, plantain and yams. These vegetables are full of starch and can be eaten in place of other sources of starch such as rice, bread or pasta. However, they do play an important role in our diet.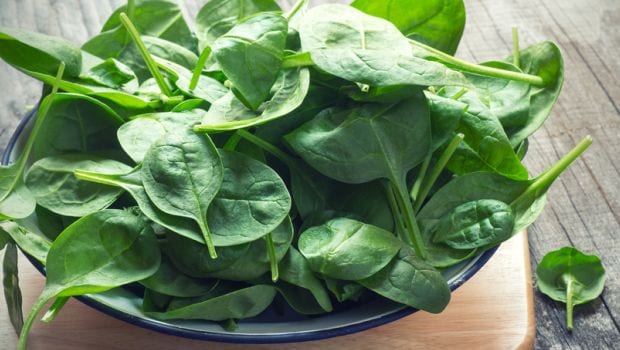 3. 5-a-Day Juices and Smoothies
You must not exceed your consumption of fresh fruit/vegetable juices and smoothies to a combined total of 150ml a day. When a fruit is juiced or blended, it releases sugar that can cause damage to teeth. Whole fruits, on the other hand are less likely to cause tooth decay as the sugar is trapped within the structure of the fruit.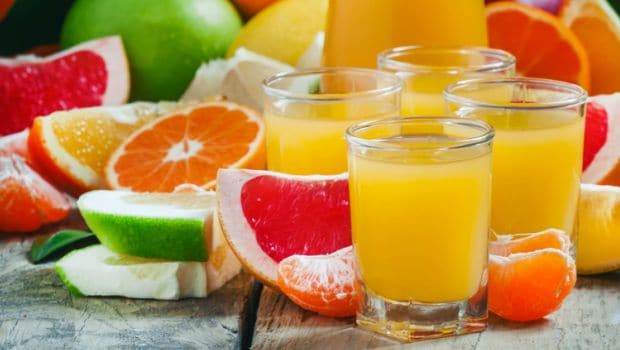 4. 5-a-Day Ready-to-Eat Meals
In case of buying ready-to-eat meals from shops always make sure that you read the labels. Some ready-made foods come packed with high levels of salt, sugar and fat. Therefore, you must have such food items occasionally and in small quantity.
Reference: NHSPowered by BodyPowerDisclaimer:The opinions expressed within this article are the opinions of the author. NDTV is not responsible for the accuracy, completeness, suitability, or validity of any information on this article. All information is provided on an as-is basis. The information, facts or opinions appearing in the article do not reflect the views of NDTV and NDTV does not assume any responsibility or liability for the same.