Modak can aptly be called the Indian version of sweet dumpling. These dumplings are prepared and relished with great enthusiasm all across the country and assume great significance during the birth anniversary of Lord Ganesha. The deity's love for these sweet treats are well documented in Hindu mythological scriptures. South Indian desserts are revered and loved around the country, especially during festivities. The unique flavours and the prerequisite use of coconut give the essence of an authentic South Indian sweet. One of the most popular and traditional desserts from Tamil Nadu is Kozhakattai,

Modakam or Modagam, which is also similar to that of Maharashtrian Modaks. Modakams were adored by Lord Ganesha and is believed to be a symbol of his earnestness and wisdom, a prize obtained from his parents. Kozhakattai is prepared as a prasadam on Ganesh Chaturthi to invoke his blessings in knowledge, scriptures, science and art. According to Food Blogger Nithya Ravi, "Kozhakattai is a very popular sweet in Tamil Nadu especially made during Ganesh Chaturthi. It is similar to what Modaks are in Maharashtra. It is made with rice flour and has a filling of jaggery and coconut. It has two versions- one is steamed and the other is deep fried. The Modaks in Maharashtra generally have khoya (mawa) in it."
The filling inside these Modakams are also known as Poornams, which is made of jaggery and coconut. According to Ms. Nithya, you can make Modakams with different fillings; however, the traditional filling remains the same for Ganesha Chaturthi. In fact, you can make savoury out of this using cooked vegetables as fillings.

Kozhakattai or Modakam
Recipe by Nithya Ravi, Food Blogger at Nithya's Kitchen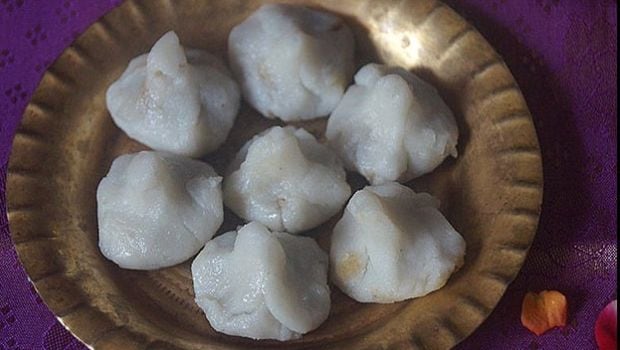 Photo Credit: Nithya Ravi

Ingredients

For the Dough
1 cup rice flour
1 1/4 cup water
2 - 3 tsp sesame oil
1 pinch salt



For the Coconut Filling (Poornam)

1 cup coconut (grated)
3/4 cup jaggery
1 pinch cardamom powder
1/2 tsp ghee

Method
In a pan add water and sesame oil. Allow it to boil.
Add rice flour slowly.
Stir well so that no lumps are formed.
Rice flour dough should be glossy.
When the texture is soft non sticky and glossy, you know dough is ready.
Make lemon sized balls out of the dough.
In a pan add grated coconut and powdered jaggery, ghee and cardamom powder.
Allow it cook and get with one another well.
When the poornam leaves the sides it means it is done.
Poornam is ready.
When cooled make balls.

How to Make Kozhakattai
Make a cup shape out of the dough and place poornam in it.
Close the ends and form the shape as shown.
Steam in a pan or a rice cooker on an idli stand
Steam for 8-10 minutes.

Notes
You can use store bought rice flour/ Idiyappam flour.
Don't keep the dough open; cover it with a damp cloth lest it may turn dry.
If you apply sesame oil to your hands and make cups, the process will come to perfection.