The front page of a leading daily has a clutter breaking advertisement from Nestle's stable today, bringing readers up to date on the Maggi Noodles ruling. The advertisement further goes on to reassure them that they will be able to eat their favourite noodles soon. To be able to break clutter in the festive month is a task in itself, with advertisers filling pages with their sales and festive offers. But the Maggi ad manages to do this with great ease due to various reasons.
To start with, this news has been hogging the headlines for the past few months. The lab tests, what started as a nutrition label issue, transformed into a food safety one leading into many states across the country banning it. Delhi, Assam, Jammu and Kashmir, Gujarat, Uttarakhand, Maharashtra and Rajasthan were some of the early states to take this decision. The noodles were also pulled off shelves of the Army Canteens and production was halted. After being banned in 5 states, Nestle took a decision to take Maggi noodles off the shelves till the same was sorted out. Nestle had said in a statement, "The trust of our consumers and the safety of our products is our first priority. Unfortunately, recent developments and unfounded concerns about the product have led to an environment of confusion for the consumer, to such an extent that we have decided to withdraw the product off the shelves, despite the product being safe."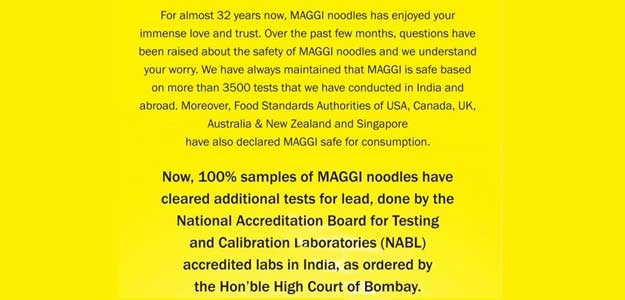 "We promise that the trusted MAGGI Noodles will be back in the market as soon as the current situation is clarified," Nestle said, emphasising that, "Maggi Noodles are completely safe and have been trusted in India for over 30 years." Nestle India suffered immense losses as Maggi Noodles accounted for a large chunk of the company's top line. The controversy and subsequent ban and recall weighed on Nestle India's financial performance with the company recording a second-quarter loss as sales fell 20 per cent. Nestle India also reported one-time loss of Rs. 452 crore in that quarter.
However, the ad in today's newspaper has a great amount of impact due to one more and perhaps a more important reason. The brand has an instant emotional connect with the audience. The readers have grown up with Maggi noodles in their tiffin, mothers have cooked Aata Maggi for their kids assuming they are making healthy choices and hostel rooms have come alive with the smell of noodles wafting out of closed doors. Thus, with the latest ruling by the Bombay High Court overturning the ban and the latest lab tests confirming that the noodles are in the clear, there is reason to rejoice.
Twitter world, always the first to react, is ecstatic over the latest developments. Celebrities and ardent fans of the noodles, couldn't hold back their excitement. Here is a glimpse of the celebrations:

Heard a man PLEADING with owner of grocery store to PLEASE get him #maggi in "Black"!! @MaggiIndia COME BACK SOON!

— Pooja Bedi (@poojabeditweets) October 16, 2015
For all the #Maggi Lovers..Maggi is Ready to be Back..Eagerly Waiting for @MaggiIndia to Be back in market. pic.twitter.com/KBnlwMUNcI

— Shweta Bhattacharya (@spbhattacharya) October 19, 2015
Yayyyyyy #Maggi is coming back with a full clearance

— Nivedita Basu (@niveditabasu) October 17, 2015
Missed eating #Maggi this time in India. Hopefully next time it's available for the customers

— Ashish (@Ashish_Ahuja) October 8, 2015
#Maggi ban will go off in Karnataka.. Wowww my starving issue in evening will end soon @MaggiIndia

— Hail Procrastination (@Dina_Paradesi) October 7, 2015
@MaggiIndia Now that we know its safe, can u safely transport a few to our neighborhood shops too? Use bubble-wrap, if required. #Maggi

— Sri Sri DC (@deepchoudhury) October 19, 2015
The relaunch campaign, reportedly being conceptualised by Piyush Pandey himself, is going to be one of the most interesting creatives to see.

#Maggi return would be one of the most exciting campaigns to see in the coming days. Excited to see the magic being recreated.

— Adrit Mishra (@adritmishra) October 19, 2015
With Nestle promising to bring the country's beloved noodles back on shelves as soon as possible, it seems like the festivities have just started.