Makhanas
, or fox nuts, are back in vogue and how! Ever since it became popular as a 'health snack,' the market value of
makhana
has increased manifold. The puffed-up lotus seeds are being sold by healthy packaged food brands at high prices, due to the increased demand of the
desi
snack the world over. A number of brands have started selling flavoured packaged
makhana
, in order to attract the ever-growing health-conscious populace. This is also partly due to a return-to-the-roots wave that has been sweeping the country lately. But, how effective are
makhanas
for weight loss?
If eaten in the right quantity and the right manner, makhanas may indeed help you along in your weight loss journey. Obviously, eating home-roasted makhanas is a healthier option than eating artificially-flavoured or packaged makhanas, which are high in salt and trans-fat.
Calories In Makhana
Makhanas are quite low in calories, which is why they have become so popular as evening weight loss snacks, which you can munch on happily. A 50gms serving of dry-roasted makhanas has 180 calories and no saturated fat or sodium at all. Dry-roasted means that no grease or oil has been used in roasting the makhanas.Also Read: 9 Health Benefits of Makhanas: The Desi Snack That's Making a Comeback
Nutritional Value Of Makhana
Makhanas are rich in good carbohydrates and proteins. They are also gluten-free and contain a flavonoid called kaempferol, which has anti-inflammatory and anti-ageing properties. They are also high in magnesium, which is important for heart health and also the regulation of levels of calcium, potassium and sodium in the blood. Although, fox nuts are rich in carbohydrates, their glycaemic index is significantly lower than foods like rice, bread, etc. Makhanas are also rich in iron, which is important for haemoglobin formation in the blood and for optimum transportation of oxygen (through blood).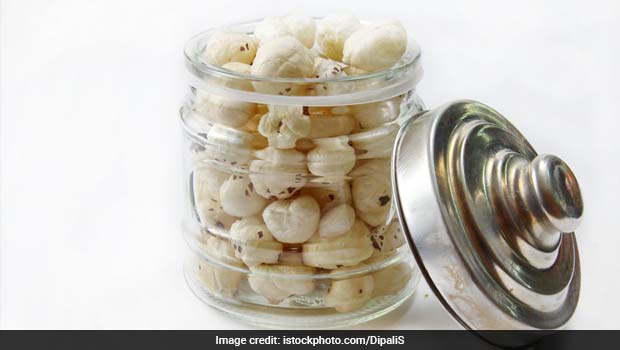 Makhanas are one of the healthiest weight loss snacks out there
How To Eat Makhanas For Weight Loss
Now, that we have established that makhanas are one of the healthiest snacking options out there, you may want to know what the best way to eat fox nuts is. Since makhanas are naturally low in calories and sodium, the number of calories your makhana snack is going to have is determined by your cooking method.Also Read: 5 Snacks That are Back in Fashion: When Nostalgia Meets Contemporary Flavours
Here are several popular ways to consume
makhana
for weight loss:
1. Dry Roasted Makhana: Place your makhanas on a non-stick pan or griddle and roast them on a low flame until they appear slightly brown. Be careful to moderate the flame, so as to not burn the fox nuts. Once they are roasted transfer the fox nuts in an air-tight jar or container and place the container in a dry place.
2. Makhanas Roasted With Ghee/Coconut Oil: If you're not averse to a bit of healthy fat, then you may add a tablespoon of ghee or coconut oil to your pan, before placing the fox nuts in it. You may add a bit of salt or chaat masala but avoid adding to many artificial or salty flavourings and seasonings.
3. Healthy Flavoured Makhana: If you just can't eat plain makhanas, you may make flavoured makhanas at home in a healthy way. All you need to do is roast the fox nuts in ghee and flavour them with naturally spices and condiments like mint leaves, curry leaves, coriander powder, garlic powder, turmeric powder, green chillies, etc. You may also add peanuts or cashews and almonds to the mix to add a bit more crunch and nutrition to the snack.
Make sure you add spices like pepper and turmeric that aide weight loss to your roasted makhanas. Although fox nuts are quite healthy for weight loss, you may want to control the portion that you eat in a day. Treat makhanas as mid-meal snacks to take care of untimely hunger pangs only and not as an entire meal. If you want to lose weight in a healthy way, it is recommended to never skip your meals. If you are on a low-carbohydrate diet, you may want to have them sparingly.