PTI | Updated: February 23, 2018 12:09 IST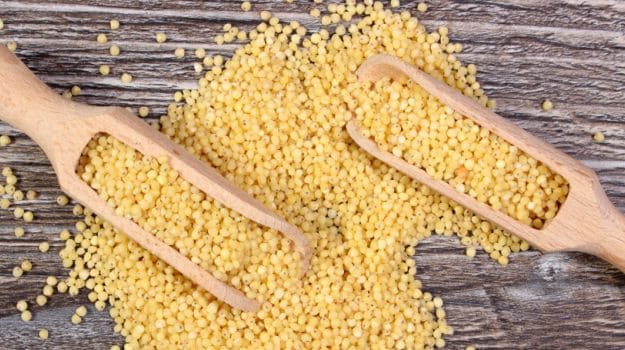 nutrients like copper, manganese, phosphorus, and magnesium. There are different types of millets available in the markets like Bajra, Jowar and Ragi.

At a recent summit organised by Action for Social Advancement in collaboration with Biodiversity International, experts highlighted the importance of the crop with regard to its nutrition and other aspects to educate industry stakeholders and farmers about millet crops. Various issues related to the declining production area of millets, stagnating productivity and poor value chain development were also raised at the summit. However, there has been positive signals of growing awareness and consumption of millets by the urban middle class due to its high nutritive value.

At the National Summit & Millet Gala in New Delhi, Nutritionist Dr. Swarna Vyas spoke about the iron deficiency and infertility problems which can be tackled with minor millets. Former Agriculture Production Commissioner of Madhya Pradesh, M M Upadhyaya stressed the need of millet-related research and active extension work for improved milled farming practises among the farmers.
"Millets can grow in poor quality soil and create a good plan B for food security. With the growing population and the climate change scenario food security may become an issue in the future," Dr Dayakar Rao of Indian Institute of Millet Research, Hyderabad, said.





The summit was attended by participants from agriculture universities, NGOs, government and private sectors. Village resource people from Madhya Pradesh, Chhattisgarh and Tamil Nadu, engaged in promoting millets as a source of nutrition among children, tribal population especially women and farmers, also took part in the seminar.



Here are some health benefits of Millet you should know -

- Magnesium in millets can help reduce the effects of migraines and heart attacks.
- Niacin (vitamin B3) in millet can help lower cholesterol.
- They are alkaline which makes it easy to digest.
- They tend to hydrate your colon to keep you from being constipated.

(This story has not been edited by NDTV staff and is auto-generated from a syndicated feed.)


While it's often called a grain because of it's grain-like consistency, millets are actually seeds. They are gluten-free and good sources of important