Born on 28th September 1982, Ranbir Kapoor turns 34 this year. Though it has been a rough year for him, both personally and professionally, he is gearing up with his personal trainer to get ready for his next superhero movie.
One of the most celebrated Bollywood stars, Ranbir Kapoor can get your heart throbbing. Not only do we love him for his versatile acting skills, but also his lean body and chiseled looks that make men jealous and women swoon. The glamorous image that you see on the big screen is not easy to attain.From the romantic hero in Saawariya to the rugged Rockstar, each avatar of his requires a lot of effort. How do we know? We've got our hands on some of the best-kept secrets about Ranbir Kapoor's daily diet, workout routine and how he prepares for every role. Straight from
celebrity fitness trainer
Kunal Gir who's been training Ranbir for his new movie, here are some great tips for all those men who dream of having the perfect body. Read on, you can thank us later.
Kunal first met Ranbir Kapoor sometime during May 2016. He has trained many Telugu celebrities and it was through actor Rana Dagubatti that he met Ranbir Kapoor. Originally from Hyderabad, Kunal has been travelling to Mumbai quite frequently to help Ranbir get his physique ready for a new movie being directed by Ayan Mukherjee in which he plays the role of a superhero. His role demands him to look all rustic and macho and he will be training for the same till December.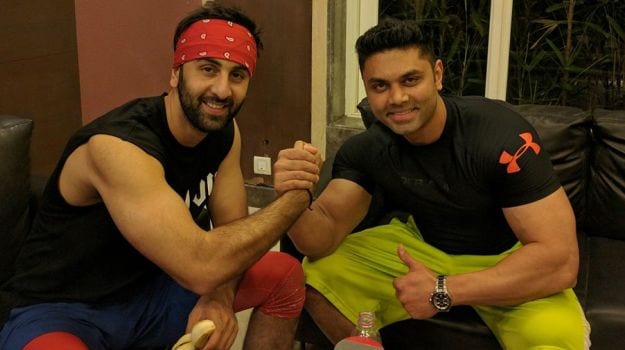 Ranbir Kapoor with his current fitness trainer Kunal Gir. Picture Credit: Facebook/Kunal Gir
Ranbir's Superhero Diet
"Ranbir has never really followed
any particular diet
. In fact, he loves food and enjoys eating a variety of cuisines. Since the past three months though, I have put him on a 5-meals-a-day program, mostly balanced food made with the right oils. He gets to cheat on weekends," reveals Kunal. So, what does Ranbir Kapoor's everyday meal look like? "He eats five meals in a day usually made up of organic
eggs
, meats, veggies and
nuts.
Nothing is out of a packet. Everything is freshly made every day. Oil is limited to macadamia nut oil. His diet includes a lot of fluids and water. Fruits are allowed only as a
post-workout
refreshment," shares Kunal.
Kunal tells us that right now the goal is to bulk him up for his upcoming projects, "Eating is critical to gaining size. Eating frequently is something that he has not done earlier. So, there is lot more food to eat now, which is challenging. But Ranbir is very motivated and doesn't complain at all."
Not Just a Gym Enthusiast
Unlike most of the muscular men of the industry, Ranbir Kapoor flaunts a lean, mean figure. He's a self-proclaimed foodie and doesn't really rely only on the gym to remain in shape. It's no secret that he loves the meaty dishes prepared by his grandmother. So, how has he been able to
maintain his weight
? "He eats small portions and stays very active. Football is his passion. He plays at least twice a week. He has a very good metabolism rate which has helped him maintain his lean figure," says Kunal.
Despite shuffling between hectic shoots and media appearances, most celebrities do follow a very holistic routine when it comes to their diet and fitness. Whether you're trying to tone up or simply get healthier,
a balanced diet
coupled with daily exercise is the best advice anyone will give you. Add to that,
Kunal Gir's five easy tips to get into the best shape of your life
-1. Food is more dense than shakes, try and eat more real food. Always balance your protein intake with greens to aid digestion and absorption.2. Don't drink during meals. It
disturbs digestion
and cause bloating. If you must, have a cup of
herbal tea
.
3. Most men dream of the perfect eight-pack abs. But know that training for abs twice a week is more than enough. To reveal them, you need to burn the fat covering them and that happens only when you follow a combination of a healthy diet and cardio, not by training them more.4.
Lifting heavy weights
and more intensely will yield better muscle gains and fat loss, than lifting light weights for a longer duration.5. Lastly, the kind of oil you use for daily cooking makes a lot of difference as fat gives you energy for a vigorous workout session. Switch to
coconut oil
which is healthier than olive oil for cooking.All in all, the three best diet and fitness lessons that we've learnt from Ranbir Kapoor are to eat small portions, indulge in outdoor activities and never miss your daily workout sessions. Stick to these rules for a healthier lifestyle, better body, and perhaps female attention if you're lucky.