Ram Navami 2017: How to Celebrate The Last Day of Navratri
NDTV Food | Updated: April 04, 2017 11:18 IST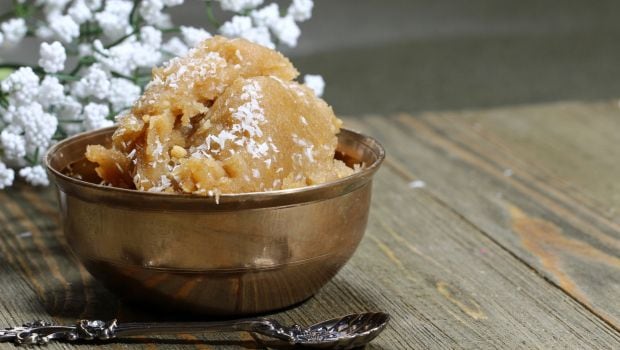 Ram Navami is a spring Hindu festival that celebrates the birth of Lord Ram, the seventh avatar of Lord Vishnu, who was born to King Dasharatha and Queen Kaushalya of Ayodhya. It also culminates the nine-day fasting period of the Navratris during which the nine forms of Durga are worshiped to seek their blessings. This year, Ram Navami will be commemorated on the 5th of April. The ninth day of the Chaitra Navratri is also dedicated to the ninth manifestation of Goddess Durga, Siddhidatri. Devi Siddhidatri is known for her meditative ability and calm nature.

How is Ram Navami Celebrated?

All around the country, Hindu temples organise recitals from The Ramayan, but the day of a devotee starts differently. People may arrange for the Akhand Paath of the Ramacharitamanas at home followed by Aarti and Kanchika Pujan. A bhog of sesame seeds or til is also offered to appease Goddess Siddhidatri. Idols of Rama and Sita are decorated and worshiped to invoke peace and happiness in their lives and homes. People also adorn the entrance doors with mango leaves to welcome the Lord, which also signifies prosperity. Charnamrit, a sweet drink made with five essential ingredients - milk, curd, honey, sugar and water, is offered as prasad. Some people may only fast on the first and the last day of Navratri as a means to purify their mind and body while some may keep the fast for all nine days, but the period of fasting ends on the ninth day for all.

(Also read: Nine Forms of Durga & The Special Prasad Offered to Them)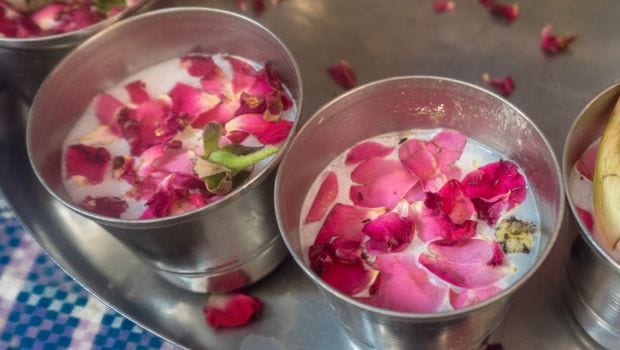 In order to break their fasts, people pay homage to nine young girls who symbolise the nine incarnations of Goddess Durga along with one young boy as a gesture of their devotion on the last day of Navratri. It is a custom to wash their feet, tie moli (red thread) around their wrists and offer them new clothes or utensils. The significance of Kanjak is to pay gratitude to the Supreme Goddess and these little girls are seen as her embodiment. A young girl is worshiped on this day because it is considered to be her purest and most auspicious form. Later in life, she assumes the role of a wife and mother like Goddess Parvati and Goddess Lakshmi; the role of a teacher to her kids like Goddess Saraswati; and also the destroyer of all obstacles for her family as Goddess Durga.

For the Kanya Bhog, a delicious thali is prepared with Sattvik delights like vegetable curry, Kaddu ki Sabzi, fruits, yoghurt or raita and the highlight being poori, Sooji Halwa and Kale Channa. Some people may only serve Poori-Halwa-Channa while some may like to offer Poori with Aloo Sabzi and Kheer along with the other delicacies. No onion or garlic is used to make these preparations and everything is usually prepared in pure, desi ghee. The prasad is then offered to family members and those who are fasting to break their fast and mark the completion of this auspicious festival. From a health perspective, you should break your fast with something light like fresh fruits, a bowl of curd or a glass of buttermilk and then proceed to a full meal.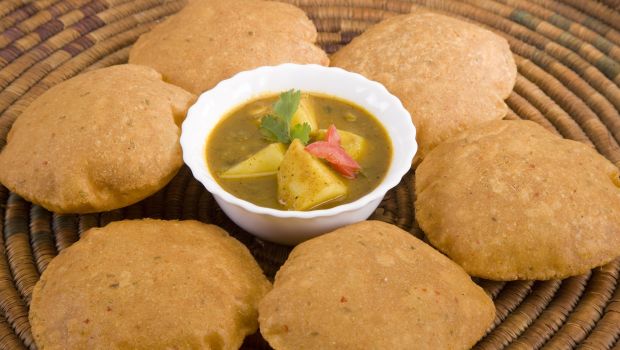 In a Phalahaar meal, only those foods that grow wild without special cultivation like certain wild grains, roots and tubers are prepared. Ram Navami is also celebrated across South India where cooling dishes like Panakam (jaggery mixed with water) and Kosambri (soaked lentils) are prepared and served as prasad.

Puja Timings

Here are the timings for Ram Navami Puja:

Rama Navami Puja Muhurt: 11:08 a.m. to 13:38 p.m.
Duration: 2 Hours 29 Minutes
Navami Tithi Begins at 11:20 p.m. on 4th April 2017
Navami Tithi Ends at 10:03 a.m. on 5th April 2017


For the latest food news, health tips and recipes, like us on Facebook or follow us on Twitter.