There are very few cuisines as diverse and unique as the South Indian cuisine. The sheer range of curries, snacks, and appetisers hailing from the region are the proof. What really appeals to us the most is the delicious use of local and seasonal ingredients, and the balance of flavours. There would always be something mild on the plate to complement the 'something spicy'. Then, there is the play of textures. Ever wondered why a crispy dosa is served with side of soothing? Because the contrast of textures makes everything more flavourful. Another comfort food that has always managed to tug at our heartstrings is the rasam vada.


(Also Read: 13 Best South Indian Recipes for Lunch | Top South Indian Recipes For Lunch)


The soul-stirring rasam is essentially a South Indian soup that is made with a combination of spices, lentils, lots of peppers and herbs. Its consistency is thinner than that of sambhar, and it is also either sharply tangy or hot. Rasam can be of many kinds - you can make it with lentils or tomatoes or raw mango. You can relish rasam with papad; a lot of people also like to pair it with soft and spongy vadas, preferably medu vada. You can also gulp it down as it is, and it serves as the perfect balm for your sore or itchy throat.
(Also Read: 6 Spicy South Indian Recipes You Cannot Miss)
Much like soup, rasam is also often consumed before the meals as an appetiser, but its preparation is slightly different.


For this delicious rasam recipe, you first have to grind the rasam masala which is made with peppercorns, cumin seeds, coriander seeds and red chillies. Make sure you roast them first for the extra kick of flavour. Then boil the dal with tomatoes, mash and keep it aside. Prepare the enticing tempering or tadka with mustard seeds, crushed garlic, curry leaves and the coriander leaves. Mix it with dal you just boiled and water until you have gotten a desired consistency. Then add the tamarind pulp for that incredibly tangy flavour. Mix well, and your rasam is ready. Serve hot.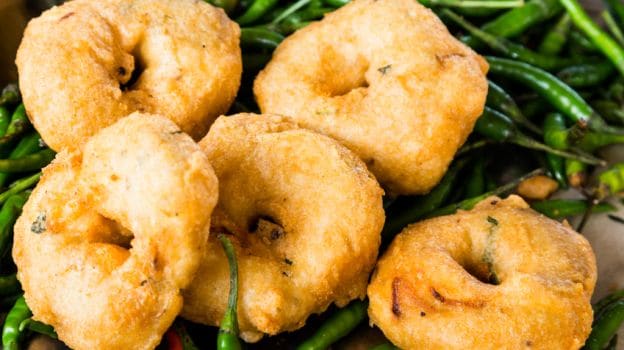 Click here is the detailed recipe.


Making medu vada is also not that tough if you have the right recipe at your disposal. Take for instance, this instant medu vada recipe, with which you can make this classic snack within 15 minutes.


Click here for the step-by-step recipe.


Try these lovely recipes and let us know how you liked it in the comments.
About Sushmita SenguptaSharing a strong penchant for food, Sushmita loves all things good, cheesy and greasy. Her other favourite pastime activities other than discussing food includes, reading, watching movies and binge-watching TV shows.