Vegans can tuck into these teatime treats with abandon - and non-vegans can eat their words
Whether you're vegan or not, these soft, jam-filled biscuits and moist, tender chocolate cake will put paid to the myth that vegan food is joyless. And if you're concerned that I've duplicitously slipped health food into this baking column, you needn't worry: these recipes are every bit as blissfully unhealthy as anyone could wish for.
Vegan baking requires a little more thought, but it's no mystery. Milk can be substituted with soya or almond milk; almond, corn, hazelnut, coconut or sunflower oil can easily be used in place of butter. Eggs are the trickiest element to replace; you can find specialist vegan "egg replacers" but I prefer to steer clear of this sort of expensive, niche ingredient (similarly, you'll find no soy cream or silken tofu here either). There are easier alternatives: keeping the bake moist and "binding" the ingredients by using mashed banana, ground linseeds or pureed dates, as you'll see below.

Raspberry coconut thumbprint cookies
With the Bake Off-fuelled pressure for every bake to be a "showstopper", I'm guilty of losing sight of the fact that the simplest recipes are often the best. With that in mind, these biscuits signal a return to basics: you can have them from mixing bowl to table in scarcely 20 minutes, and devoured very soon thereafter. You can substitute coconut oil for vegetable shortening if necessary, but coconut oil (easy to find in supermarkets or Indian grocery stores) gives a far richer and rounder flavour - it's well worth it. Just make sure that whatever fat you use is cool enough so that it's solid and waxy, not molten.
Makes 32
2 tbsp brown/golden linseeds
5 tbsp water
250g plain flour
160g coconut oil
75g desiccated coconut
125g caster sugar
Zest of 1 lemon
A pinch of salt
2 tsp vanilla extract
A few tbsp raspberry jam
1 Preheat the oven to 180C/350F/gas mark 4 and line a couple of baking trays with baking parchment.
2 Grind the linseeds in a coffee grinder or food processor until they are reduced to a rough powder. It doesn't matter if there are a few flecks of husk left. Stir the ground linseeds together with the water and leave to sit for 10-15 minutes, until the liquid is thickened and taken on a slightly gelatinous feel. This property of the linseeds will help to bind the biscuits in much the same way as egg usually would.
3 In a mixing bowl, rub the waxy coconut oil into the flour using your fingertips until no visible pieces of fat remain. You'll need to work quickly and lightly to avoid melting the oil with the warmth of your hands. Stir in the desiccated coconut, caster sugar, lemon zest and salt.
4 Whisk the vanilla extract into the linseed mixture then add this to the dry ingredients. Cut through the mixture repeatedly using a small knife to help incorporate the liquid, then use a fork to finishing combining, mashing the dough until it forms a smooth mass. The dough should be moist enough to hold in a ball when you squeeze a portion of it in your palm, but not so wet that it's sticky. Add a drop more water or flour accordingly if necessary.
5 Divide the dough into 32 small balls, arrange these across the prepared baking trays then press firmly down into the centre of each piece of dough with your thumb to create a well in the centres. Put a little blob of jam in each indent - no more than ½ tsp for this size of cookie - and transfer to the oven to bake for 15-17 minutes. When they're ready, the cookies should be golden brown on their bases and beginning to firm on top - they'll continue to set as they cool.

Moist chocolate fudge cake
Do you have a friend who launches into an anti-vegan diatribe to anyone who'll listen? Are you bored with being lectured over dinner that "we've got canine teeth for a reason"? This is the recipe I make to shut up those naysayers: with a mouthful of this rich, moist, warmly spiced chocolate cake, they quickly lose their train of thought. And if you belong to the "vegan food is rabbit food" school, you should try this too. You may just eat your words. This cake is slightly softer than "normal" chocolate cake, so I find it best not to halve it or coat it in thick buttercream, which may rip the cake's surface. As for the chocolate to be used, many dark chocolates are vegan even if they're not specialist vegan brands, so just check the wrapper.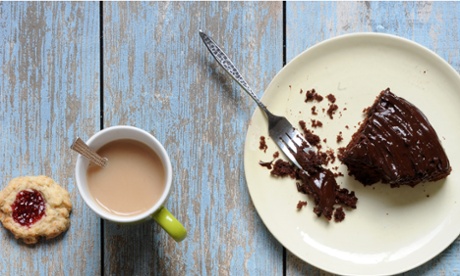 For the sponge
125g pitted dates, coarsely chopped
1 tsp bicarbonate of soda (optional)
100ml boiling water
50ml soya milk
1 tsp vanilla extract
150ml sunflower or almond oil
100g soft light brown sugar
150g plain flour
4 tbsp cocoa powder
2 tsp baking powder
1½ tsp ground ginger
1 tsp cinnamon
¼ tsp chilli powder
A pinch of ground cloves
A pinch of salt
For the icing
100g dark chocolate
3 tbsp golden syrup
1 tbsp soya milk
1 Preheat the oven to 180C/350F/gas mark 4. Grease and line a springform or loose-bottomed round 20cm cake tin.
2 Soak the dates with the bicarbonate of soda in the boiling water for 10-15 minutes, until softened. The bicarbonate of soda helps to tenderise the dates but isn't crucial if you can wait a few more minutes for them to soften naturally in the hot water. Once soft, blend the dates along with their soaking liquid to a puree.
3 Stir together the date puree, soya milk, vanilla extract, oil and sugar in a large bowl, whisking until smooth. In a separate bowl, sift the flour and cocoa powder together then stir in the baking powder, spices and salt. Add the dry ingredients to the wet mixture and beat vigorously for 1 minute. I usually fold cake ingredients together as gently as possible to avoid "activating" the elastic gluten in the flour, but for this batter the opposite is necessary: as the cake contains no eggs to bind it, we need the gluten for structure.
4 Spoon the batter into the prepared tin and bake for 35-45 minutes - or as long as it takes for the cake to rise, set and begin to shrink away from the sides of the tin. When it's ready, a knife inserted into the centre of the cake should come out clean. Leave the cake to cool in its tin before turning out (it'll be very soft and fragile when freshly baked).
5 Once the cake is cool, prepare the icing: melt the chocolate either in the microwave or over a pan of gently simmering water. Stir in the golden syrup, then the soya milk. If it's very runny, leave to cool and thicken for a few minutes. Slather all over the top and sides of the cake, and don't worry if it looks a little messy - artfully label it "rustic" and you'll be beyond criticism.
Vegan treats ... raspberry coconut cookies and chocolate fudge cake. Photograph: Jill Mead/The Guardian