The winning entry: a summery ruby gin fizz from reader Clairetweet. Photograph: Jill Mead for the Guardian
This week's summer cocktail recipes have been keeping us cool – if not clear – on what we hope will be the start of many long summer evenings.
As you can imagine, summer cocktail week came with joy and pain in equal measure. There's rarely a better way to spend a sunny evening than outdoors, drink in hand, with friends and family; however grateful they were on the night, though, the blame for fuzzy heads laid firmly at my door the next day. All more than worth it, of course, to test these stellar cocktail recipes.
Proceedings began with Angela Dawson's rhubarb and custard; the sweet syrup and heady vanilla vodka was perfectly balanced by the bitterness of tonic water; aromatic and delicate, it dispelled any preconceptions of it being as sweet as the name suggests. Next came withmustard's vodka thyme lemonade; I failed to track down the citric acid, so rimmed the glass with the sugar and thyme mix instead. The result was an impressively sophisticated drink with minimal fuss - definitely one for the recipe scrapbook for all year round. The masala chai and mint rum infusion from binnyshah made for something deliciously complex, worth trying for the wonderful smell of the infused rum alone. Fadime Tiskaya's pomsecco took a little longer to prepare, but would be a great welcome drink for any guests you might have this summer, the sharpness of the lime and tonic offsetting the sweet peaches, pomegranate and prosecco, something altogether more interesting than the usual bellini. A grapefruit tea with whiskey from TwinnyDip, filled with bitter and smoky notes, was super-refreshing on a warm day, as was Paddy MacLachlan's take on the Mexican michelada. Tomato juice, beer and soy sauce may not be to everyone's taste, but personally, I could drink it by the gallon.
As hard as it was to pick a winner, once my powers of reasoning were restored, Clairetweet's ruby gin fizz ticked all the boxes. Using seasonal fruits with a refreshing zip of lime and a few generous splashes of gin, it's an unmistakable taste of summer that's as easy to make as it is to drink.
The winning recipe: ruby gin fizz
Really, nothing could be easier than a gin fizz. Also, you've got to get your five-a-day from somewhere, so why not from cocktails?
Clairetweet, via GuardianWitness
Makes 6-8
For the syrup
300g red berries
200g sugar
For the cocktails
6-8 shots of gin
2 limes, juiced
Soda water
Ice
1 To make the fruit syrup, put the fruit and sugar in a saucepan over a low heat, then bring to a gentle simmer and cook for around 5 minutes, until the fruit has broken down and the sugar has dissolved. Push through a sieve to remove the seeds and pulp, then chill.
2 To make the drink, put ice cubes in the bottom of your glasses, top with a generous amount of syrup, a good squeeze of lime, followed by the gin. Top up with soda water and decorate with raspberries and lime to serve.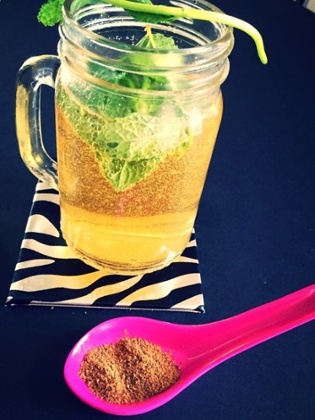 Masala chai mint rum infusion
Add a chai teabag to rum with a few spices and mint leaves, and voila: a spicy cocktail!
Binnyshah, via GuardianWitness
Serves 2
2 shots spiced rum
1 chai tea bag
1 cinnamon stick
Soda water
1 tsp sugar
1 tsp garam masala
Juice of 1 lime
A handful of mint leaves
1 Pour the rum into a glass or jug, then infuse the teabag and cinnamon stick in the rum for around 20 minutes.
2 Remove the teabag and cinnamon stick, then pour the rum into a cocktail shaker and add soda water, sugar, garam masala and a dash of lime. Give this mixture a good shake and strain into two glasses. Add a handful of mint leaves, then serve.
Rhubarb and custard
There was a recipe for a rhubarb cocktail in the Guardian recently, and as we grow more rhubarb than you can shake a stick at, I tried the cordial from said recipe. I've been making it regularly ever since, as rhubarb cordial has a wonderful flavour, a brilliant colour and keeps well for a week or so in the fridge; we've mixed it with gin and cava before now, but this is our favourite creation.
Angela Dawson, Taunton
Makes enough cordial for 8 drinks
For the cordial
400-450g rhubarb, chopped
250g sugar
Juice of ½ a lemon
500ml water
For the cocktails
1 part vanilla vodka (which you can buy, or make by steeping a vanilla pod in good quality vodka for a couple of months)
2 parts rhubarb cordial
3 parts tonic water
1 Put the rhubarb, sugar, lemon and water in a pan, bring to a boil, then simmer until the rhubarb has disintegrated. Cool, strain through muslin into a jug for a few hours and chill.
2 To make the cocktail, mix 1 part vanilla vodka to 2 parts cordial and 3 parts tonic water, pour into glasses with or without ice, then serve.
Pomsecco
This cocktail is inspired by two of my favourite fruits: I love pomegranate in every possible way; peach on the other hand was my favourite fruit as a child (and still is). The combination of the two with the prosecco makes a wonderful grown-up drink. It is fresh, colourful, zingy and just perfect for warm summer days.
Fadime Tiskaya, via GuardianWitness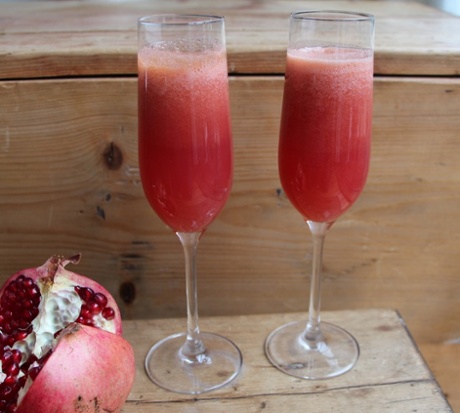 Serves 4
200ml pomegranate juice (from 1 large pomegranate – see below for method)
60g caster sugar
1 cinnamon stick
3 ripe peaches, stoned and chopped
4 tbsp lime juice
280ml prosecco, chilled
140ml tonic water
Ice cubes, to serve
1 To make the pomegranate juice, remove the pith as you work your way in to get all the seeds out. Discard the pith and outer skin. With a potato masher, mash the seeds in the bowl and sieve them over a pan, pressing with a ladle to get as much juice as possible. Discard the seeds.
2 Transfer the juice into a saucepan, add the sugar and cinnamon and bring it to boil until the sugar dissolves. Take it off the heat and let it cool, then chill in the fridge. Discard the cinnamon stick.
3 Puree the peaches with a hand blender, then push through a sieve to get a smooth puree.
4 Mix all ingredients together and serve.
The Michelada – a Mexican favourite
Extremely refreshing, this is either a fancy shandy or a bloody mary with beer instead of vodka, depending on your view.
Paddy MacLachlan, via GuardianWitness
Makes 1
2 large ice cubes
1 lemon wedge
1 bottle strong brown beer, at least 6.5%
Tomato juice
Worcestershire sauce, to taste
Soy or tamari soy sauce, to taste
Sriracha or hot chilli sauce
1 Take a half pint or pint glass, then put the ice cubes and a good squeeze of lemon in it, then drop the wedge into it too. Pour the beer all the way to the top, then slowly add tomato juice – you'll be surprised at how much you can fit into an apparently full glass.
2 Add the Worcestershire sauce, soy sauce and sriracha, or any other hot chilli sauce. Enjoy!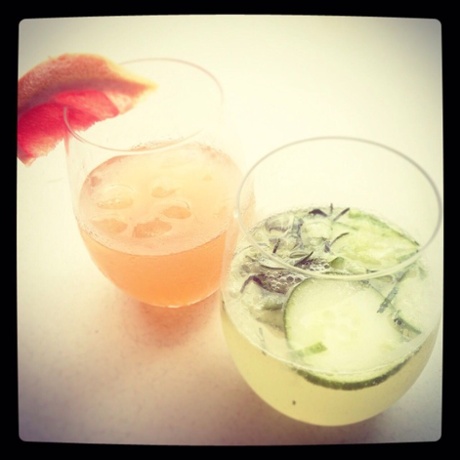 Grapefruit ice tea with whiskey
While hot oolong tea is commonly drunk with or after a meal for its perceived digestive quality; cold oolong tea is a great summer cooler. Slightly smoky, it pairs really well with the citrussy, refreshing flavour of grapefruit in this whiskey-based cocktail.
TwinnyDip, via GuardianWitness
Serves 1
200ml grapefruit juice
100ml oolong tea, cooled
1 tsp brown sugar
40ml whiskey
Ice, for shaking
1 grapefruit, for peel and wedge decorations
1 Mix the brown sugar in the grapefruit juice until dissolved. Place the grapefruit juice, oolong tea, whiskey and ice into the cocktail shaker. Shake until the shaker gets very cold.
2 Peel a strip of grapefruit skin, then, using a chopstick or the handle of a fork, curl the grapefruit peel around it. Place it on top of the drink, and garnish with a wedge of grapefruit at the top.
Vodka thyme lemonade with sherbet
Warm and earthy thyme reminds me of the sunbaked landscapes of Provence or Andalucía. It grows wild there, scenting the thick, heavy air of midday. Thyme goes very well with lemon. And the sherbet? That's just a bit of fun and you can leave it out if you like.
withmustard, via GuardianWitness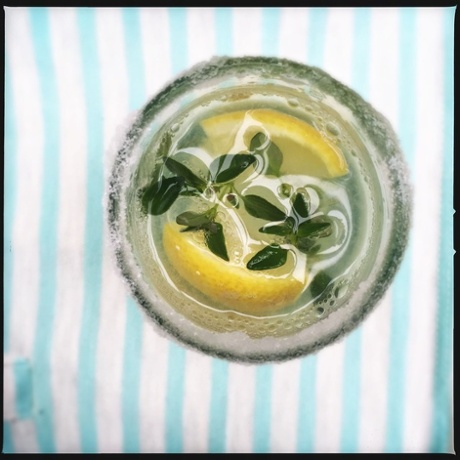 Makes 1
For the sherbet
1 sprig of young thyme
1 tsp citric acid
100g caster sugar
For the cocktail
1 unwaxed lemon, cut into wedges
1½ tsp granulated sugar
2 sprigs of thyme
1 shot vodka
Sparkling or soda water to top up
Ice
1 For the sherbet (excess may be kept in an airtight container for up to a week), place the sugar and thyme into a pestle and mortar. Grind until the leaves are macerated and incorporated with the sugar. Add the citric acid and mix thoroughly.
2 To decorate the glass, place the sherbet on to a saucer. Run a wedge of lemon around the rim of a glass, and then dip into the sherbet, shaking off any excess.
3 To make the drink, muddle the lemon wedges, sugar and thyme. Add the vodka and sparkling water (about 2 parts). Shake some ice into the mix and strain into a sherbet-rimmed glass.