It's not just Indian festivals that revolve around food, the whole world celebrates all the special day of the year with a hearty meal with loved ones. We all are prepping up for Thanksgiving Day 2020 that will be celebrated on Thursday, November 26. Thanksgiving is all about celebrating family love over some delicious food. When we think of a typical Thanksgiving meal, Turkey, mashed potatoes, pumpkin and pies sprung up to our mind from the deep storehouse of our eidetic memory. Cooking and carving up a large turkey on the table along with loved ones is a tradition too. But if you want to go the whole hog and celebrate Thanksgiving with a lavish spread, we can help you with some interesting recipes, and you can thank us too!


(Also Read: How Millennials are Cooking Up New Thanksgiving Traditions)
Thanksgiving Day 2020: 5 Recipes For Your Thanksgiving Dinner Menu -

1. Roast Turkey with Cranberry Sauce
This turkey is a must-have in your traditional Thanksgiving menu. A whole turkey, stuffed and basted with spices and pan juices, offers some really juicy flavours. The slow-roasted turkey in onion-cranberry gravy is something you can easily make at home. Click here for the full recipe.
2. Roasted Spring Chicken With Veggies

If you want to present something different this year, make this whole chicken stuffed with thyme, garlic and lime, and bake with an interesting topping of chipotle powder. Pair it with veggies of your choice, drizzled with olive oil and reduced chicken stock. Click here for the full recipe.

3. Herbs Stuffed Spicy Snack

While your guests are waiting to dig in the bountiful turkey, serve them this yummy appetiser. Spanakopita - made with spinach, green herbs and spices - is a baked, healthy snack to binge on. Click here for the full recipe.

4. Sweet Potato Pie

A traditional Thanksgiving dinner is not complete without some sweet pies, and your table must have sweet potato pie to carry on with the tradition. Sweet potatoes, condensed milk, eggs and sugar come together to make this decadent pie that is best served with a topping of marshmallows. Click here for the full recipe.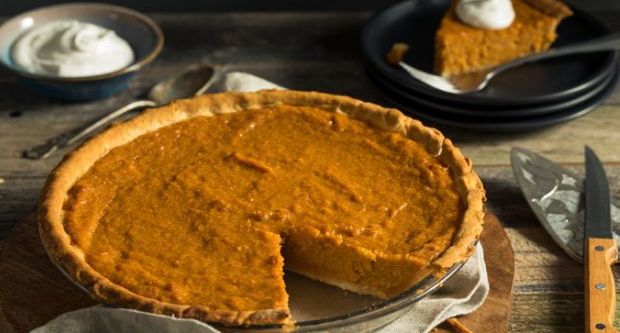 5. Quick Salted Caramel Pie

If you spent all your time and effort in making that special turkey, you can still come up with a delicious pie. Try this quick and easy salter caramel pie made with crunchy crushed biscuits, butter, sugar and lots of cream. Click here for the full recipe.

Let this Thanksgiving Day be a memorable affair with these amazing recipes.


Happy Thanksgiving 2020, everyone!


About Neha GroverLove for reading roused her writing instincts. Neha is guilty of having a deep-set fixation with anything caffeinated. When she is not pouring out her nest of thoughts onto the screen, you can see her reading while sipping on coffee.