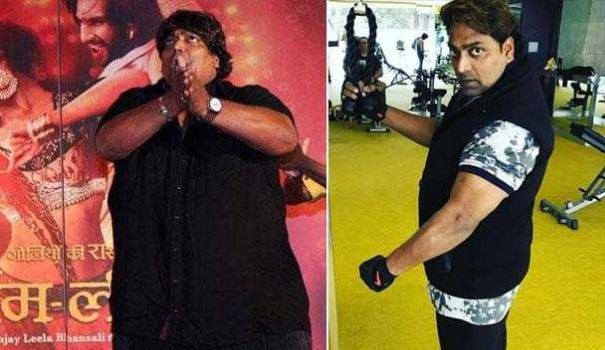 There was a lot that kept the Hindi entertainment industry in news last year. 2017 was a year of colossal highs and abysmal lows. One of the most striking features of the year gone by was the rising tendency towards fitness. While leading actors and actresses have always made news for their body transformation for a particular role and particular movie, this year fitness travelled outside the realm of cinema for many of the industry big-names. Fitness became a personal journey. These celebrities shed oodles of weight naturally for a fitter life. They chose to lead by example . Here are 5 people from Hindi entertainment industry who were the 'biggest losers' of 2017.


1. Ganesh Acharya

Bollywood's favourite Choreographer Ganesh Acharya took his fans by surprise in a fitter and leaner avatar last year. The national award winning choreographer had put 30-40 kilos for his role in 'Hey Bro' and weighed about 200 Kgs in 2015. In a recent press event for the launch of his Marathi directorial debut, 'Bhikari', he shared, "During my last film Hey Bro(2015), I weighed 200 kilos, and now I have lost almost 75 to 80 kilos. There is swimming, gyming and a lot of hard work involved. After my last film Housefull 3 (2016), I decided I would shed it all. I won't say I have undergone a drastic transformation, but yes, I am gradually coming close to weighing normal and healthy. I am working on losing 30 to 40 kilos more."

(Also Read: Lost 80 kilos In Two Years: Here's Why Ganesh Acharya Should Be Your New Fitness Inspiration)


2. Tanmay BhattThe AIB founder and comedian, Tanmay Bhatt lost a whopping 110 kgs and became one of the biggest talking points of the year gone by. Tanmay was out on a ketogenic diet by his fitness trainer Ranveer Allahbadia. On the gradual caloric deficit diet, he successively reduced his calories intake every day. He reduced the intake of bad quality carbs and upped the intake of good fats. Allahbadia revealed that Bhatt took up cardio in bursts, giving him occasional weight loss boost. He also did heavy weight lifting and followed the diet religiously.

(Also Read: Does Ketogenic Diet Work? These 5 Celebrities Sure Think So!​)

3. Karan Johar

The newest daddy in town decided to hop on the fitness bandwagon too last year. The filmmaker admitted in one of his interviews that he wanted to be fitter than ever for his children. With the help of Ranbir Kapoor's trainer Kunal Gir's instructions, Karan lost 17 kgs in a span of just four months! Isn't that just inspirational? Karan Johar followed a version of ketogenic diet. He was kept off sugar and high carbs. KJo works out for an hour every day and on the days he can't hit the gym, he is made to work out in the pool and do aqua therapy.



4. Kareena Kapoor Khan


Kareena Kapoor Khan's inspiring weight loss journey post-pregnancy grabbed prime time headlines too. Her workouts with best friend Amrita Arora became the talk of the town. An avid yoga practitioner, Kareena lost most of her pregnancy weight in a span of 4 months only. She enjoyed each and every bit of her pregnancy phase with help from her dietician Rujuta Diwekar. And the post-natal weight loss was no less fun either for the diva. In a Facebook live with Rujuta Diwekar, Kareena said, "My aim is not just to lose the weight I had put on. I don't want to do it overnight. It may take long, but I want to feel light, happy and energetic throughout the process. And that is important." In the session, Kareena also let out some of her diet secrets. She said, "I always had odd junk food cravings and that's just disappeared. To me, food is no more junk. I always eat and at the right time so I'm full. I don't feel the need to eat something at 6 or 7pm. If anyone spots me at a food store, you won't find me in the diet and low-fat section. You'll find me in the diet section, maybe amongst the yogurt."

(Also Read: Kareena Kapoor Khan's Inspiring Weight Loss Journey Post Pregnancy​)

5. Rajesh Kumar (AKA Rosesh Sarabhai)

TV sensation Rajesh Kumar bringing back one of the most iconic characters of Indian Television- 'Rosesh Sarabhai' also made for one of the best things to have happened in 2017. Rajesh lost 10 Kgs in 3 Months for the new season. The actor managed to achieve the difficult feat with the help of nutritionist Grace Kapoor. He switched to a healthier lifestyle and cut down on junk food completely. Rajesh's diet plan consisted of about 5-6 small meals eaten throughout the day, so that he did not feel hungry or starved. He ate only ghar ka khana cooked by his wife Madhvi Chopra Kumar. He also kept sharing videos from Sarabhai Vs Sarabhai on social media and recently posted about his weight loss journey. Rajesh also did Angamardhana, a fitness routine rooted in yoga to invigorate the body and attain mental as well as physical strength.

(Also Read: How Rajesh Kumar (Rosesh Sarabhai) Lost 10 Kgs in 3 Months)


Thank you for giving us fitness goals through the year. May you continue to inspir many more towards the road of fitness.




About Sushmita SenguptaSharing a strong penchant for food, Sushmita loves all things good, cheesy and greasy. Her other favourite pastime activities other than discussing food includes, reading, watching movies and binge-watching TV shows.