A couple of days ago, a California resident Devorise Dixon created a real media frenzy when he posted a picture of what looked like a fried rat. He claimed it was hard, rubbery and had a tail. He also said that he complained to the KFC staff who admitted to have served him a rat and quickly offered him a free meal.(
The Most Disturbing Meal Ever!
)Obviously, Dixon was completely outraged and took to social media and shared his story.
And that's not all, after the unfortunate incident, Dixon contacted his lawyers and went home and popped the so-called fried rat meat in his freezer.
KFC Fights Back
Dixon's lawyers turned over the suspicious piece of meat to KFC on Friday after which it was sent to an independent lab for testing. The lab results showed that it was in fact chicken and not rat meat.(
5 Most Shocking Egg Delicacies
)KFC spokesman Rodrigo Coronel also issued a statement stating that the controversy was a complete hoax. "Recently in the US, a customer questioned the quality of a KFC product which received considerable publicity given the sensational nature of his claim. The product has now been tested by a third-party independent lab, which confirmed it is definitely a piece of chicken, as we knew all along. The right thing for this customer to do is to apologize and cease making false claims about the KFC brand."(
10 Totally Bizarre Restaurants
)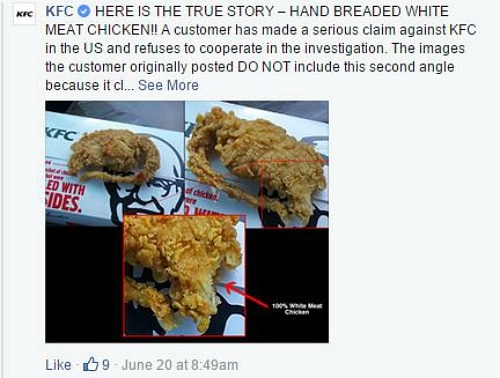 @mayaamor We firmly believe this is a bogus claim, nothing more than a hoax, & an unacceptable allegation about the quality of our food.

— KFC (@kfc) June 20, 2015
While Dixon's story has spread like wild fire, KFC has been extremely responsive and insistent that it's a hoax. Here's the original lab report: