Bollywood actor and model, Sana Khan, has quite a huge fan following on social media. The beauty, who rose to fame for her participation in Bigg Boss in 2012, recently appeared in T
oilet: Ek Prem Katha
, and has been quite active in Tamil, Malyalam and Kannada cinema. The actress played a key role in Salman Khan's
Jai Ho
in 2014 as well, and she will next appear in
Tom, Dick and Harry 2
, which also stars Aftab Shivdasani and Sharman Joshi. The diva is very active on her social media pages, particularly Instagram where she constantly updates her fans about her life.
Sana is also something of a beauty expert, and keeps sharing tips and tricks to keep the skin healthy and glowing. It's not such a surprise, given that the beauty has quite a beautiful skin. Just recently, Sana had posted about a coffee scrub on her Instagram stories, and yesterday, she posted the recipe to a healthy and green smoothie, with ingredients that may help you get a glowing skin. Have a look!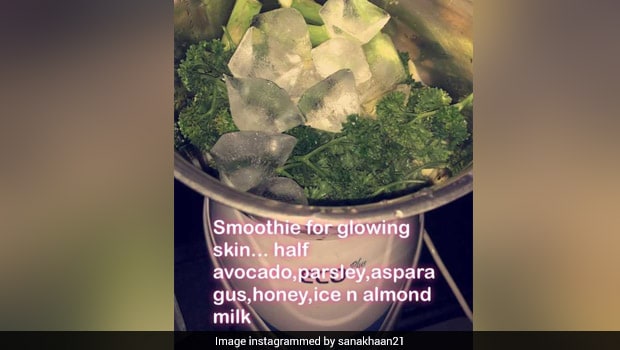 "Smoothie for glowing skin... half avocado, parsley, asparagus, honey, ice and almond milk," Sana wrote on the picture. Avocados are superfoods that are popular with health freaks around the world. The green, creamy and savoury fruit is consumed because of its nutrient-rich profile that mainly consists of healthy fats, vitamins and antioxidants. The fats and the antioxidants keep the skin looking young.
Asparagus is also great for the skin as it is extremely rich in vitamin-A - a potent antioxidant that protects the skin against skin damage. Parsley is great for the skin as the herb can cleanse the skin and detoxify the body as well. It also has antibacterial properties and can fight acne and other skin infections. The same goes for honey, which is also anti-bacterial in nature, and it also has anti-ageing properties. Finally, almond milk promotes a younger and healthier looking skin as well, due to the presence of vitamin-E, which fights free radicals.
What we love about this smoothie is that it's healthy, all-natural and is very low on calories too! So, now you know the secret to Sana Khan's ever-glowing, beautiful and clear skin.