Indian food has an endless variety to offer, and we all love to dig into all those delicacies. Whether it is the classic missal pav from Maharashtra or Delhi's famed chole bhature, or even the South's biryani, there are many amazing dishes that we certainly can't get enough of. So, if you also want to try out these comforting, indulgent, and delicious meals from different Indian states, we have just the recipe list you need. Here we bring some classic food combinations from different regions that you must try.


(Also Read: 5 Regional Fish Curries That Define India's Seafood Culinary Heritage)
Here Are 7 Classic Food Combinations From Different Indian States:
The traditional mutton biryani served with salan is never boring. The tender mutton pieces are marinated in beaten curd and a ton of spices in our delicious mutton biryani dish. The biryani pairs beautifully with the salan, which is made of peanuts and chilli.
Rogan Josh is Kashmir's most touted dish. It is made with red meat that is slowly cooked and a fragrant curry that is produced with a variety of flavourful spices. Yummy Kashmiri Pulao is served with this dish.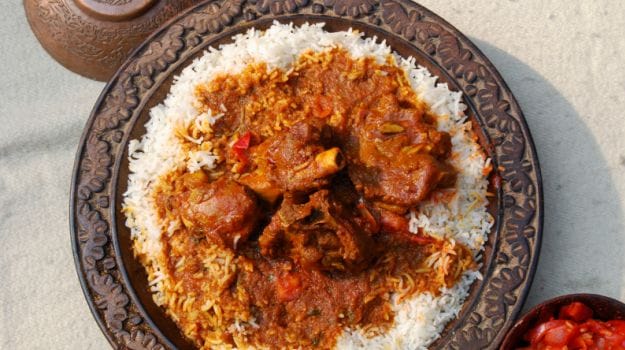 This delicious combination of spicy chole and buttery kulche can be found with street vendors in the tiniest nooks and corners of Delhi. It comes with a side of sliced onions, tomatoes, and pickled carrots. It is an absolute delight to have any day!


Missal Pav is a delight that every Maharashtrian loves to have. The missal is made of matka beans and has a spicy tari that is topped with onions and farsan. This goes well with a buttery pav. You can easily make this at home.


Everyone is aware of this classic combo and has had it before too. We adore the ghee-laden baatis dipped in a spicy dal and then topped with the sweet churma. This combination is undoubtedly a winner!


One of the most delectable non-vegetarian Indian recipes is certainly Naga Pork Curry. This flavourful, filling, crispy, and juicy smoked pork is cooked in a deliciously spicy curry with the renowned Bhoot Jholokia and bamboo shoots. Typically, steaming rice is served with the curry.


7. Bengal's Dimer Dhokkar Dalna and Luchi
Dimer Dhokkar Dalna is a yummy curry made with spices, eggs, and potatoes. It is simmered for a while till the dish becomes rich in taste. This is served with luchi, which is a crisp-fried puri!


So, the next time you plan to make something special for your family, try out these delicious and classic combinations!