Chutney made with dal? Even we'd never heard of it. But we tried it after discovering this recipe and we must admit it was delicious. This power-packed chutney with a distinct nutty flavour is perfect for those following a high-protein diet. Whenever you are not in a mood to make dal, you can just pair your parathas, rice or bread with this chana dal and dahi chutney, and you have a protein-rich meal ready for your daily protein fix.


Most restaurants add some curd to their pudina or dhaniya chutney to enhance its flavour. Curd in any chutney makes it better, even this chutney made with chana dal. This chutney will go perfectly with south Indian meals like dosa and idli, and it is also easier and quicker to make than the south Indian-special coconut chutney.


Food blogger Manjula Jain with her own YouTube channel 'Manjula's Kitchen' shared this recipe. It's a very simple process. Roast chana dal till it turns brown. Stir fry red chillies till they turn brown and add some common spice seeds to it. Grind the chana dal and spice seeds till they turn into masala powder. Then just yogurt, lime juice and salt, you'll get unique, protein-rich chutney for your weight loss diet or high-protein diet.
You can first just make the chutney powder in a large quantity and store for a couple of months in an airtight jar. Just add curd to the powder when you need the chutney. Or, you can also add other ingredients like cheese, mayonnaise etc. to the chutney powder and make a sandwich spread out of it. One chutney - many uses!


(Also Read: This 10-Min Easy Onion-Tomato Chutney Recipe Can Be Used For All Kinds Of Meals)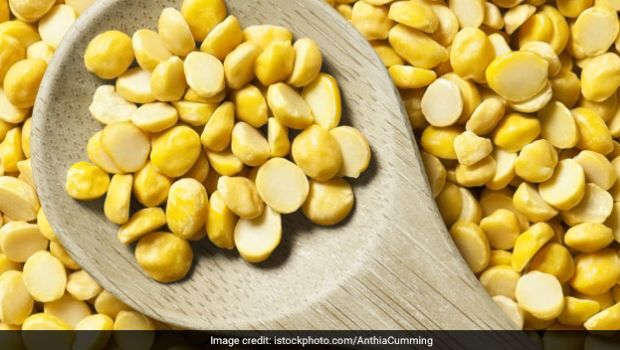 Here's the recipe of the chana dal and dahi chutney -


Ingredients -


1/4 cup chana dal
1 tsp oil
1/8 tsp asafetida (hing)
1 tsp cumin seeds
1 tsp black mustard seeds
4 whole red chilies (adjust to taste)
1.4 tsp fenugreek seeds (mathi dana)
Half cup yogurt
Half tsp salt
Lemon juice (as needed)


Method -


Dry roast the chana dal on medium heat until the dal has changed color to a light brown. Set the dal aside.
Heat the oil in a small frying pan on medium heat.
Stir-fry the red chilies until become a dark color.
Add asafetida, cumin seeds, mustard seeds, and fenugreek seeds.
Stir-fry for few seconds until seeds crack.
Next, grind the chana dal and spices to a powder and blend with the yogurt.
Add salt and lemon juice if needed.


About Neha GroverLove for reading roused her writing instincts. Neha is guilty of having a deep-set fixation with anything caffeinated. When she is not pouring out her nest of thoughts onto the screen, you can see her reading while sipping on coffee.