When you think about Gujarat and its glorious cuisine, often the first images that come to mind belong to evergreen dishes like
dhokla, khaman, khakra and fafda
.
Gujarat
offers a host of delightful snacks that are very popular across the length and breadth of India.
Gujaratis
know very well how to extract maximum flavours from all the veggies and grains in their kitchen.
Dhokla and Khaman
are popular
Gujarati
dishes that are preferred even by those trying to stay away from junk food. Not only do they taste heavenly, they are light on the tummy and can serve as any-time snacks. Some of us may get confused between
dhokla and khaman
as both of them look pretty similar. How are they different? Let's find out.
What is Khaman?
Khaman is made up of fresh ground channa daal or channa flour (besan), soaked in water to make a soft thick paste which has a cake-batter like consistency. This is then baked to a spongy bread like texture. Gram flour, semolina
(rava/suji)
, lemon juice and curd are some of the main ingredients used in baking
Khaman
. The snack can be baked in a cooker, steamer or even a microwave. A final touch a
tadka
using curry leaves,
hing
(asafoetida) and chillies is added. This is just the basic version of khaman, there are several other interesting versions out there that are a must-try too.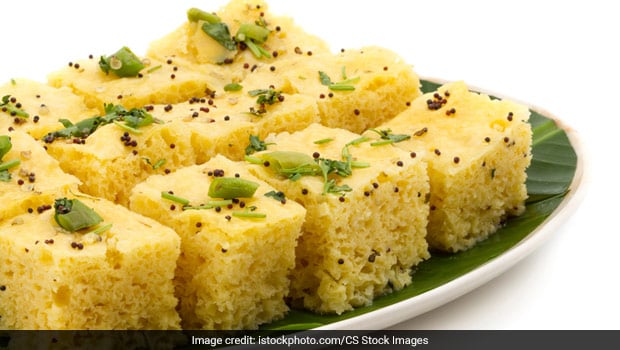 Khaman is made up of fresh ground channa daal or channa flour (besan).
1.
Nylon Khaman
- Made from
besan
, this type of
khaman
gets its name from its softness.
2.
Amiri Khaman
- It is the perfect tea-time snack, using leftover
khaman
(crumbled) tempered with garlic and pomegranate and finally served with
sev
.
3.
Masala Khaman
– The
Masala khaman
is a fried variant where baked
khaman
is fried in oil, along with red chilli powder, mustard seeds and turmeric powder, instead of tempering it.
4.
Vati Dal Khaman
– It is a traditional type of khaman made from crushed lentils (vateli dal).
Vati dalkhaman
is known to be a little hard and not as soft as a nylon
khaman
which is made using
besan
.
What is Dhokla?
Only a trained eye can tell the difference between a
dhokla
and khaman.
Dhokla
is made from a fermented batter of rice and split chickpeas and is pale yellow or white in color. It is usually served with curd or
dhania
chutney. Speaking of the texture,
Dhokla
is a little harder than
khaman
and is garnished with a tempering (
tadka
) of mustard seeds, coriander leaves and split green chillies. It can be eaten for breakfast and can also be served as evening snacks. Like
khaman, dhokla
also is prepared in a variety of ways.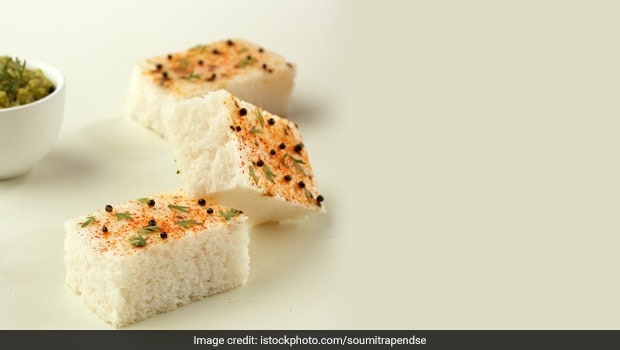 Dhokla is made from a fermented batter of rice and split chickpeas.
1.
Rasia Dhokla
– The
dhokla
is boiled in a curry made of tamarind, button chillies, jaggery and other spices giving the
dhokla
a delightful touch.
2.
Khatta Dhokla
– The white (rice) dhokla is fermented with curd or lemon juice and served with a sweet chutney for added yumminess. The addition of curd or lemon juice add to a delicious sour taste.
3.
Toor Dal Dhokla
– These
dhoklas
are prepared only with toor dal (arhar) and ginger-garlic paste is one of the main ingredients in this.
4.
Rava Dhokla
– The softest
dhokla
is
rava dhokla
which is made up of semolina (
suji or rava
), and is mainly served with green chutney.
Other types of dhoklas include green peas dhokla (green in colour due to the presence of peas),
cheese dhokla and mixed dal dhokla
. Now, let us see how these 2 differ:
Ingredients:
Dhokla: Dhokla
is made with a batter made using rice and chickpeas.
Khaman: Khaman
is made from chana dal or channa flour (besan). Both are steam cooked.
Colour and texture:
Dhokla
: Because it uses rice, traditional
dhokhla
is a little pale in colour. However, what you get in the market now is a vibrant yellow to look at, perhaps to make it more appealing.
Khaman
:
Khaman
is richer looking and also has a softer, more spongey texture. You don't need to pick one of the two!
Khaman
and
Dhokla
are both hugely popular snack dishes and enjoyed by people all across the country. Now that you know the difference between the two, we hope you enjoy them even more!