Almonds have been a part of the Indian diet for centuries. These tear-shaped nuts are healthy, crunchy and a delight to much on. Besides having it as is, you can enjoy these bite-sized nuts in every possible way. From whipping up healthy chutneys and smoothies to garnishing salads and desserts - almonds have a wide range of usages in every kitchen. They also make for a healthy snacking option to satiate mid-meal hunger and midnight cravings. What adds on to the popularity of almonds is the rich nutrient-profile. Deemed to be a superfood, almonds are loaded with every essential nutrient for a healthy living.
Health Benefits Of Almonds | Almonds Health Benefits
Almonds are a rich source of vitamin E, manganese, magnesium, copper, phosphorous, fibre, protein, mono-saturated fatty acids and more. According to consultant nutritionist Rupali Datta, almonds are loaded with healthy fats that refill us with a good amount of energy. The minerals in almonds help regulate blood pressure, manage diabetes and keep cholesterol level under control. Besides these bite-sized delights contribute to healthy skin, hair and slow down cognitive decline.


Hence, experts around the world recommend the inclusion of almonds in our everyday diet for overall nutrition. This also brings up a question- what is the best way to have almonds. Celebrity nutritionist Pooja Makhija makes it clear for us.
Also Read: Celebrity Nutritionist Pooja Makhija Reveals The Difference Between Good Calories And Bad Calories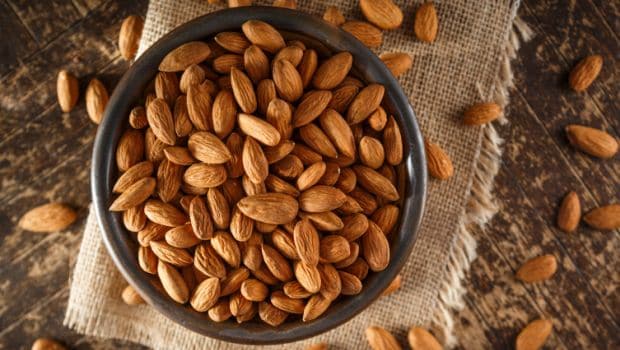 In her latest video post on Instagram, Pooja Makhija explains that the nutrients of almonds can be enjoyed at its best when soaked and peeled. She further provides 4 basic reasons for having almonds soaked and peeled. Let's find out:
The skin of the almond makes it difficult to digest.
The skin contains tannins, which lower nutrient absorption.
Soaking makes it easier to chew.
Soaking reduces the phytic acid which lowers calcium, zinc and manganese absorption.
"Soaked peeled almonds stands a clear WINNER," Pooja Makhija adds in her Instagram video post.


Find here the complete video:


About Somdatta SahaExplorer- this is what Somdatta likes to call herself. Be it in terms of food, people or places, all she craves for is to know the unknown. A simple aglio olio pasta or daal-chawal and a good movie can make her day.