Spring season comes with a host of its own festivals, of which Holi is the most eagerly awaited one. A colourful and joyous occasion, it is right around the corner and approaching fast. One of the biggest Hindu festivals of the year, Holi is celebrated with much aplomb across the country, especially in the Northern areas. Water-filled balloons, plates of colourful gulal, pichkaris and chandan tikas are a common sight during this time. A Holi feast is also laid out with traditional delicacies such as gujiya, samosa and thandai. Here's all you need to know about Holi 2023, its auspicious timings, significance, how to celebrate, and some delicious festive recipes.
When Is Holi 2023? | Holi 2023 Date
Holi is celebrated on the evening of Purnima in the month of Phalgun as per the Hindu calendar. Usually, Holi falls in the first or second week of March. This year, in 2023, Holi is being celebrated on 8th March, Wednesday.


Holi, also known as Dhulendi, is the day when colours and water is applied to near and dear ones. The evening before that is called Choti Holi or Holika Dahan, and a bonfire or holy fire is lit to mark the start of the festive celebrations.
Holi on Wednesday, March 8, 2023


Holika Dahan on Tuesday, March 7, 2023
Holi Puja Timings | Auspicious Timings For Holi 2023
Purnima Tithi Begins - 04:17 PM on Mar 06, 2023


Purnima Tithi Ends - 06:09 PM on Mar 07, 2023


Source: drikpanchang.com


(Also Read: Holi 2023: 5 Traditional Foods To Enjoy On Holi)
Significance Of Holi 2023 | How Is Holi Celebrated?
Holi is celebrated with much fervour across different states and cities. In Uttar Pradesh, cities such as Mathura, Vrindavan and Barsana celebrate a unique 'Lath Maar' Holi which is famous across the world. In Eastern states such as Bengal, Holi is known as Dol Yatra or 'swing festival' and worship of Radha-Krishna is carried out by devotees.


The day before Holi 2023, as mentioned, is celebrated with a traditional bonfire around which everyone gathers. On Holi day, it is customary to put colours or gulal on each other. Bright pink, deep purple, tangerine orange, yellow and more such vibrant hues are clearly visible among those partaking in the festivities. While some prefer to keep it dry, others also play with water guns or pichkaris. Music and dance are also an important part of Holi festivities, and so is the delicious Holi feast!
Best Festive Recipes For Holi | Foods To Celebrate Holi 2023
No Indian festival would be complete without food. Since Holi falls in the spring season, the food is light and refreshing but somehow still very fulfilling. After hours of playing with water and colours, these are some of the traditional festive recipes for Holi.
Here Are 5 Festive Recipes For Holi 2023 Feast:
1. Kanji


A light, fermented drink - kanji is prepared a week in advance for Holi celebrations. The chilled delight will cool down your senses and make Holi a memorable affair. Click here for some recipes.


(Also Read: Holi 2023: 7 Tasty And Healthy Holi Snacks You Must Try)
2. Dal Kachori


If you are looking for a quick snack for the Holi feast, this dal kachori is a must-try. Crispy fried kachoris are stuffed with masala, dal and spices. Find the full recipe here.


3. Dahi Bhalla


Refreshing dahi paired with soft, fluffy bhallas - need we say more or are you drooling already? This street-style delight is a must-have at any celebration, especially so on Holi 2023. Click here for the recipe.


(Also Read: Holi 2023: This Veg Holi Party Menu Is Replete With Classic Indulgence)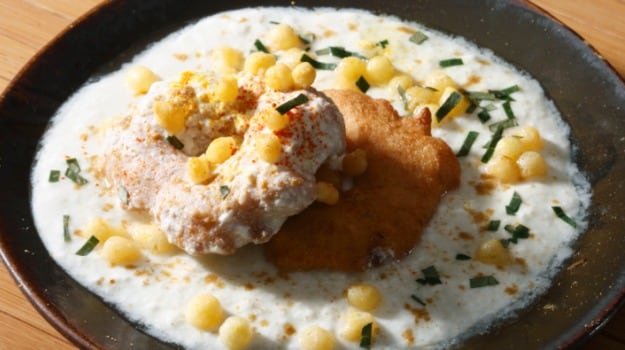 4. Thandai


Sometimes, fizzy drinks and colas don't soothe the soul as much as simple, desi coolers do. This homemade thandai with kesar is an easy yet wonderful addition to your festive spread. Find the full recipe here.


5. Gujiya


Last, but not least, how can we forget the classic Gujiya? Whether you like its traditional version or whether you prefer the fusion ones made with chocolate, Gujiya is undoubtedly a Holi must-have. Click here for some amazing gujiya recipes.
Wishing all our readers a very Happy Holi 2023!
About Aditi AhujaAditi loves talking to and meeting like-minded foodies (especially the kind who like veg momos). Plus points if you get her bad jokes and sitcom references, or if you recommend a new place to eat at.