We've heard stories of certain ingredients like the
black pepper
or the common salt found in every household today to be as expensive as gold back in day and even bartered for trade. India showcases a diversity of indigenous ingredients and not many of them may pinch your pocket. At the same time, it also boasts of luxury foods like the
Kashmiri saffron
or premium quality Darjeeling tea sought after all over the globe and can cost you a fortune. One such expensive and exclusive ingredient that grows wild on the foothills of Himalayas is the Guchchi mushroom that is priced at anything between Rs. 10,000 to Rs. 30,000 for a kilogram! What makes this
mushroom
so precious?Also known as Morel Mushrooms or Morchella Esculenta scientifically, these mushrooms command a huge demand despite their high price tag. They are locally called '
guchchi'
in the Himalayan region and are prized for their spongy, honeycomb texture and unique flavour. But that's not the only reason for the luxury pricing. Gucchi mushrooms cannot be cultivated commercially and instead they grow wild only in some regions like the Kangara Valley, Jammu and Kashmir, Manali and other parts of Himachal Pradesh after the snowfall period.The villagers start the laborious process of collecting these elusive mushrooms sometime around March which continues till May-end. They start at the crack of the dawn and spend their day their entire day wandering through risky areas and sometimes digging through thick layers of snow to find these hidden delicacies. Guchchi mushrooms usually grow in clusters on logs of decaying wood or decaying leaves and even in humus soil. They may or not grow in the same spot the next season and they are notoriously unpredictable as they may show up anywhere. The villagers look for them with a sharp sight and close attention to the ground and yet there's always a possibility that they may miss them. This makes it a painful process to source them and sometimes farmers may only return with a few grams of
guchchi
mushrooms.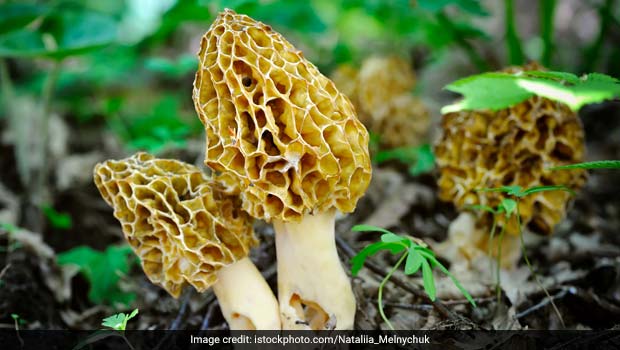 Gucchi grows in the Himalayan region after a period of snowfall.
The mushrooms are strewn into a garland and hung over fire to dry. These mushrooms are very fragile and a lot of effort is required to retain their pleated honeycomb texture. It can take months before enough is collected, dried and available for sale in the market. The locals never really keep this exquisite ingredient for their own use and everything that is collected is often sold to help them earn their livelihood.There are also some stories that have been linked to
guchchi
mushrooms, like for instance, thunder and lighting are known to make them multiply and also that they grow best in areas that have suffered a forest fire. But none of them have been validated yet. The mysterious growth of
guchchi
mushrooms remains as obscure as the search for it.
How to Use Guchchi Mushrooms
Guchchi mushrooms need to be soaked in hot water for at least an hour to moisten them and to
remove all the dirt and sand particles
that may cling on to the porous skin of the mushroom.The best use of fresh
guchchi
mushrooms is perhaps in pulao where you can enjoy their musky flavour."Although many chefs have experimented with Gucchi Kebabs and Tandoori Gucchi in gravy combining it with other expensive ingredients like fragrant spices, saffron and dried fruits, I prefer making the Gucchi Pulao. Using the water in which the
guchchi
is soaked for the
pulao
emanates a nice nutty flavour with a meaty texture that is difficult to resist. It is always better to slice the
gucchi
and cook as the surface area touching the food increases and thus the flavour is enhanced Gucchi does not require too much
spicing and marination
and in fact that may ruin the dish," shares Chef Vineet Manocha.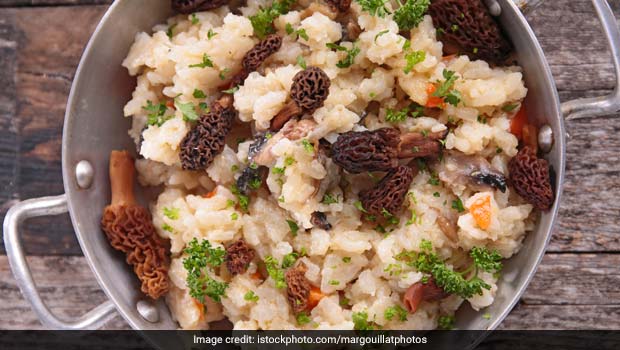 Guchchi pulao is the best way to use these mushrooms.
Chef Sadaf Hussain, Contestant from MasterChef India 2016, tell us, "My first encounter with
guchchi
was in Kashmir. These mushrooms are very famous there and usually served at weddings. Large morels are often old and are prone to sponginess, they can break down easily. I feel the smaller morels are safer and taste better. The best way to enjoy these amazing mushrooms is to break off the stem, slice them in half and sear them in oil on high heat to give them a nice brown color. This will also make them soft. Then, you can add some minced onions, ginger and garlic and saute nicely. Finely, finish it off with a spoonful of
butter.
The butter will melt and get soak into all the crevices which will only add to the flavour. You can also squeeze some lemon juice, add salt and pepper and garnish with fresh coriander leaves. You'll get the most basic but the most amazing
guchchi
dish to enjoy."In
Kashmiri cooking
, they are diced and then tossed gently with mild spices to retain the robust natural flavour and earthy aroma. These delicate mushrooms are hollow and also make for an excellent case to stuff exciting fillings in them.Try this recipe of
Dum Guchchi Pulao by Chef Gautam Mehrishi