Winters have finally arrived and how! There's something about the season that makes us want to indulge in soothing and comforting dishes. And if you know Indian food even a bit, you'll know a host of winter delights that swarm our kitchens during the season. There are a host of seasonal ingredients that become an imperative part of our dishes in this chilly weather. From veggies like carrots and beetroot to nuts and dry fruits such as dates and more, everything winter-y finds its way to our plates. One such ingredient is the nutty and sweet - sesame seeds.


Sesame seeds (til) are a popular ingredient used in cooking that comes in different colours - black, white and brown, and are also used in extracting sesame oil. Sesame has a very distinct flavour that is acquired by the oil and is further used to spruce up a number of dishes such as fresh salads and various accompaniments. But one of the most common traditional Indian dish made with til is delicious gud and til ki chikki.


(Also Read: 11 Best Sesame Seeds Recipes | Top Sesame Seeds Recipes)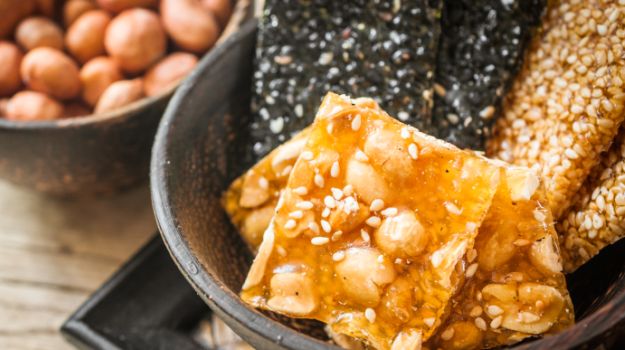 Chikki is a traditional Indian brittle sweet usually made of ghee, jaggery and peanuts during the winters to keep the body warm and energised. Often enjoyed on the festival of Lohri, chikki can be made with various nuts and dry fruits. We have got a quick and easy til chikki recipe that you can try at home too!


Til or sesame seeds are warm in nature and come with a bevy of health benefits that makes it fit for warm winter snacking. Apart from being a rich vegetarian source of protein, sesame seeds come loaded with calcium, iron and antioxidants. They are also rich in good fats - monounsaturated fatty acids and oleic acid - that helps in curbing high cholesterol and promotes heart health. In this recipe of til ki chikki, made with just 4 ingredients, sesame (til) is stirred and cooked in a sugar syrup, mixed with baking soda and left to set in a greased tray. You can serve the chikki once set and cooled. A super quick and easy snack recipe, til ki chikki can be your fix for all hunger pangs and sugar cravings this winter season. Find the recipe of til ki chikki here.
About Aanchal MathurAanchal doesn't share food. A cake in her vicinity is sure to disappear in a record time of 10 seconds. Besides loading up on sugar, she loves bingeing on FRIENDS with a plate of momos. Most likely to find her soulmate on a food app.