Lohri 2022: Lohri is a festival of togetherness and as celebrations abound in Northern India, one can't ignore the waft of great food that's cooking in Indian kitchens. There's something about the nippy air of January that is too festive to ignore. Often called as the 'land of festivals', India boasts of a maximum number of festivals in a calendar year. Festivals spanning across regions, territories and communities, have been spreading cheer since time immemorial. One such festival which makes January special for North Indians is Lohri. Lohri celebrates the harvest festival in North India. In an agro-based country like India, the season of harvest has been one of the most significant periods of the year. Lohri celebrates the harvest of rabi crops, those which are sown in the winter. Lohri is all about getting together with family and offerings food to the holy fire and incredible feast like chole bhature, makke ki roti, sarso ka saag, et al.


(Also read: Lohri 2022: From Palak Patta Chaat To Matar Kebab - 5 Easy Snack Recipes To Celebrate)

There are various harvest festivals celebrated across the country during the same time such as Makar Sankranti, Pongal in South India, Bhogali Bihu in Assam and Bhogi in Andhra Pradesh.
Lohri is one of the most widely celebrated festivals of Punjab. On the evening of Lohri, people build a huge bonfire. Traditionally, it is a community bonfire where people gather around it, sing songs, munch on festive delights and make merry. On the wintry nights, people warm up to the sparkling flames. According to a legend, these flames carry the message to the Sun Gods, to put an end to gloomy, winter days from next day onwards. In addition to savouring into the foods, people also toss some of them towards the bonfire. The act of offering food to the fire god is considered auspicious, especially for the newly married couples in the family and for parents who are blessed with new-borns. Here are some traditional foods Lohri bonfire is incomplete without.
Lohri 2022: These foods are typically relished during winters for their ability to keep the body warm:

1. Chikki
Yummy peanut and brittle jaggery chikki makes for one of the most favourite Lohri treats. There are several different varieties of chikkis in addition to the most common groundnut chikki. Like til ki chikki or dry fruits chikki which includes chunky nuts like cashews, almonds and pistachios embossed in the sugary base of brittle jaggery.

(Also Read:Happy Lohri! 10 Authentic Recipes​)

2. Popcorn
It isn't all about til and gur that rule the winters in Punjab. Makkai or corn also plays a crucial part in the winter fare. Popcorns or phulle makes for one of the most popular snacks of Lohri. Popcorns is also used to toss to the grand bonfire.

The delicate, traditional wintersweet, made with roasted sesame seeds, jaggery is one Lohri delicacy that is enjoyed even much after Lohri is over. These ladoos come with a longer shelf life and are prepared in huge batches. The ladoos are stored in air-tight containers and enjoyed throughout January and early part of February.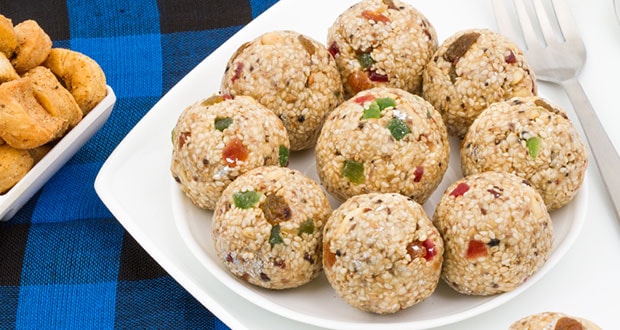 Lohri 2022: Til ladoos are enjoyed for days after Lohri
4. Gajak
Gajak signifies a class of sweets-usually, a confection made from sesame and jaggery, or sugar. Chikki and Gajak are terms often used interchangeably for the same snack. Gur gajak is more or less the same as gur ki chikki. The Safed gajak, made of sesame seeds and white sugar is also an integral part of the celebrations.



5. Rewri


Trust us when we say this, this bite-sized sesame and brittle sugar snack are addictive. No one has ever been able to hold themselves back after having just one of them. Rewri along with popcorn and peanuts are two of the top foods that are tossed to the fire.



After the bonfire, the festivities are continued till dinner time where winter delicacies like sarso ka saag and makki ki roti take centre stage as a traditional staple. May you get to indulge in all these lovely festive treats!
Here's wishing you all a Happy Lohri 2022!
About Sushmita SenguptaSharing a strong penchant for food, Sushmita loves all things good, cheesy and greasy. Her other favourite pastime activities other than discussing food includes, reading, watching movies and binge-watching TV shows.