"Open sesame". All stories have kernels of truth. And one of those in the Alibaba tale has to do with sesame. "Khul ja, sim sim" may be a phrase that we now associate with djinns, treasures and magic. But it borrows from a natural phenomenon of sim sim, or sesame pods opening on their own when dry and ready for harvest.All nature is of course magic and all magic is perhaps nature and nothing exemplifies this more than food. Sesame, one of the oldest known plants (and certainly one of the oldest known oilseeds), is native to India and has always been used in many different food preparations. Being a source of fat, it has been traditionally valued as a warm and life-giving food. An Assyrian myth, for instance, says that the gods drank sesame wine on the night before they created the earth. In India too,
these seeds
are a part of many rituals as a symbol of life.
Makar Sankranti
, the day when the sun moves into "maker" or Capricorn, signifying the end of winter, traditionally also a time for the new year in many agrarian communities around India, is associated with "til" or sesame. In some lores, this is the seed blessed by Yama, god of death, and hence associated with immortality. In others, it symbolises Lakshmi, Vishnu's consort who brings in prosperity. It is easy to see the agrarian references. As a
warming food
and being rich in fat (and according to modern science, "
good" fats
) it is but natural for
til
to be a symbol of both longevity and prosperity and thus one of those ingredients that find pride of place on "auspicious" days such as
Sankranti
, when the darkness of winter is over and the sun is reborn to bless us with life and fertility.
Til
is donated around time of the year traditionally and, of course, we all get to sample the joys of
til laddoos
,
til pattis
and sweets like
rewari
in northern India.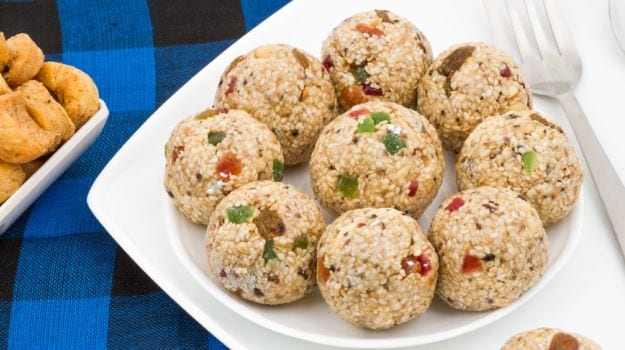 When you gorge on these, you can take heart in the fact that sesame is one of the healthiest ingredients around. These seeds have so many attributes that they can easily be classified as a "
superfood
"— dealing
diabetes
,
lowering blood pressure
,
preventing cancer
, building strong bones, helping against insomnia, and
fighting chronic stress
!Keeping health reasons aside, I love the nuttiness of these seeds. As such they are invaluable in
dressings for salads
and on sauteed vegetables, breads or buns. You can use them for any of these preparations even if you don't want to make traditional the
mithais
out of them. Indian cuisines apart, sesame seems most predominantly used in Arabic foods as well as in Japan, where tan and black sesame seed varieties are roasted and used to make gomashio flavouring.Gomashio is actually a fairly easy-to-make seasoning that you can put on the table and use as a sprinkling on just about anything—from
rice
and
tofu
to soups. You can toastunhulled sesame seeds and grind them with
sea sal
t in about a 10:1 ratio. It is used to sprinkle on endamame too. Traditionally, the seeds were ground with salt in a suribachi, the Japanese mortar pestle. But you can use a modern, electric grinder at home.Using
sesame oil
, especially when cooking
Asian food
(Chinese, Japanese, Korean) is another healthy practice that you can incorporate in your kitchen. In fact, the Japanese sesame oil comes in dark or clear variants but the common cooking one is the dark and is made from roasted seeds. It has a distinctive toasty aroma. The clear one is called taihaku-yu, made from raw seeds. It is completely odorless, and is more expensive and also hard to find. Sesame oil is so pervasive in Asian cooking that even authentic tempura was fried in dark sesame oil.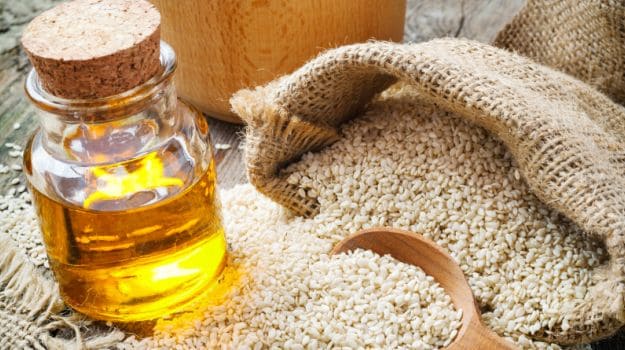 In India, we have lost the tradition of using, different cold-pressed oils for different seasons, foods and in different regions. Sesame oil continues to be use widely in
Ayurvedic medicine and as a cosmetic aid for skin and hair
. But cooking with it is quite rewarding too, especially in the cold winter months.Another simple way in which you can incorporate sesame into your diet is by using it as a crunchy topping for anything batter-fried. In Bihar, some of the khaja (fried, layered dough, mildly sweetened) could be flavoured with both
fennel
and sesame. This is perhaps a practise that borrows from the Arabic tradition where sesame is used widely in a variety of sweets and savouries.In fact,some of the best
falafels
that I have had (in Egypt) has come topped with sesame and then fried, giving it both texture and aroma. Besides this, of course, there is the all-pervasive, all important Tahina paste that goes into dips such as
hummu
s. The taste of the chickpea dip is balanced and a note of complexity is added with the Tahina that is spooned into the mix. The oily paste made from toasted and hulled sesame seeds goes into not just hummus but also
baba ganoush
and all the Arabic
halvas
. It is easy to make at home, without hunting for imported cans of the stuff landing on our doorsteps from Dubai. Try it.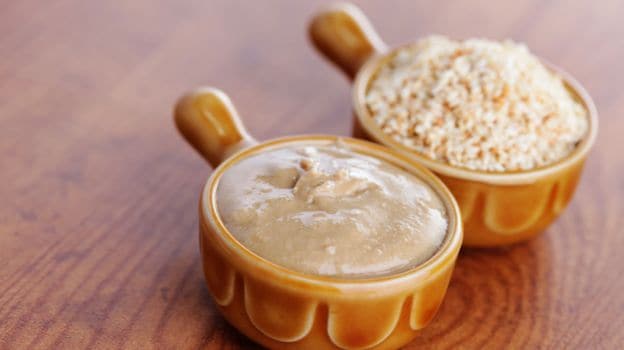 Disclaimer:
The opinions expressed within this article are the personal opinions of the author. NDTV is not responsible for the accuracy, completeness, suitability, or validity of any information on this article. All information is provided on an as-is basis. The information, facts or opinions appearing in the article do not reflect the views of NDTV and NDTV does not assume any responsibility or liability for the same.