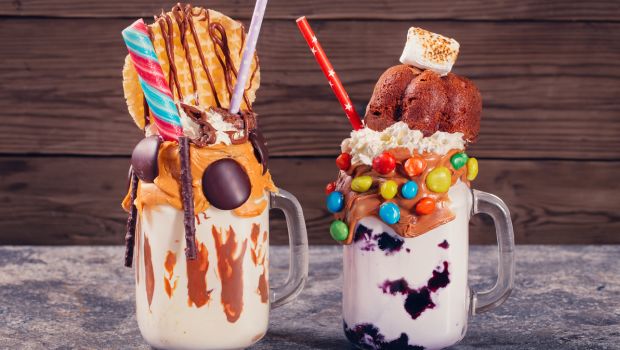 2017 was by far one of the most happening years for the food world. In India too, a couple of our favourite foods managed to grab prime time headlines. We entered the Guinness Book of World Records with India's all-season dish Khichdi. The long standing debate on Rasgulla and its origin also drew to a close with Bengal winning the GI tag for 'Banglar Roshogolla'. The year gone by also saw a host of trends that managed to capture the attention of many Indians for its flavour, looks or simply its global hype. While some of the trends were absolutely worth it, others we may want to leave behind in 2017. As we step into a new year, here are some trendy foods that desperately need to go.

1. Freakshakes

Milkshake lovers in the house raise your hand! The flavourful milk with a dollop of whipped cream and sprinklers has been our most loved treat since childhood. Enter Freakshakes and it all changed for the worst. Now, in name of milkshakes, you also get brownies, fudge, ice cream, sugar sticks and candy all stacked in a big mason jar! These Milkshakes or 'freakshakes' (as people would like to call them) filled to the brim (almost falling out) with crazy toppings took the internet food world by storm. This dessert cum drink was originally invented by the Patissez Cafe in Canberra, Australia, and by the last year it became a common occurrence across a host of Indian cafes and restaurants and our Instagram feeds. Yes they are drool-worthy and often a treat to gorge on, but the gigantic milkshakes are so tough to eat/drink/finish, lets not even forget the tonnes of added calories. No one person has ever been able to finish the tall drink cum dessert, we wonder what bad did the good ol' simple milkshake do to be outshined by these messy and sugar loaded explosion of a drink!

2. Glitter coffee

The blingy trend took 2017 by storm, but let's admit it Glitter Coffee's shimmer and shine faded as soon as we sipped into our capucchino. The edible glitter used to top your frothy coffee added nothing to the beverage in terms of taste and flavour. The picture-perfect drink tastes no different from other cappuccinos, and makes for nothing more than a pretty sight (and a likable Instagram post)

(Also Read: Glitter In Your Coffee. The Bling Trend Is A Treat To Your Eyes!​)


3. Butter Chicken everything

We get it! You love Butter Chicken. We love it too! But that doesn't mean one would start sneaking in the lip-smacking delight into every other snack we know in the world. We were just getting our palettes ready to fathom the butter chicken pastas and butter chicken pizzas and in came a barrage of butter chicken waffles and butter chicken doughnuts too! Can we please leave our dear Butter Chicken alone in 2018.

(Also Read: The History of Butter Chicken, Indian Cuisine's Most Loved Curry)

4. Multicourse Buffet

The multi-course buffet in our big fat shaadis or parties is something we can safely do away with. Especially when the turn out is expected to be limited, long, never-ending menus are only going to result in immense food wastage. In a bid to include everything, the quality also often suffers. Now that doesn't mean that you keep your guests hungry at the next party you plan to throw. Keep the menu short, exciting and also keep a tab on the new food trends that are doing the rounds. Mingle the regular favourites with some quirky additions like live pizza and sushi counters. This way you not only save money but also food wastage.

(Also Read: 6 Wedding Food Blunders And How To Avoid Them)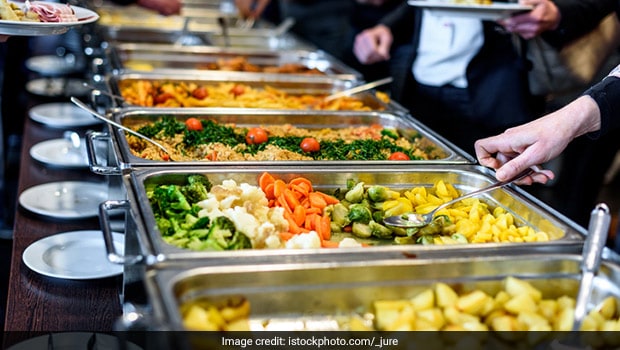 5. Pizza With Fruit Toppings

Now don't take us to be rigid and unaccepting of new trends, but for the longest time we have loved our pizzas to be everyting savoury, cheesy and amazing. Fruits such as strawberry over a cheesy base may have been an innovative genius of an able chef, but it didn't quite charm a large part of the youth. The trend got many confused, with many taking to social media to troll it. Chocolate pizzas is one of the newest trend trying to compete with the old school savoury variants. Will this trend stand the test of time or be met with same backlash? We would have to wait and watch.



Did we miss out on any of the food trend that you particularly want to leave behind in 2017? Do let us know in the comments section below. Here's wishing you all a happy and foodie new year!



About Sushmita SenguptaSharing a strong penchant for food, Sushmita loves all things good, cheesy and greasy. Her other favourite pastime activities other than discussing food includes, reading, watching movies and binge-watching TV shows.