Iron is a crucial component in our body that helps maintain healthy skin, hair, cells et al. It is known to transport oxygen throughout the body and helps beat fatigue. However, deficiency of iron is a very common problem, especially among women, and children in their growing years. It leads to shortness of breath, weakness, headache, dizziness, poor appetite and more. Hence, experts around the world often suggest good amount of iron-rich foods in our daily diet to keep up a healthy lifestyle.


Maintaining sufficient amount of iron in our body has become yet more important in the current scenario (read: ongoing Coronavirus pandemic). A study published in the journal 'Open Forum Infectious Disease', found a link between iron and Covid-19 infection. The researchers analysed 50 hospitalised people with confirmed COVID-19 and found that 45 of them (90 per cent) had abnormally low serum iron level. The study also stated, "Low serum iron concentration was an independent risk factor for death in COVID-19 patients."


Keeping these factors in mind, we bring you some iron-rich winter fruits and vegetables that may help prevent iron deficiency in our body.
Here're 7 Iron-Rich Winter Fruits And Vegetables For You:
1. Beetroot:
As per Macrobiotic Nutritionist and Health Coach Shilpa Arora, beetroots are excellent for compensating the iron level in our body. This winter vegetable is a storehouse of iron, copper, protein, vitamins, calcium, sulphur and more. In fact, the vitamin C-content in the vegetable by itself helps increase body's iron stores.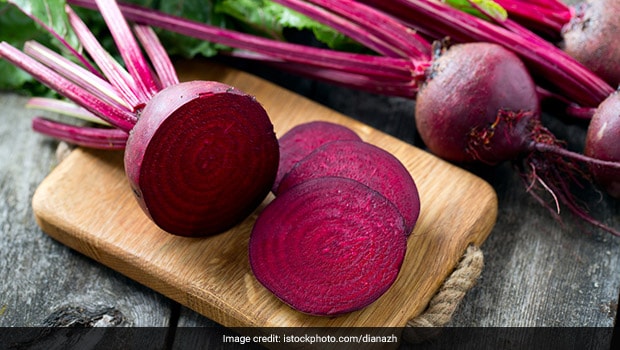 2. Spinach:
The benefits of spinach need no introduction. It is a treasure trove of nutrients that help promote overall health. It is loaded with iron, vitamins and minerals that help boost immunity, haemoglobin and prevent anaemia.
3. Broccoli:
Popularly touted to be a superfood, broccoli is rich in B-vitamins, vitamin C, iron, folate, zinc and magnesium. Have it boiled or sauteed, broccoli benefits your health in many ways.
4. Cabbage:
Another popular winter vegetable, cabbage is loaded with iron, several essential and minerals. Alongside preventing iron deficiency, this leafy vegetable helps promote weight loss, healthy skin, manages blood sugar, detoxifies the body, and more.
5. Pomegranate:
One of the best foods to increase haemoglobin level in the body, pomegranate is a rich source of iron, vitamins, protein, carbs and fibre. As per experts, the ascorbic acid-content of the sweet red pearls helps regulate blood count in the body.
6. Apples:
Alongside adding a flavour to the season, this fruit is a rich source of iron and helps promote overall health.
7. Orange:
A powerhouse of vitamin C, orange helps increase the iron-content in our body. It is also ideal to add to our daily diet to promote weight loss, healthy skin, immunity and overall nourishment.


Eat healthy, stay fit!
About Somdatta SahaExplorer- this is what Somdatta likes to call herself. Be it in terms of food, people or places, all she craves for is to know the unknown. A simple aglio olio pasta or daal-chawal and a good movie can make her day.