To flavour milk, or a bowl of cereal, or simply as a post-meal sweet, chocolate is a hit across all age groups. When you spot a delicious bar of chocolate in front of your eyes, it's so hard to resist biting into it. It elevates your mood, tempts your tastebuds and gives you a boost of energy to tackle the day. From nuts to caramel, dried fruits to butterscotch bits - there are so many variations and versions of chocolate available in the market today. But is chocolate good for you or is it can it prove harmful for your health? Here's all you need to know.
What Is Chocolate Made Of?
Chocolate has had a long history of production and consumption. It is made from cacao beans that go through fermentation, drying, roasting and grounding. What's left after processing is a rich and fatty liquid that is pressed to remove the fat (cocoa butter) and the cacao (or "cocoa") powder. This fatty liquid is then be mixed with different ingredients to produce dark, milk, white and other types of chocolates.
The Good News About Eating Chocolate | Benefits of Chocolate
Chocolate indeed does have several benefits of consumption in moderation. Cacao beans contain minerals like iron, potassium, magnesium, zinc and phosphorus and some vitamins. They are also rich in beneficial chemicals called polyphenols, which act as antioxidants. These have the potential to improve heart health, increase nitric oxide (which dilates blood vessels) and reduce blood pressure, provide food for gut microbiota and promote gut health, boost the immune system and reduce inflammation.
Also Read: 13 Best Chocolate Recipes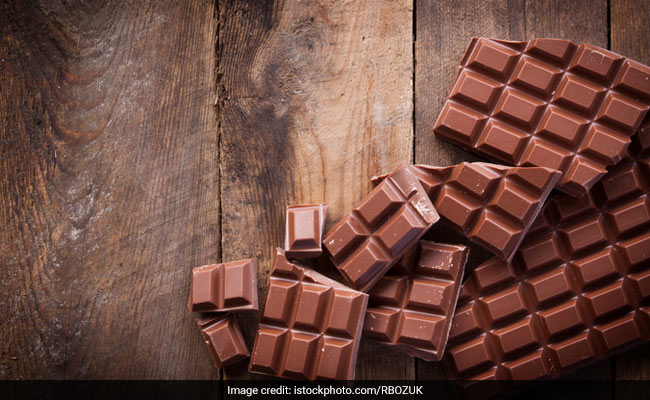 However, the benefits of chocolate largely depend upon the quantity of cocoa solids in the final product. Thus, the darker the chocolate, the more benefits it offers as the polyphenol and nutrient content is higher. Dark chocolates may have around seven times more polyphenols compared to white chocolates and three times more polyphenols compared to milk chocolates.
Why Chocolate Can Be Harmful | Side Effects Of Eating Excess Chocolate
Just like any other food, chocolate too can be harmful to the body if consumed in excess. The high quantities of sugar and fat added to modern-day chocolates can harm the body in many ways. For instance, milk and white chocolate Easter eggs are on average 50% sugar and 40% fat.


Further, cocoa beans have a compound called theobromine which is considered a brain stimulant just like caffeine. While it may offer a mood boost, excessive indulgence in chocolate may also cause stomach problems, restlessness and nausea. Those who are lactose intolerant should also avoid chocolate as it may cause allergic reactions.


Also Read: How To Temper Chocolate: Everything You Need To Know
How To Choose The Right Chocolate For You
There are certain tips and tricks to keep in mind to get the most out of every chocolate bite. This will ensure the best experience every single time without compromising on health
Choose Darker Chocolate:
Keep a check on the quantity of cocoa solids in the chocolate bar. The higher the cocoa, the lower the sugar and fat content in the chocolate. White chocolate has almost no cocoa solid, and mostly cocoa butter, sugar and other ingredients. Dark chocolate has 50-100 per cent cocoa beans, and less sugar. Aim for at least 70 per cent cocoa for best results.
Read the Fine Print:
Check for additives and possible cross-contamination, especially if allergies might be an issue. For instance, some chocolates are made in facilities which also process nuts and soy.


Also Read: This Chocolate Bar With 'XL' And 'S' Sized Pieces Divides Twitter
Pick The Right Ingredients:
Instead of opting for sugar, cream, caramel, it is better to opt for chocolates that have nuts, seeds and dry fruits. This will reduce the sugar and calorie content of the chocolate and make it a healthier treat.
Eat Within Limits:
Don't shy away from treating yourself, but remember, anything in excess is bad for the body - even dark chocolate. Keep the amount of chocolate you consume within sensible limits!