Chocolate is unarguably one of the most loved desserts across the globe. The invigorating aroma, the heavenly flavours and the melt-in-mouth texture - our senses are affronted with all of these, making chocolate the ultimate sinful delight. Chocolate evokes emotions and is just the 'lift-me-up' treat we need to beat the blues. But, when it comes to healthy eating, chocolate doesn't really make the cut. Milk chocolate is laden with sugar, fats and calories. This is when dark chocolate takes over to whet our desire for something chocolatey, as it is considered a healthier alternative to milk chocolate. But is dark chocolate really healthier? Let's find out here.
But First, What Is Dark Chocolate:
The bitter-sweet chocolate (as it's often called) is made from the seeds of the cacao tree, also called 'Theobroma cacao'. The cacao seeds are turned into cocoa solids and butter, which offers a host of health-benefiting properties, making dark chocolate a healthier alternative to milk chocolates. There are different varieties of dark chocolates available, which can be distinguished by the percentage of cocoa present in them. According to consultant nutritionist Rupali Datta, "Dark chocolate is made of cocoa solids, cocoa butter and some sugar. For chocolate to be called dark chocolate, it should have at least 50 percent cocoa content. The range goes up to 90 percent." It is usually said, "more bitter the chocolate, the better it is for you." One can pick a dark chocolate variety as per their taste preference - from sweet dark chocolate to bittersweet, semi-sweet and bitter.
Milk Chocolate vs Dark Chocolate:
Unlike milk chocolates, dark chocolate abounds with cocoa solids in place of milk solids. Also, it contains less sugar, which is quite noticeable in the very first bite. Since cocoa has a strong bitter taste, dark chocolate offers a profound bitter-sweet aftertaste. This composition makes dark chocolate a healthier option. In fact, many health experts advocate consuming dark chocolate to reap its various health benefits.
(Also Read: 4 Dark Chocolates To Satisfy Your Sweet Cravings)
Why You Should Eat Dark Chocolate - Health Benefits:
1. Aids Cardiovascular Health:
A study, published in The Journal of the American Heart Association, suggests that dark chocolate is rich in bioactive flavonols and theobromine, both of which are known to improve the functioning of heart cells and blood vessels. Dark chocolate contains cocoa butter, which contains fats but those are good fats. Stearic acid and palmitic acid are saturated fats found in dark chocolates but they don't end up raising the cholesterol level; in fact, flavanol lycopene present in dark chocolate may decrease the level of LDL (bad cholesterol).
2. Propels Blood Circulation:
As per the findings of a study published in the Journal of the American Heart Association, dark chocolate contains active compounds of polyphenols, which are known to stimulate blood circulation in the body.
3. Provides vitamin D - Lots Of It:
A Food Chemistry journal reveals that foods rich in cocoa and products derived from it are enriched with vitamin D. Deficiency of vitamin D has been associated with low immunity, brittle bones and respiratory issues.
4. Uplifts Mood
The findings of a study presented at the Experimental Biology 2018 meeting in the US revealed that cocoa consumption up-regulates multiple genes involved in neural signalling and sensory perception. The study claimed that the higher the concentration of cacao, the more positive the impact on cognition, memory and mood.
5. Curbs Cravings
Dark chocolates are packed with monounsaturated fatty acids that charge up your metabolism and may even help burn fat cells. Also, dark chocolates have a high satiety level, making one feel fuller for a long time.
6. Boosts Immunity:
As per a study in National Library Of Medicine, dark chocolate is made from raw cocoa beans which contain a high amount of flavanols. A type of phytochemical, flavanol is imbued with antioxidants and anti-inflammatory properties, which help ward off common illnesses. It's worth mentioning here that dark chocolate is one of the richest sources of antioxidants.
7. Improves Skin
Dark chocolate contains a good amount of bioactive compounds that are known to promote skin health. The flavanols hydrate the skin, improve blood circulation and also protect skin from sun damage, delaying skin ageing.


Dark chocolate also contains digestion-friendly fibres (10.9 gms of fibre in 100 gms chocolate as per USDA data) and minerals like iron, magnesium and copper - all in ample amounts. Now you have more than enough reasons to pick up that bar of dark chocolate and dig in.


(Also Read: 5 Quick And Easy Chocolate Recipes That Will Keep You Warm This Winter)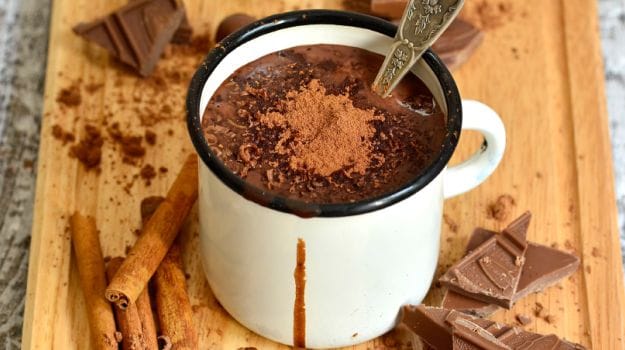 How To Enjoy Dark Chocolate:
The bitter flavour with a tinge of sweetness in dark chocolate is an acquired taste. While many of us can chow down a whole bar of it, the palate of some may resist it. Instead of giving up on it, try making delicious treats with it. Dark chocolate can easily melt down and combine with other ingredients to produce some indulgent recipes offering the same decadent chocolate flavour. Here are some interesting dark chocolate-based recipes we are sure you will love.
1. Ragi Dark Chocolate Cake
Treat your taste buds to this heavenly and healthier cake made with nutrient-rich and gluten-free ragi flour. The addition of brown sugar, eggs and dark chocolate levels up its flavours. Click here for the recipe.
2. Dark Chocolate Coffee
Give you regular cup of coffee a boost of chocolate flavour. Coffee and dark chocolate come together in a taut harmony to produce a luscious hot beverage. Click here for the recipe.
3. Dark Hot Chocolate
Is there anything better than sipping on a hot chocolate drink on a cold winter evening? To make the experience guilt-free, try this recipe of hot chocolate and make it with healthier dark chocolate.


It's important to remember that dark chocolate is high in calories but it is worth every calorie if consumed in moderation. While dark chocolate is not your typical healthy food, the benefits of moderate consumption are sure to outweigh the risks.


Disclaimer: This content including advice provides generic information only. It is in no way a substitute for a qualified medical opinion. Always consult a specialist or your own doctor for more information. NDTV does not claim responsibility for this information.
About Neha GroverLove for reading roused her writing instincts. Neha is guilty of having a deep-set fixation with anything caffeinated. When she is not pouring out her nest of thoughts onto the screen, you can see her reading while sipping on coffee.