The IARC (International Agency for Research on Cancer) by
WHO
today announced its report on the carcinogenic nature of processed meats and red meat. In a landmark statement, IARC ruled that "Processed meat was classified as carcinogenic to humans (Group 1), based on sufficient evidence in humans that the consumption of processed meat causes colorectal cancer".The experts said in conclusion that each 50 gram portion of
processed meat
eaten daily increases the risk of colorectal cancer by 18%. In a country where greater household income and lesser time to prepare fresh food has seen a rise in purchase of processed meats, this is something worth pausing and thinking for a while.To clarify things, Dr Kurt Straif, Head of the IARC Monographs Programme stated "For an individual, the risk of developing colorectal cancer because of their consumption of processed meat remains small, but this risk increases with the amount of
meat
consumed". He further added "In view of the large number of people who consume processed meat, the global impact on cancer incidence is of public health importance".
The agency also evaluated the alleged carcinogenic effects of Red Meat. The findings were not as clear in this case, though. They did a thorough review of the accumulated scientific literature before coming to these conclusions. 22 experts from 10 countries convened by the IARC Monographs Programme classified the consumption of red meat as probably carcinogenic to humans (Group 2A), based on limited evidence that the consumption of red meat causes cancer in humans and strong mechanistic evidence supporting a carcinogenic effect. IARC confirmed that this association was observed mainly for colorectal cancer, but it could be said that associations were seen for pancreatic cancer and prostate cancer as well.
"We know that our diet and water impact GI cancer incidence in a big way. Various studies have stablished the association with increased incidence of colorectal cancers in Europe, gastric cancers in Japan and in coastal areas of southern India and gall bladder cancers in north India to diet and the water we consume. This report has not surprised me. Based on such knowledge, interventions in the past have helped us control worsening of situations. I am hoping WHO will give guidelines for interventions in dietary behaviours," said Harit Chaturvedi, Chairman, Institute of Oncology, Max Healthcare.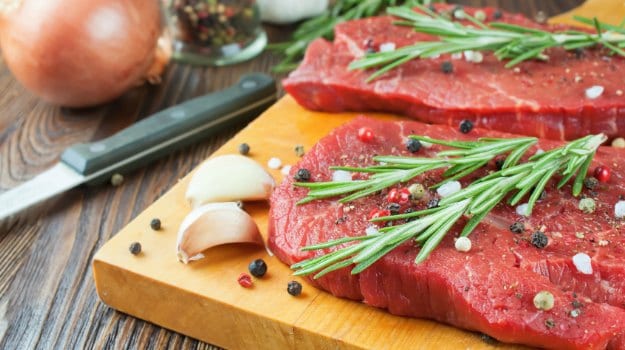 The IARC Working Group took into account more than 800 studies, each of which aimed to investigate associations of more than a dozen types of cancer with the consumption of red meat or processed meat. These studies were done across many countries and populations with diverse diets. The most influential evidence came from large prospective cohort studies conducted over the past 20 years.According to the most recent estimates by the Global Burden of Disease Project, an independent academic research organization, as many as 34,000 cancer deaths per year worldwide are attributable to diets high in processed meat. Eating red meat has not yet been established as a cause of cancer. However, if the reported associations were proven to be causal, the Global Burden of Disease Project has estimated that diets high in red meat could be responsible for 50 000 cancer deaths per year worldwide.Red meat refers to mammalian muscle meat. Popular red meats include mutton, pork, beef, veal, lamb and goat. Processed meat on the other hand, refers to meat that has gone through the processes of salting, curing, fermentation, smoking, or other such treatments to enhance flavour or improve preservation. Popular examples of processed meat include hot dogs (frankfurters), ham, sausages, corned beef as well as canned meat and meat-based preparations and sauces. You may want to think twice before indulging yourself with a hot dog or asking for a ham and cheese sandwich."With the report coming in from WHO, there seems to be a definite relationship between processed meat and bowel cancer. However, reducing the consumption of processed meat and red meat along with healthy lifestyle measures like intake of fiber rich foods, exercising and limiting alcohol should go a long way". Dr.Charu Garg, Senior Consultant, Dept. of Radiation Oncology, Max Cancer Centre, Saket, New Delhi.Based on these findings, the WHO recommends limiting the intake of meat. In particular, processed meats and red meat should be avoided or the amounts in your daily diet reduced. Red meat does have nutritional value too, thus international regulatory agencies need to do a thorough risk assessment about the benefits and risks of its consumption.