Aromatic rice infused with exotic herbs and spice, and juicy, chunky pieces of meat - and that's a plate of evergreen biryani for you. Biryani defines comfort for all. You will hardly find a person who can resist super delicious biryani served on their plate. In fact, biryani always stands out on a dining table among other lip-smacking traditional dishes. While biryani is believed to have its roots in the Mughlai cuisine, today it has been thoroughly embraced by the people across India and makes an indispensable part of the country's food culture. So much so that every region in the country has its unique biryani recipe that has been modified as per the palate of the locals. While biryani in Bengal includes aloo in it, South Indian biryani is loaded with curry leaves, grated coconut et al. You will also find biryani recipes that replace meat with paneer, vegetables et al to please the vegetarian crowd across India. One such popular option for vegetarians is kathal biryani.


Kathal biryani is basically a classic biryani recipe that replaces succulent meat chunks with raw jackfruit pieces. Raw jackfruit (or kathal) is known for its meaty texture; hence it has often been considered a popular veg substitute for meat - making kathal biryani a popular choice among vegetarians.


Keeping the popularity in mind, we found a super simple home-style kathal biryani recipe that can be prepared anytime to satiate your biryani cravings. And the best part is, this biryani recipe doesn't follow any elaborated process, making it easy and fuss-free to whip up at home.
Also Read: 6 Scrumptious Vegetarian Biryani Recipes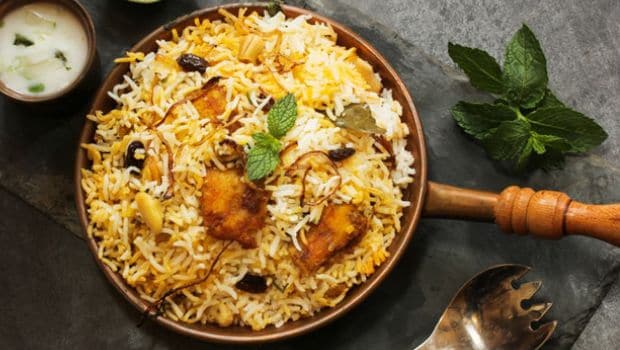 Image Credit: iStock
How To Make Home-style Kathal Biryani | Home-style Kathal Biryani Recipe:
To make this particular kathal biryani, we need kathal, rice, onion, ginger-garlic paste, cumin, coriander powder, garam masala, chilli powder, haldi, salt and some basic kitchen ingredients.


Heat oil in a pan and add cumin seeds to it and let it splutter. Add onion, ginger-garlic paste, and stir fry kathal in it. Now, add all the other masalas and cook till the water is absorbed. Now layer this spicy kathal with rice and cook on low flame for some time. And a plate of delicious kathal biryani is prepared in just 45 minutes.


Click here for a detailed recipe.


Pair the biryani with raita and salad and enjoy a delicious meal. Try this recipe at home and let us know how you liked it.
About Somdatta SahaExplorer- this is what Somdatta likes to call herself. Be it in terms of food, people or places, all she craves for is to know the unknown. A simple aglio olio pasta or daal-chawal and a good movie can make her day.