If there is one kitchen appliance that has become an absolute necessity in today's time, it has to be a microwave. Since we're constantly running from one errand to the next during the day, it's hard to put in all that time that is usually required for cooking. And whenever we're looking for a quick fix to our food cravings, a microwave always comes to our rescue. Apart from its obvious function of heating food in a few minutes, it can also help cook certain dishes. Be it dhokla, chicken tikka, vegetable pulao, or even desserts like halwa, there are so many delicious things that it allows us to make. But whenever you use a microwave for the purpose of cooking, there are some essential things that one must keep in mind. These will not only help the food cook properly but will also prevent any harmful disasters in the kitchen. Here, we have curated a list of five important things to keep in mind while cooking in a microwave. Take a look.
Also Read: 5 Foods You Should Stop Reheating In Microwave Oven Now!
Here Are 5 Things To Keep In Mind While Cooking In A Microwave:
1. Use microwave-safe containers:
You must always pay attention to the type of container you use while cooking in a microwave. Anything made of or containing aluminium foil or steel should never be used for cooking. These materials heat up easily and can end up catching fire. Stick to microwave-safe glass, borosil or plastic containers for a safe cooking experience.
2. Do not overfill your container:
Another thing that most of us often do is fill up the bowl or plate we're cooking our food in, thinking it'll help save us time. But this is not the case. Since our container is filled with food, it doesn't allow the heat to be distributed evenly. Basically, you'll just have to end up cooking your food all over again. And who wants that, right?
3. Stir the food regularly:
Do you put the timer on the microwave and forget about the dish you've just put in? If so, it's time to stop doing it. You must always keep an eye on the food while it's cooking in the microwave and stir it occasionally. It not only allows proper distribution of heat, but you'll also get an idea if it's cooking properly. So, set the timer for all the breaks you need to stir your food.
Also Read: 9 Yummy And Easy Microwave Breakfast Recipes You Must Try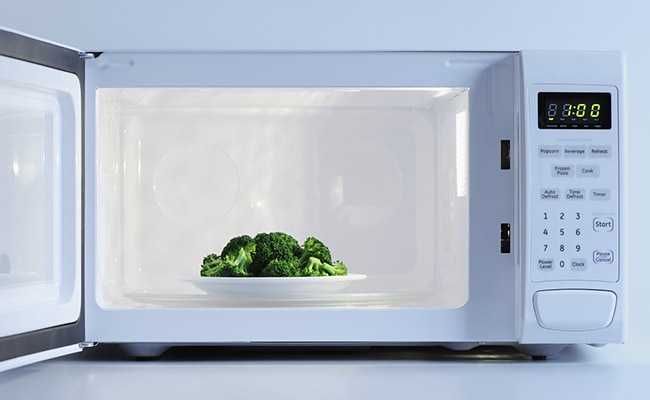 4. Cover the food with cling wrap:
If you do not cover the container with cling wrap, chances are that your food will end up losing all its moisture. This is especially true for dishes with a high liquid content, such as rice and pasta. There's also a possibility of the liquids creating a messy explosion in your microwave. To avoid this, do not forget to cover your container with cling wrap and also pierce some holes in it for even cooking.
5. Don't forget to clean up after cooking:
If you want to enjoy perfectly cooked microwave dishes, it's important to clean the appliance after cooking. There could have been food spills in it, which could affect the cooking process of the next dish you plan to cook in it. It may also have an effect on its taste. To clean up any such mess, simply use a mix of lemon juice and water to remove the stains.
So, the next time you plan to cook anything in a microwave, keep these easy tips in mind. Do let us know how they worked for you in the comments below. Happy Cooking!
About Vaishali KapilaVaishali finds comfort in eating parathas and rajma chawal but is equally enthusiastic about exploring different cuisines. When she's not eating or baking, you can often find her curled up on the couch watching her favourite TV show - FRIENDS.