Indian Chicken Recipes- If you like your food really hot then you'll find Indian food absolutely irresistible. It's all about aromatic spices, chillies, yoghurt, coconut, garlic, tamarind, tall stacks of hot rotis', caramelised onions and countless dollops of silky desi ghee.
Indian cuisine's overlapping flavours and eye-grabbing colours make it a real crowd pleaser. No wonder top-notch chefs around the world are focusing on Indian food. In fact, the restaurant that ranked first on this year's 'Asia's 50 Best Restaurant' list was a Bangkok-based one that features modern India cuisine with "molecular twists".
The Indian menu features a blizzard of chicken specialities like Butter Chicken, Chicken Amritsari, Chicken Roast, Chicken Xacuti and Chicken Biryani to name a few, and each more marvelous than the last. It's the perfect way to dive into a world of mind-numbing flavours.
Traditional Indian chicken is tricky to master, which is why we've curated short videos of 11 of our best recipes across India that will absolutely deliver.
A chef that still makes Butter Chicken the way it's supposed to be done. It's a one-of-a-kind recipe that's been passed down from one generation to another and holds a permanent spot on India's menu. Take some chicken and marinate it in yogurt, salt, chilli powder and a teaspoon of ginger-garlic paste. This needs to be kept for two whole days. Roast it partially in a tandoor, then cook this in a white butter and tomato puree mix. Now, enjoy this Indian gem with some Indian naan.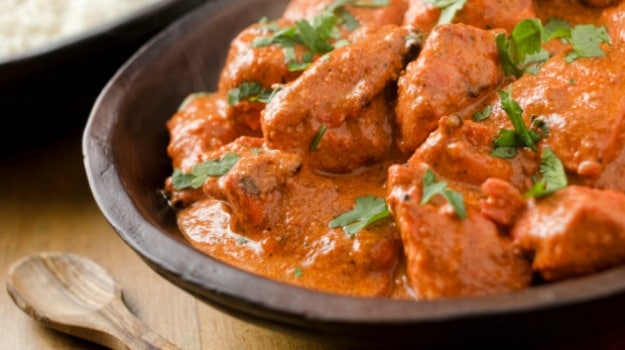 You can never get done with this classic, most loved chicken recipe.
Marinate the chicken in some fine tomato puree, ginger-garlic paste, a few spoons of yogurt, vinegar and Indian spices. Take the marinated chicken, cook it in piping hot butter and add a teaspoon of sugar. This is a happy eater's dream come true.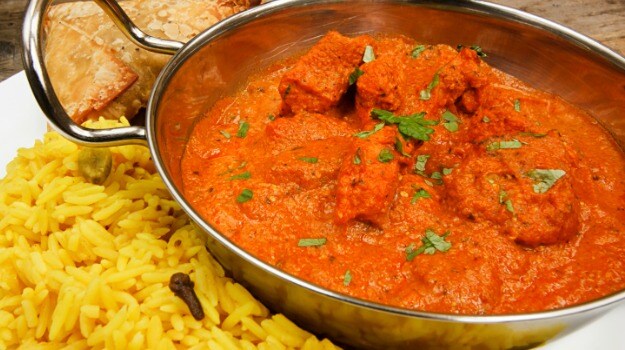 Doused in spices, amritsari murgh when paired with rice or naan makes for a great meal.
A fried chicken recipe which is full of flavour and spices. . Kerala chicken roast is a semi-dry, delicious blend of marinated chicken, fried and sauteed with a spicy, tangy masala paste. Teamed up with some chillies, fried onions and lemon juice to bring out that extra zing in this dish.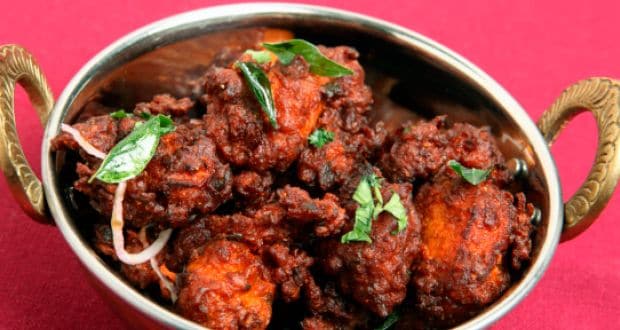 The kerala chicken roast goes well with some rice as well as any Indian bread of your choice.
The perfectly cooked chicken with fragrant rice and onions is one of the most important highlights on the Indian menu. Here, chicken is cooked with a bunch of Indian spices, layered with caramelised onions and steamed rice, and then slow-cooked for a few more minutes.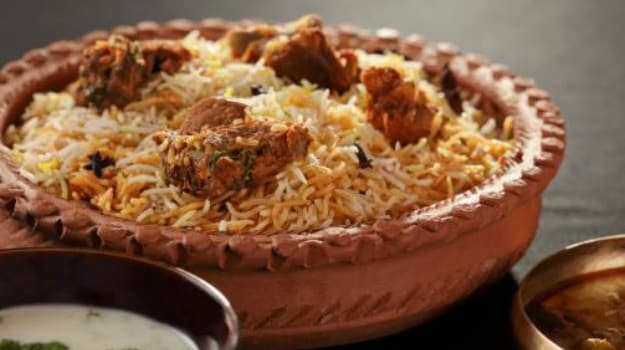 This murgh biryani recipe is full of various spices and makes for an absolutely delicious dinner party dish!
A perfect recipe for all the spice lovers out there! Malvani chicken curry is a hot, delectable chicken recipe that will leave your taste buds tingling for more! Malvani cuisine comes from the Konkan region of Maharashtra and Goa and uses coconut liberally in most of its dishes.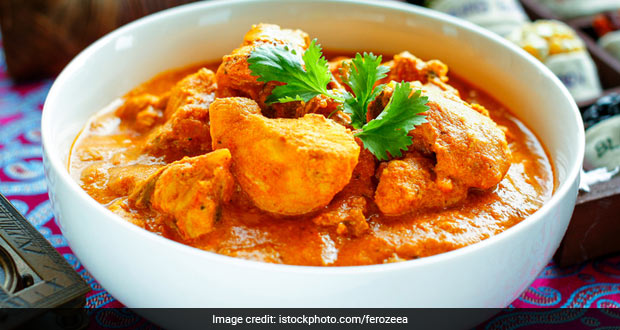 Chicken is cooked in a rich coconut gravy along with a spicy malvani masala resulting in a stimulating chicken curry made in authentic malvani style.
A delicious journey laced with desi ghee. From caramelised onions to fried chicken, from cardamoms to cloves, all of it leads you towards an aromatic bowl of Rogan Josh.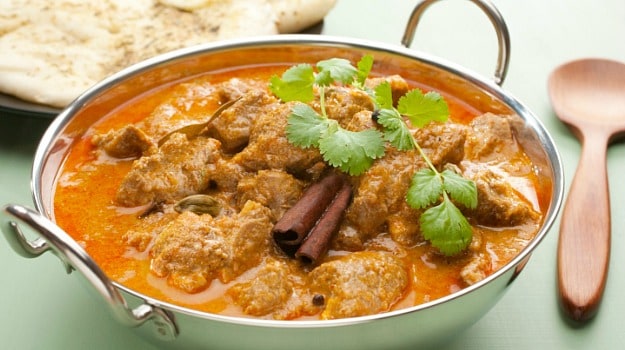 Perfect chicken recipe for a dinner party.
A chicken curry so delicious, it'll give a stiff competition to other preparations. Succulent pieces of chicken is cooked with crunchy onions, kastoori methi, cumin, coriander and some yoghurt.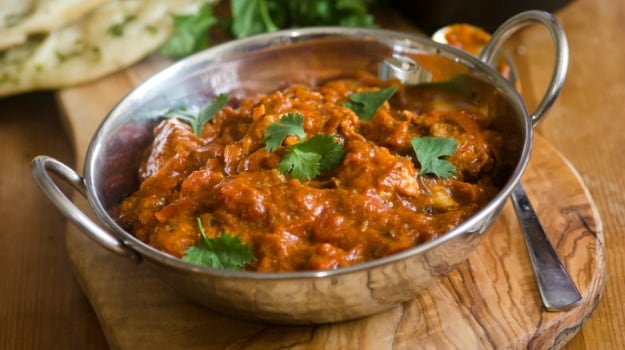 This dish is bursting with aromatic flavours and a beautiful, creamy gravy. An easy and quick one, made in just about an hour.
There's something about chicken tikkas that is highly addictive. Be it the spices or the grilled flavour. In this recipe, succulent chicken kebabs are marinated with spices, and grilled to perfection in a tandoor.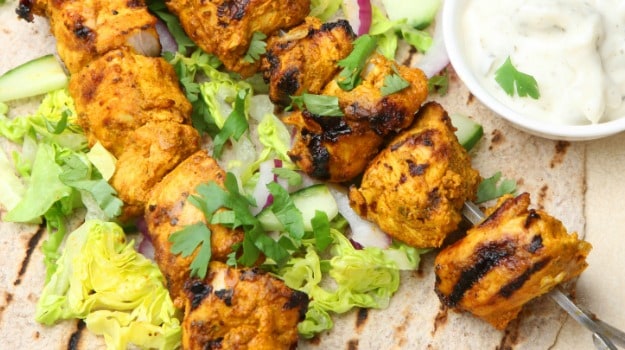 Chicken tikka is a popular dish in the food menu of many north Indian restaurants as well as dinner parties at home.
Sometimes even the simplest sounding dishes can be really interesting. Take some hung curd, cream cheese, coriander roots, green chilli, green cardamom, ginger-garlic paste and a dash of lemon juice to cook the chicken. Lace it with butter and cream and serve the chicken with freshly prepared truffle cream and shavings of garlic.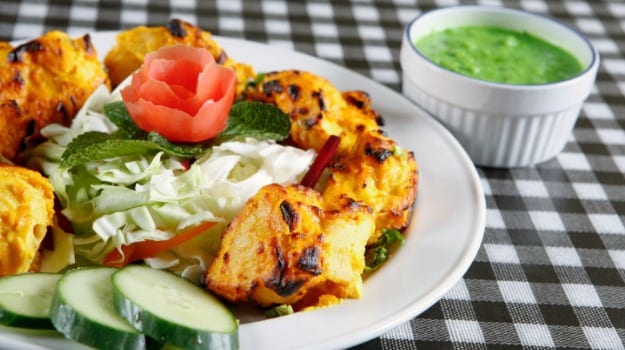 Perfect starter for a house party with friends.
A delicious chicken curry with the goodness of tomatoes and loads of cream. Spiked with spices and chillies, this chicken curry is perfect for dinner parties when paired with rice or chapati.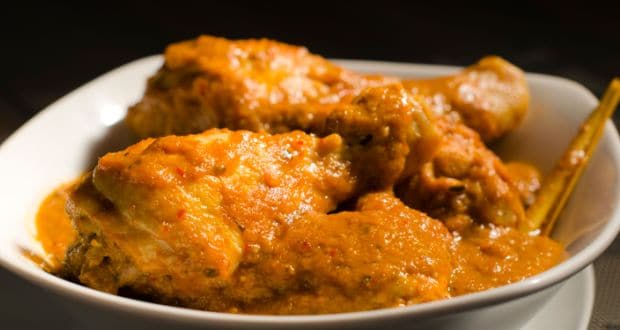 It is rich, creamy, full of spices and a mouth watering flavour that begs to be soaked up along with a piece of fresh roti/naan
A unique yet delicious chicken recipe, packed with mint leaves, spices and chillies. This chicken recipe has succulent pieces of chicken cooked in a coriander and mint paste. Best served with rice.
Try these mouth-watering chicken recipes at home and let us know your experience in the comments section below.