Best Amla Recipes: The age-old science of Ayurveda heavily depends on the use of plants and herbs for their medicinal properties. It wouldn't be wrong to say that Ayurveda paved the way for a few items to become an integral part of our daily diet. Amla or Indian Gooseberry is one such ingredient that has long been hailed for its health benefiting properties.

Apart from the quintessential amla juice or amlachoorna, people across the country have experimented with the bright green, translucent fruit to make pickles, candies, murabbas, chutneys and other condiments. In South India, the fruit is used in preparing dal (lentil preparation) and often added to rice as well.


Amla is a great source of Vitamin C as well as antioxidants known as polyphenols that are believed to combat and protect against cancer causing free radicals. It can also help balance all the three doshas (vata/pitta/kapha) in the body and treat the underlying cause of many health problems.

Enriched with iron, carotene, chromium and fibre along with antibacterial properties, it is excellent for maintaining healthy hair, boosting eyesight and ensuring smooth digestion. It also aids in strengthening immunity, detoxing liver, keeping cholesterol in check and treating diabetes.


Amla is one of the primary ingredients that go into the making of an ancient Ayurvedic polyherbal concoction popularly known as chyawanprash. The Chinese too make use of the fruit to treat throat inflammation. Apart from these, amla is used in making beauty products such as shampoos, hair oils, tonics and wraps, facial scrubs, etc. It is considered great for maintaining lustrous, healthy looking hair as well as a clear and smooth skin.

According to a Delhi-based weight management expert, Gargi Sharma, there are a number of ways amla can be used to prepare home remedies for curing various conditions such as cold and cough, mouth ulcers, dandruff, constipation and acidity.
Adding amla in your daily diet can bring about a significant change in your health and the way you feel. One can include it in a variety of ways, from amla juices or powders to preparing quirky accompaniments out of it.
If you need some ideas, we bring you five exciting and fuss-free ways to make use of amla:
An interesting and tangy combination of amla and raw mangoes renders a unique flavour to rice. Follow in a few simple steps to serve this culinary gem straight from the heart of South India.
This amla recipe is a tangy combination of amla and raw mangoes
Sweet can be healthy when it is done with gooseberries! Boiled amla pieces are doused in sugar syrup and flavoured with cardamom. This easy amla recipe is perfect to boost your immunity. Prepare it in the winter months and make the most of it.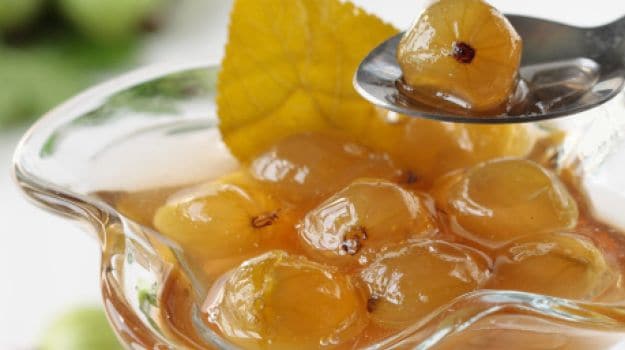 Amle ka murabba is perfect to boost your immunity
Amla along with fennel, brahmi leaves and other spices give you a lip-smacking blend of flavours that will team well with almost anything. You can pair this chutney with chillas to make the culinary experience even more delightful.
Amla chutney is a perfect blend of lip-smacking flavours
Six basic ingredients, forty minutes and a few hassle-free steps will get you this piquant, flavourful achaar. This achaar recipe is quite flavourful and goes best with almost anything. Team it up with your regular food for some flavour boost.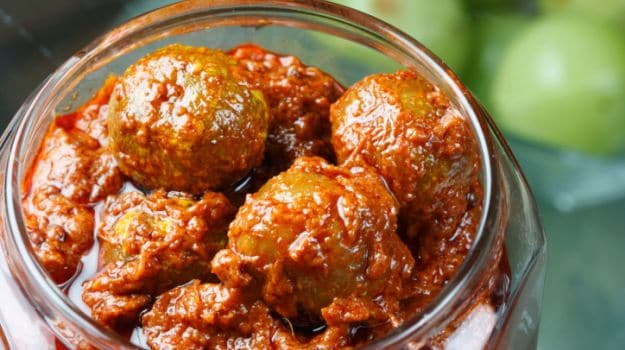 This achaar recipe is quite flavourful and goes best with almost anything


Sweet potatoes are finely sliced, dipped in batter and fried to perfection. This healthy yet delectable amla recipe is sure to impress your taste buds. Serve it with a zingy amla dip and you're done for the day.
This healthy yet delectable amla recipe is sure to tantalise your taste buds
So make the best of these amla recipes and tantalise your taste buds.