It is hard to imagine life without having close friends to share it with. Friends are our constant support system – from sharing the happiest moments to standing beside us in the darkest hours. They know us exactly for who we are and there is no pretense or inhibitions when it comes to sharing thoughts. They are also the only ones who will always give an honest opinion no matter what.While there are many ways we share our love and appreciation for our friends, but on a day like today, it calls for something special. And since it is a Sunday, what better way to celebrate than heading for a scrumptious brunch? We have put together a list of our favourite Sunday brunch options across the country so that you and your besties can have a blast.
(Happy Friendship Day: Best Friends of the Food World)
1. Guppy by Ai
There's nothing like catching up with your closest friends over sushi. This quirky, contemporary Japanese restaurant offers a delectable range of dishes. And to go with the dishes, you can sip on some sake or try their innovative cocktails. This Friendship's Day, they have introduced 'table brunch' with a specially crafted menu.
Lodhi Colony, New Delhi(Spread the Festive Cheer: Sunday Brunches across India)
2. The Hungry Monkey
The casual ambience makes it a perfect place to catch up with friends and the best part about heading there on a Sunday – they have super deals (we mean unlimited cocktail!).
Safdarjung Enclave, New Delhi(10 Best Cocktail Recipes)
3. Olive Qutub
Tiramisu macaron
Head over to this charming restaurant to celebrate Friendship's Day over a laid-back brunch. They have plenty of fun activities planned for you and your buddies, including a live band to get your feet tapping.
Mehrauli, New Delhi(10 Best Lunch Recipes)
4. Rose Café
Don't we just love a cute little place done up in pretty motifs? The menu offers a wide range – from all-day breakfast to sinful desserts. But it is the happy vibe of the place that makes it a popular choice.
Saidulajab, Saket, New Delhi(10 Incredible No-Bake Desserts)
5. The Sassy Spoon
This bustling restaurant is known for its 'sassy' décor, and that makes it a perfect place to head to with close friends where you can enjoy some good food, heady cocktails and decadent desserts.
Nariman Point and Hill Road, Bandra West, Mumbai
6. BlueFROG
This popular bar is also a great place to head to for Sunday brunch. And if you and your gang love cocktails, then they have some interesting creations on offer. Cheers!
Lower Parel, Mumbai
7. The Little Door
Bright and cheerful, this resto-bar is known to serve some delightful dishes that are packed with flavours. The quirky décor lends to the charm of the place and their cocktail section is what you need to explore.
Lokhandwala, Andheri West, Mumbai
8. High Ultra Lounge
It is always a thrilling feeling to be high up and watch the whole city below you, and that's what makes this chic lounge bar a perfect place for Sunday brunch. They offer a delectable range of Pan-Asian dishes and the best part – unlimited cocktails, sangrias and premium beers for just Rs. 799 plus taxes.
World Trade Centre, Brigade Gateway Campus, Malleshwaram, Bangalore
9. The Biere Club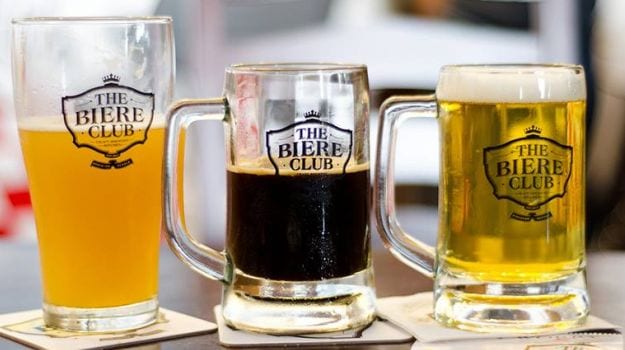 The first microbrewery to set shop in Bangalore, this buzzing bar serves hearty food coupled with a wide range of in-house brews. From delicious meat platters to soulful curries, you can go all out and indulge!
153, Biere Street, Whitefield, Bangalore
10. The Market
Occasions like this call for something special, and you and your friends deserve the best. So head to this classy restaurant to savour delicious food from world over and have a memorable experience with your closest people.
The Ritz-Carlton, 99, Residency Road, Bangalore