As India would be celebrating the 74th Independence day on 15th August 2020, it is time to remember the rich and diverse culture that it has carried forward for so many years. India is a country packed with a host of specialities that range from culture, rituals, festivals and of course food. With each state having its own regional cuisine, one can find a wide variety of Indian regional cuisines boasting of rich, contrasting yet mouth-watering flavours. Independence Day marks the annual celebration of the freedom of our country from the British rule and marks the rich historical legacy and India's present role on the global arena.


It is celebrated throughout the country as a national holiday. It starts with hoisting the national flag early in the morning, kids singing the patriotic songs as well as exchange of sweets and greetings. People enjoy the day with their families at home by watching patriotic programmes on television and fly kites with friends that symbolises a culture of free spirit and freedom. Since the day is all about celebrating the country's freedom besides vibrant and diverse culture, what better than celebrating it through food?


(Also Read: Independence Day: Try These Independence Day Special Desserts At Home To Ring In The Celebrations!)
With the tricolour being the centre of it all, what is better than preparing tricolour themed dishes to commemorate the day? We've got a list of some amazing and extremely beautiful Independence Day special tricolour recipes to prepare at home. These are easy, quick and simply irresistible!
Here Are 7 Best Tricolour Recipes for Independence Day 2020:
Pasta is one food that is popular across all age-groups, regions and cultures. How do you say no to a bowlful of cheese, veggies and flavourful spices? Here is a patriotic twist to your favourite vegetable pasta packed with broccoli, carrot, onion and basil tossed with penne and cheese. Your Independence Day brunch meal is sorted!
Tricolour Pasta Recipe: A bowl of pasta is something we all can binge over at any time of the day.
With the goodness of carrot, green papaya and cucumber, here is a healthy brunch or lunch recipe that you can toss up quickly at home. This salad recipe has a sweet and sour honey-soy dressing on top that is made with vinegar, honey, soy sauce, salt, cloves and chilli pepper. Along with the crunch of peanuts and refreshing mint leaves, this tricolour salad recipe is an easy one to prepare.
Tricolour Food Recipes: A fresh, healthy and absolutely delicious salad recipe.
Is there anyone who doesn't like steaming hot dumplings? A favourite of every kid and most adults, dumplings are a north-eastern delight that have taken almost all of the country by storm. Be it meat or veggies, stuff whatever you like and seal it in tricolour dough made with spinach, carrot and flour.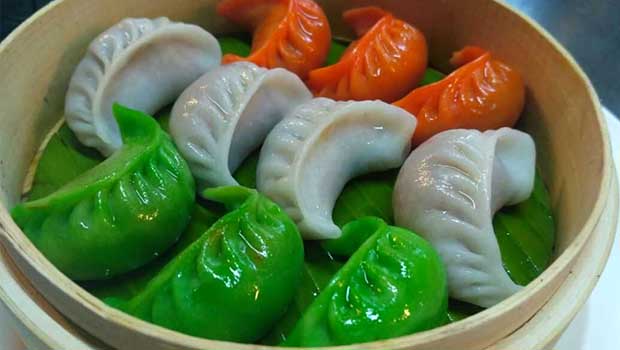 Tricolour Recipes: The all-time favourite snack, dumplings, dipped in the flavour of patriotism!
For those who just wish to spend a lazy holiday with a lazy meal by the side, this tricolour pizza is exactly what you're looking for! Topped with carrot, green capsicum and oodles of cheese, this vegetable pizza is easy, quick and an ideal dish to prepare with your family this Independence Day!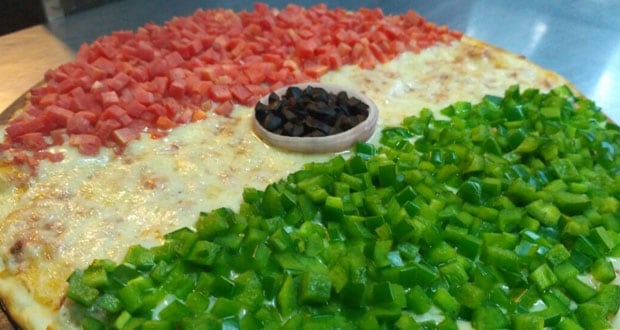 Independence Day 2020: No better dish than a pizza on a lazy holiday and what better than a tricolour pizza for a national holiday?
Craving succulent kebabs for snacks? Here is a vegetable seekh kebab recipe to prepare at home that are packed with cheese, coriander seeds, black pepper, onion, green chillies, ginger and salt. Made into kebabs and shallow-fried to perfection, these are then plated in the form of tricolour. These delicious kebabs are sure to satiate all your cravings!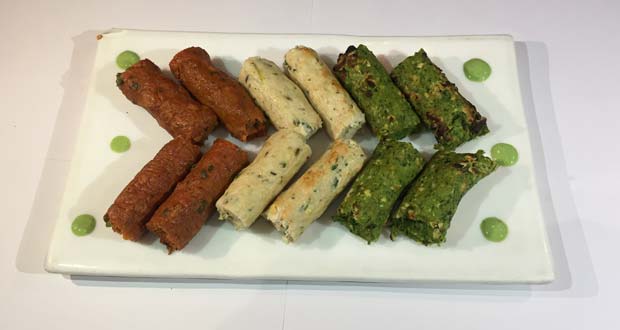 Independence Day: A true celebration of a foodie's spirit, this will surely satiate all your snack cravings.
An interesting, unique yet absolutely delicious tricolour recipe to prepare at home, zucchini cut into two deep halves and stuffed with three different types of risotto. All three risottos are cooked separately and tossed in basil pesto, beetroot pesto and cheese respectively. Topped with grated cheese, this stellar dish is sure to win many hearts at the table.
Independence Day 2020: Healthy, delicious and easy, this dish boasts of zucchini filled with risotto, cream and parmesan cheese.
Just the right way to end your Independence Day meal, tricolour cheesecake has a crunchy base of crushed biscuits, combined with butter, layered and baked to golden along with a thick cream cheese mix on top. Made with edible food colours, this cheesecake is sure to be a crowd pleaser.
Independence Day: Cheesecake is one dessert that you can never say no to.
Ring in the celebrations with the best of Independence Day special recipes and let us know your favourite one in the comments section below.


Happy Independence Day 2020!
About Aanchal MathurAanchal doesn't share food. A cake in her vicinity is sure to disappear in a record time of 10 seconds. Besides loading up on sugar, she loves bingeing on FRIENDS with a plate of momos. Most likely to find her soulmate on a food app.