A guide to food and restaurants of Goa
IANS , Panaji | Updated: May 23, 2014 11:15 IST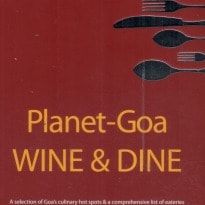 December-January is the season when the rest of the world descends on Goa. The local real-estate market heats up; so does the entertainment sector and the focus on Goa's vibrant if less controversial food culture. No wonder then that we are seeing food-related books make it to the market at this time of the year.

Planet Goa Wine & Dine (Planet Media) is a guide to the food and restaurants of Goa. More of the latter, actually. Its simple cover is accompanied by some smart and well laid-out photographs inside. These images say quite a bit about the food, and some thing about the setting too; best avoided while on a hungry stomach!

Garnering together such information can be like a tight-rope walk in Goa. For one, the restaurants (and their information, from their contacts to the cuisine serve) often change on a year-to-year basis. Quality can change too; what was worth recommending last year isn't now.

Then, there could be the pressures to get listed, and be favourably showcased in compilations such as these. One way or the other, this could have implications for the food outlet. Besides, how does one balance off the ability of a restaurant to advertise with its actual achievements in providing good, tasty, value-for-money food?

The 2010-founded Planet-Goa's first book devotes roughly the first quarter of its 216 pages to articles, opinions and features. Its contributors include foodie-publisher-writer Sapna G. Sardesai, author Pallavi Sagar Salgaocar (known for her book on deserts, and mysweetsguide.com), former globe-trotting correspondent and Newsweek bureau chief Patricia J. Pereira-Sethi, photographer-architect-wanderer Siddhi Madgaonkar, travel writer Nicola Desouza, and diet expert Harpreet Parischa.
The book is compiled and edited by Gautam Mukherjea, and journalists Amina Azad, Shriparna Mukherjea and Gary Azavedo. Mukherjea, publisher of the Dona Paula (Goa)-based Planet-Goa, starts by saying: "When it comes to food, wining and dining options and nightlife spots, it's really amazing the way Goa throws up a plethora of options. It's almost like no other place in the world."

An exaggeration? It takes someone who's come in from elsewhere to appreciate the strengths of Goa. Also, if you tie up the current reality with the melting pot that Goa has been over the centuries, the hows and whys would become clear.

The range of what's available is indeed impressive.

If you're a visitor to Goa, then the early section of the book would probably interest you more. It takes you speedily through the complex world of Goan food and drink, explains what's what, and where the different pieces of the culinary jigsaw fit in. Enough information to offer an overview. For, as we know, encountering a new culture through its food can indeed be a daunting task; so this serves well here.

To start with, there is an introduction to the Goan drink - feni, its distillers and bottlers and its exports. This section also gives importance to the wines and liqueurs available here, innovative margarita mixes, beer, and the like.

In the 'food files' initial section itself, one sub-section looks at Goan Saraswat (Hindu Brahmin) cuisine, and its diets for different times of the year. Together with this come recipes for traditional festive goodies - some known, others rare. Muttleo, made for the first Sunday of the Hindu holy month of Shravan, which follows the Goan monsoons; Pattoleo, wrapped in a leaf and prepared of ground rice, urad dal, jaggery and coconut; Mannganne (made with soaked channa dal, grated coconut, jaggery) and goddann.

What you can eat here, what you can drink, and even what you could take home are all described. Thanks to modern day packaging, in the last category you have doce, prawn balchao packets, port wine, Goan sausages, and sweets like bebinca, dodol, pinagre, batica, bolo, guava cheese, bolinha or marzipan.

Goan food today cannot be adequately described without its global touch. Amina Azad looks at Goa's contemporary encounter with American, Arabian, French, Italian, Russian, Mexican, Chinese, Thai, Burmese, Vietnamese and Japanese cuisine - all available in this tiny stretch.

Patricia J. Pereira-Sethi, a journalist who spent her career travelling the globe, gives an insight into the global food she encountered, and her culinary encounters across the continents. Don't miss the photo of a finger-licking Fidel Castro, no less, and her story of rustling a meal for many on the Red Island!

After all the feasting, there's a page of tips on the 'vacation fitness treat', and pointers to some books on cooking dealing with Goa. The last part of this section is a two-page, brief A-to-X (there's no Y and Z when it comes to popular dish names here!) Goan food dictionary, compiled by journalist Gary Azavedo.

In a separate section is a listing of places to wine and dine first in north Goa and then the south. Big-name, multi-starred restaurants are obviously listed - Goa Marriott Resort & Spa, The Restaurant at The Leela, Ramada Caravela's Sunset Bar and the Beach Shack, Hotel Fidalgo's half-a-dozen, amidst others.

Besides these, there are also the other brands, which have grown quite on their own, and attracted their own clientele over time: Britto's, Cavala, Delhi Darbar, House of Lloyd's, J&A's Little Italy, Souza Lobo, Thalassa, Florentine's at Saligao, Sher e Punjab, Nostalgia, Zeebop by the Sea, and Martin's Corner, among others.

Beyond this list, there are a number of new names and promising entrants. This is the biggest challenge in a place like Goa, where hotels arise and die out like mushrooms in the monsoons. It's the reader who will have to judge how effective she/he finds the information here, but it does look interesting.

Picture Courtesy: IANS