Goa is a hot tourist destination and for all the right reasons. It has sun, beach and most importantly, good food. Authentic Goan food attracts tourists from across the world. After all, it's spunky, has got personality and is addictive. Not only us but actress Gauahar Khan is equally in love with the Goan cuisine. How do we know? Gauahar's husband Zaid Darbar has spilled the beans on his Instagram Stories. According to the choreographer, the actress is a "happy soul" around traditional Goan food. In the snap, Gauahar can be seen happily posing with two delicious-looking platters of food. One of the platters sported what looked like juicy chicken wings. Next to it was a dish, presumably fried fish with a side of salad and french fries. The meal looked every bit tasty.


This is not it, Gauahar Khan, on her Instagram Stories, revealed the reason behind her fondness for the Goan cuisine. We bet you didn't know this. Re-sharing husband Zaid Darbar's post on her Instagram Stories, Gauahar asked fans, "Did you know that I'm Goanese from my mom's side?"
While we cannot transport you to Goa, we have put together 5 Goan recipes you can whip in your kitchen. Take a look:
1. Goan Fish Curry
Goan food without their traditional fish curry is incomplete. Cooked fish religiously smeared in a spicy gravy is every bit delectable. Here's the recipe.
2. Goan Prawn Curry
Juicy prawns cooked in a Goan curry, prepared with coconut milk and regional spices, is finger licking good. Check out the full recipe here.
3. Rava Fried Fish
Fish fillets when flavoured with ginger, garlic and red chillies and fried to perfection will take your taste buds on a joyous ride. Click here for recipe.
4. Goan Chicken Fry
Looking for a quick and easy chicken recipe with flavours of Goan cuisine? Your search ends here. Tap here for the recipe.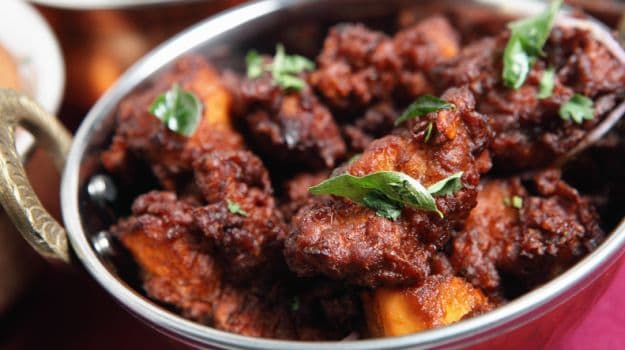 5. Pork Vindaloo
Vinegar laced pork cooked in a fiery red gravy till it's flaky and tender makes for a delectable indulgence. Get the recipe here.
Try these recipes and let us know your Goa experience.
Featured Video Of The Day