What's the point of visiting a city without having to savour its local cuisine and drinks? Goan cuisine is something that is unmissable. It is largely influenced by Saraswat, Konkani, Portuguese, South Indian and British cuisine. Not only the local cuisine and drinks, but Goan desserts are known for their uniqueness and flavours. They may not be as popular as the Vindaloo or seafood, but anyone's who been to Goa would know that desserts here are no less sinful. The traditional desserts are popularly made during festivals in most Goan homes, so you may not see a lot of commercial places selling them. Goans use coconut, coconut milk, jaggery and Goan red rice inevitably in their desserts that make them even more special.


If you want to give your taste buds a sweet treat, Goa is the perfect bet for you. Don't believe us? We have gathered some sinfully amazing desserts from across the state for you to drool and plan a quick trip. Take a look.


1. Bebinca
Considering it has just four ingredients that include egg, coconut milk, flour and egg, it is certainly not a piece of cake to prepare a multi-layered Bebinca. Traditionally, it has seven layers and is served with vanilla ice cream, which makes for a delectable combination.
These cute, crunchy and sugar-glazed curly delights are fun to savour. Kulkuls are golden brown, buttery sweets that can satiate your craving for something savoury yet sweet. Made specially during Christmas, these delights will leave you asking for more.
(Also read: Move Over Cookies, Pair Your Tea With Pinaca - Goan Rice Ball Cookies)
3. Kokad or Cocada


Goan desserts have a slight touch of coconut in them. One of them is Kokad or Cocada, which is a cookie cum barfi-like dessert made using coconut with hints of vanilla essence. It tastes heavenly when dipped in a bowl full of hot chocolate leaving you picking more than just one.

4. Perad


Perad is also known as guava cheese. This dessert has a nice brown hue and is made from guavas and is unimaginably soft. Interestingly, it serves two purposes; it can be eaten for breakfast on toast when it is not fully cooked or as a dessert when fully cooked.


5. Patoleo


Patoleo is a unique, soft, aromatic and steamed sweet made by spreading rice paste over turmeric leaf and stuffed with jaggery, cinnamon and freshly grated coconut. This healthy dessert is popularly eaten during monsoons.

6. Nevri


Also known as Karanji, Nevri is a popular dish prepared in Goa, especially during Diwali and Ganesh Chaturthi. These are sweet dumplings made of maida and further stuffed with coconut, sugar, poppy seeds, cardamom and almonds. You can store these delights and enjoy for a longer period.


(Also read: Why Bebinca is Known as the Queen of Goan Desserts)


Bolo De Rulao is a coconut and semolina (sooji) cake which is also called Bolo De Batica. 'Bolo' is a Portugese word that translates to cake. So if you haven't tried this dessert yet, probably it is time.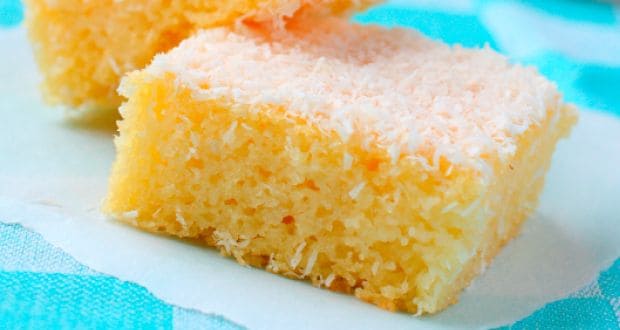 Bolo De Rulao is a coconut and semolina (sooji) cake which is also called Bolo De Batica​
8. Channa Doss


Channa Doss or Doce is a Goan sweet that requires quite a few ingredients that include Bengal gram dal or channa dal, scraped coconut, sugar and cardamom. However, it requires a lot of patience and tremendous amount of stirring.


So the next time you are in Goa, you know what to look for to treat your sweet tooth. Happy Binging!