Sundays are meant for indulgence. From engaging in a much-needed pamper session with facemasks and massages to digging into our favourite decadent dishes, Sunday is that one glorious day when we can just sit back and enjoy ourselves guilt-free. And it looks like designer Masaba Gupta did just that. The Masaba Masaba star posted a drool-worthy picture of her Sunday meal which was a traditional Kerala sadya or feast that left our tummy rumbling. The designer posted a picture on her Instagram Stories along with the caption, "One of the many weekend meals. But this one takes the cake." Well, we are now craving some delicious and wholesome South Indian dishes.


(Also Read: Egg Manchurian: This Unique Indo-Chinese Version Of Egg Is A Must-Try (Recipe Inside)


The extravagant meal had several traditional dishes such as pachadi which is a traditional Kerala dishes that could mirror a spicy raita, idiyappam or string hopper made with ragi flour, mambazha pulissery which is coconut milk-based tangy mango curry, kootukari which is a traditional vegetable curry with lentils, a fried papadam, green beans and some tamarind pickle. The lip-smacking meal was served on a traditional banana leaf. Are you drooling yet? Because we sure are. Take a look at her post:
If Masaba's comforting and wholesome traditional Kerala-themed meal has left you craving for some delicious dishes from the beautiful state, we have a few recipes for you to try at home:


1) Pulissery


Try this delicious traditional dish made with tangy buttermilk spiced with aromatic garlic, curry leaves along with sweet grated coconut and fresh and cool cucumber. Drool-worthy indeed!
Puliserry is a drool worthy meal


2) Idiyappam


This popular dish is enjoyed as a sweet breakfast as well as a savoury accompaniment to dip into some deliciously flavoured meat and vegetable curries. The dish is made traditionally using rice flour which is rolled into a dough and then squeezed through a mould to form its strings and steamed. You can switch the rice flour with ragi or any flour of your choice for a healthier option.


A pachadi is a condiment that is tangy and sweet made with a vegetable and tamarind and some curd. This recipe uses beetroot which along with its nutritional value and flavour also adds a delightful colour to the meal.
A pachadi is a condiment that is tangy and sweet.


4) Avial


Avial is a traditional vegetable curry made with a variety of vegetables like bottle gourd, pumpkin, potatoes, carrots and beans cooked in a mildly spiced yoghurt and coconut curry peppered with curry leaves, cumin seeds and green chillies.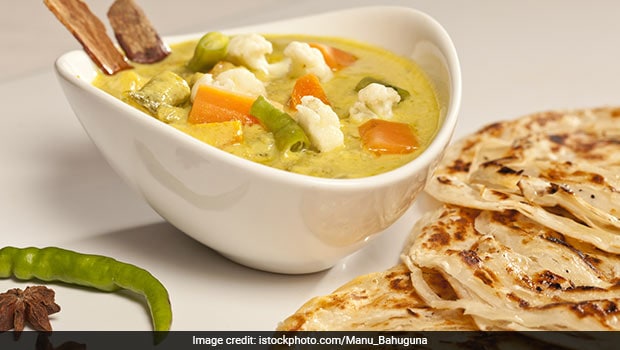 Avial is a traditional vegetable curry


Looking for a delectable dish to satisfy your sweet tooth cravings after a hearty savoury meal? This payasam recipe is perfect for you. A delicious kheer that combines sweet carrots with creamy milk topped with crunchy nuts. Yummy and super easy.
A delicious kheer that combines sweet carrots with creamy milk


Tell us in the comments what you thought of Masaba Gupta's delicious meal. Also, tell us which of these traditional Kerala recipes you enjoy the most.