Many people I know head straight either to Karim's or Al-Jawahar, when going to Jama Masjid for a meal. There's nothing wrong with either of those places, but I just feel that both are past their prime and over-hyped; like many other places in Matia Mahal and Old Delhi. Please don't get me wrong, both these places are institutions and one must respect them for being pioneers and what they've achieved; having established themselves and ruled over an unforgiving market full of cutthroat competition. Karim's the more successful of the two and has now opened branches all over Delhi. No mean feat! But as I said earlier, both are past their prime.(
Daawat-e-Dilli:Jama Masjid Iftar Trail
)I also feel that both Karim's and Al-Jawahar are no longer the face of food in Jama Masjid. For tourists, they still are for sure, but no longer for most locals or food enthusiasts.
(The Other Hyderabadi Biryani With a 300-Year-Old Past)
The Mughlai-fication of Butter Chicken
I'm not sure if there's been a name given to the study of street food, but I find it a fascinating subject. Most restaurant trends change fairly quickly, but that ain't the case for street food stalls. They evolve over a much longer period of time. And the successful ones stay put for a longer time. But the street is a cruel and unforgiving place. Restaurants have access to marketing tools which they utilise to draw clientele from outside their local sphere of influence. Street food on the other hand is extremely localised and the competition's usually quite fierce. And copiers of an original concept, many.
The Punjabis might have conquered the whole of Delhi with their Butter Chicken, but small pockets like Jama Masjid and others hold on with fierce resistance. Somewhat like the village of Asterix and Obelix in the face of the Roman conquest of entire Gaul. To add to that, they've developed they're own version of the Butter chicken and now call it the Butter Cream Chicken.
The Butter Cream Chicken is nowhere close in taste or texture to the Punjabi Butter chicken. But definitely looks like it's been inspired by it. Aslam Chicken Corner in Jama Masjid started this some 5-6 years ago. ACC making BCC. Hmmm! The Butter Cream Chicken is a very clever dish. It's taken the best of the Punjabi butter chicken; the butter, cream and chicken; left out the tomato and then given the dish a spin of its own.
(One of Mumbai's Oldest Street Food: Bhujing)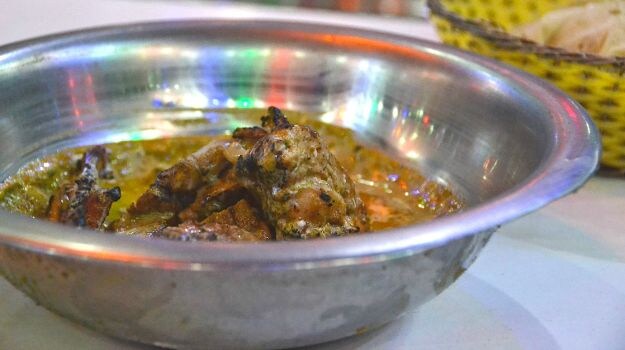 The Butter Cream Chicken at Aslam is nothing short of stunning. The chicken's marinated in a white pepper driven subtle spice mix and then cooked on a charcoal grill. It's then tossed in an sauce that's made from yoghurt, cream, a ton-of-butter, pepper and is mildly spiced. The yoghurt cuts through the fat and doesn't let it overpower the palate. The result is one of the best chicken dishes that I've tasted off the street. Simply outstanding! If you're the calorie-counting types, then forget it. Keep counting your calories. This stuff ain't cut for you. It's pure butter-cream, there's no way one can do a diet version of this one. But then, it's not as if you're gonna have it everyday. Trust me, indulge yourself, it's worth every bite.
According to me, this is the new face of food in Jama Masjid.
Aslam's usually quite crowded and a bit cramped. You can also do takeaways, if you so wish.
Disclaimer:
The opinions expressed within this article are the personal opinions of the author. NDTV is not responsible for the accuracy, completeness, suitability, or validity of any information on this article. All information is provided on an as-is basis. The information, facts or opinions appearing in the article do not reflect the views of NDTV and NDTV does not assume any responsibility or liability for the same.