Have you met the green almonds? Allow me
These velvety pods are green almonds, young fruits that grow into the dusky almonds that we all know and love. Crack them open to reveal a delicate delight that's earthy and creamy. The flavor is subtle with a sense of the nut it's going to become. The fuzz on the outside gives you a familiar feel akin to peaches, which reminds me that they belong to the same family. Nostalgia comes with a smile.The almond tree is native to the Mediterranean region and the Middle East. Almonds are actually the seeds of stone fruits. If you've traveled across the Middle East, you'd know that the green almond is regarded as the symbol of the first green fruit to appear. These baby nutlets grow in clusters right after the almond blossoms fall. Within a period of six to eight months, the tender inner nut turns tough. As they age, they lose their fur and shrivel to resemble the dark-skinned hard nut.
(Why Are Almonds Good For You)

Green almonds are unripe and are plucked before the nut has a chance to mature and form the hard shell. Picked too early, the almond may not have flourished and when picked too late it turns bitter and inedible. The right time matters. Therefore, they are only available during a short seasonal spell in the early growing months from April to mid-June.You can eat the whole almond, green flesh and all. It is crisp with a watery texture and a tangy flavour. Within the hull you'll find a skinless white seed that is very soft and filled with a jelly-like substance. This white almond offers a fresh flavour with mild floral and grass like notes. On the whole, it has a slightly astringent bite and tastes curiously good – the kind that will make you want to keep chomping to become familiar with the distinct flavours.
(Why Soaked Almonds are Better Than Raw Almonds)
You'll want to buy these almonds only when they're fresh, soft green and without any brown spots. Past their peak, when they are slightly older, the outer flesh starts to turn bitter but you can extract the milky almond from within. They can be stored in the refrigerator for few days. These immature pods are sometimes labelled as 'fresh almonds'.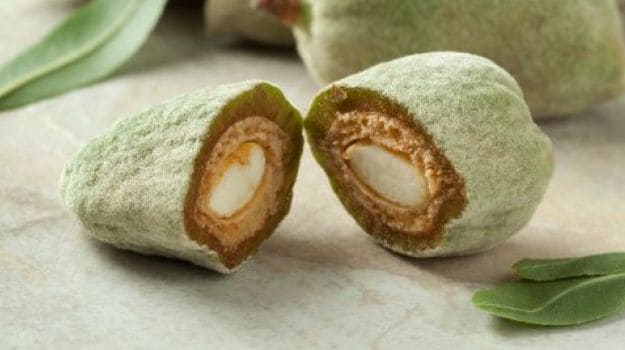 Going green for health
"Green almonds are full of fibre and great for digestion. The skin of green almonds contains a lot of flavonoids or bioflavonoids which makes them heart healthy. It is one of the few foods that help in reducing bad cholesterol. They contain no carbs and are ideal for those trying to keep their weight down," says Dr. Simran Saini, Nutritionist at Fortis Hospital, New Delhi.
(Will I Live Longer If I Eat Nuts?)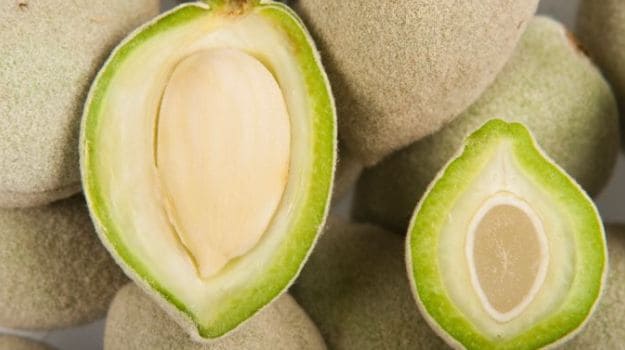 Back in the kitchen, what to do with them?
They really stand out when lightly tossed in olive oil with a whisper of sea salt and squeeze of lime. It gives the almonds a lovely crunch. A handful of these youthful almonds in my salads make them come alive. They can also be thrown into soups and pastas.
(Snack on These to Burn Belly Fat!)
They make a particularly good match with desserts, cakes, cookies or simply as a garnish on a scoop of ice cream. I also like to use them in dips and spreads where they lend a creamy character.
(The Rise of Nut Milks: A Perfect Substitute to Dairy)
Green almonds are quite a treat when pickled. You use them in salsas, salads or on your cheese platter. Most people like to soak these almonds in a brine solution (salt +water) and eat them off the palm as a snack.You may think you've met most kinds of nuts, but catch them young and they'll become your new favorite crisps.