Oh! Calcutta: A culinary journey
PTI | Updated: September 25, 2013 11:45 IST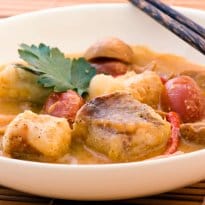 Ever wondered what makes Bengali cuisine so unique? Anjan Chatterjee, who owns the 'Oh! Calcutta' chain of restaurants, seeks to answer this in his book by the same name which is a culinary journey into the Bengali kitchen.

"A part of the answer must be in the uncommon ingredients such as banana flower, the sharp tastes of mustard oil or 'kashundi', and the thrilling tang of Bengal's king of limes, the Gondhoraj 'lebu'," he says.

"Look beneath the surface of royal dishes like 'Mochar Ghonto' (banana flowers with poppy seeds) or 'Aam Achar Ilish' (hilsa cooked with pickled mangoes in pumpkin leaves) and you might be surprised to find a few humble ingredients. "Vegetable parts that might otherwise be thrown away such as the soft peels of a young gourd or the leaves of pumpkin are turned into celebrated dishes. Even the humble mashed potato balls - Alu Bhatte - at the beginning of a meal can be a burst of flavours, pungent with mustard oil and raw onion, but melting in the mouth upon the first bite," he writes.

Oh! Calcutta is a dining brand of Speciality Restaurants Limited. It has nine restaurants across India and one in Bangladesh. Its food represents the marriage of Bengali, Nawabi and British cuisines in the city of Kolkata. The restaurant Oh! Calcutta captures the unique cuisine, serving flavours and tastes perfected over generations and its signature recipes find mention in the book, published by Random House India.

Chatterjee says when he started the restaurant Oh! Calcutta, I wanted to share his "own romance with my birth-state's cuisine to the tables of India", by presenting classic dishes as they have been made historically. "I never dreamed that the dishes I have cooked for the pleasure of so many at home and in my restaurants would one day become a heritage cookbook such as this. Serving my city's glorious cuisines to Indian diners has taught me one thing - there is a little bit of Kolkata in everyone," he says.
Kolkata is a city where the distinctive and subtle cuisine of Bengal has met and danced with culinary influences from all over the world, brought in by wave after wave of colonising rulers. The city's cuisine has been enriched by cooking methods, styles, ingredients and tastes from countries as far apart as China and Britain, from cultures as dissimilar as Mughal and Dutch, and cooking styles as varied as Avadhi and Syrian.

Some of the unique dishes mentioned in the book are Chicken salami with kosha liver, in which chicken salami gets a surprisingly Bengali welcome with mustard oil and mutton liver, adding a twist to the crunchy rice cracker or Sorshe narkol chingri, in which the Dhaka originated paturi and Japan's sushi come together to five the traditional prawn dish a surprising twist.

Then there are Mary Memsahib's fish fingers in Anglo-Indian style, Calcutta style mutton dum biryani, Railway mutton curry among a bevy of other recipes. "The rich culinary history has led to a city where completely distinct cuisines sit happily next to each other, each unique and yet each Bengali. Bengali vegetarian and non-vegetarian food jostles happily to Nawabi Mughlai offerings. Continental banquets serve entrees such as Chicken a la Kiev a stone's throw from Chinese restaurants that have been run by the same Cantonese families for generations.

"Mary Memsahib's fish fingers and the Indian Railway mutton curry come alive straight from the annals of Anglo-India Calcutta, a time when Bow Bazar reverberated with love songs and trains chugged in and out of railway stations like clockwork. In the railway refreshment rooms, the lightly spiced mutton curry was a staple of tired engineers yearning for a taste of home away from home," says Chatterjee.