A still silence enshrouds
Kolkata
on the evening of Doshomi, the last day of
Durga Puja
. Five days of fun, frolic and festivities are over and it is time to get back to the grind.
Things light up again a month later, literally. It is Kali Puja. The Bengali version of Diwali. This the time to burst crackers by the new moon while the puja goes on into the wee hours of the morning.
The jury is out on whether Durga or Kali is a bigger deity in Kolkata. Well, Kolkata's most popular temple is the Kali temple at Kalighat and the city is said to be named after the Goddess Kali according to some, which gives Goddess Kali a bit of an advantage. Plus, the city is dotted with Kali temples while there are hardly any for Goddess Durga.
The food part of Kali Puja for Bengalis starts a day or so earlier with Bhoot Chaturdoshi when people eat fourteen types of saags or green leaves. And people thought Bengalis don't eat vegetables! The effect of modernisation is seen these days and my mother says that vegetable sellers in Kolkata now offer washed and chopped greens to make it easy for people to cook the 14 varieties for their pre-Kali Puja meal.
There are no special desserts as such for Kali Puja though one thing that you see in stalls set up to sell puja paraphernalia are colourful sugar toys in the shape of boats, houses, animals and so on which are offered in the puja.
The big part about Kali Puja food in Kolkata is mangsho or goat meat. Traditionally, a goat used to be sacrificed at Kali Puja and this ritual was called patha boli. The meat was then cooked the next day for devotees. This practice is not so prevalent now but mangsho still features in most menus at home during the festival. It is normally cooked without onion and garlic on Kali Puja days. This perhaps may be the closest we Bengalis can get to being 'vegetarian'!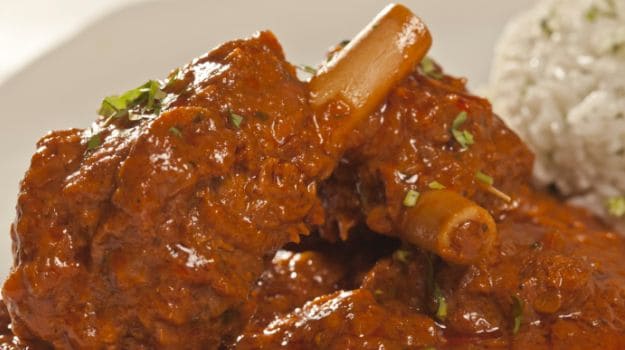 I left the city of Kali Puja a decade and a half back and moved into Mumbai where Diwali is celebrated by people across sections.
There are a few Bengali associations which celebrate Kali Puja in Mumbai. There is the Kali temple at Shivaji Park and then the Bandra Notun Polly folks who perform Kali Puja at the Bandra Hindu Association Hall opposite Hangla's, the roll shop at Bandra's Linking Road. Kali Puja happens at mid-night post which bhog is distributed to all who gather. No mutton features in the Bandra bhog though as it is a vegetarian affair and khichudi is the main attraction here.
However, Diwali is celebrated with much fan-fare in Mumbai (in comparison to Kolkata, though it is relatively more sedate affair than in North India). It is popular with the Gujaratis, Sindhis, Tamilians, Keralites and Maharashtrians of course.
I recently came across a local Mumbai Maharashtrian community that loves non-vegetarian food as much as we Bengalis do. This is the Pathare Prabhu community. They were one of the earliest settlers in Mumbai and trace their geographical origins to Rajasthan and genealogical lineage to Lord Ram and his sons Luv and Kush. The most famous foodie in this community is Kunal Vijayakar. Like Bengalis, they too celebrate Diwali by cooking mutton and even stuff karanji, the local pastry with minced meat, instead of just the usual sweet coconut filling. Paplet or pomfret is a must too.
Bimba Nayak, who used to cook in the Royal Kitchens of Kuwait in her youth, is a Pathare Prabhu who conducts cooking classes out of her home in Mumbai's Prabhadevi. During Diwali, she makes faral, which is a mix of sweet and savoury snacks that Maharashtrians and Gujaratis eat during Diwali. Bimba makes uniquely Pathare Prabhu faral such as karanji stuffed with dudhi (gourd) and the Rajasthan influenced churma. Her aim is to help Pathare Prabhu folks celebrate Diwali with traditional faral, which many of the new generation in the community do not know how to make or do not have the time to make.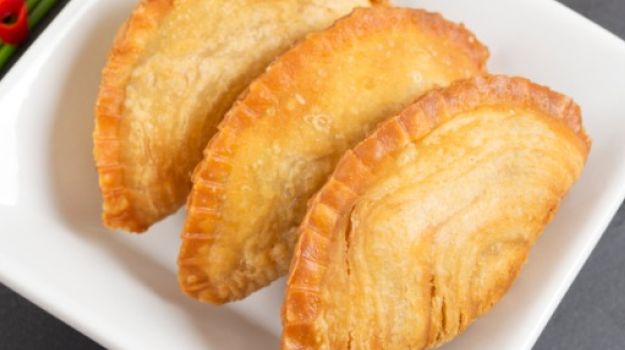 Another person popular for her faral is Anjali Koli who writes a blog called Annaparabrahma. She belongs to the Koli community, the community of fisher folks, and makes and sells faral typical to her community. Her faral has takers across the world and includes dishes such as coconut and jaggery filled pastry called Shingri which is called Karanji in Marathi along with the other Faral. Badam Paak and Narali Paak are the highlights of the Diwali Faral. They also make Dadpe poha, where poha or rice flakes are cooked with onion and tomatoes in her house.
Bhau beej, where brothers visit their sisters and promise to return again, is particularly big among Kolis as fishing is fraught with risk and the promise made to take care of each other is of special significance to them. Like, the Bengalis and the Pathare Prabhus, the Koli sisters too cook mutton on this special occasion.

So What About the Other Maharashtrian Communities?

I spoke to my friend Harshad Rajadhyaksha about what happens in his house on Diwali. He belongs to the GSB or Gaud Saraswat Brahman community of Maharashtra. Interestingly, their family deity (Kuladevata) is Mangeshi in Goa and they make a trip to Goa to seek blessings after auspicious occasions. Harshad is an advertising professional and a rare GSB vegetarian. His mother often cooks and sends us brilliant prawn and crab curries.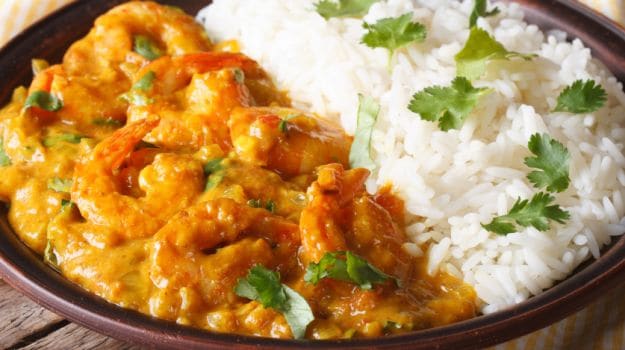 Harshad explained that the second day of Diwali is when the gastronomic festivities begin. This day is 'Narak-Chaturdashi'. The day marks when the asura (demon) Narkasur was slain by Lord Krishna. Families wake up early and perform the pre-dawn 'abhangya snaan' (a special bath with scented oil and Uptan). After which, kids and grownups alike rush to grab the Diwali goodies. Ritual demands that a 'Kareet' (a type of an extremely bitter green berry) is crushed under the foot by each member of the family, and some of its bitter juice consumed. This Kareet is symbolic of Narkasur and the act of slaying him. It is also a sort of a lesson that we need to go through the bitter to taste the sweet. Also, elaborate and beautiful Rangolis are laid out at the doors of each house this morning, and through each day of Diwali.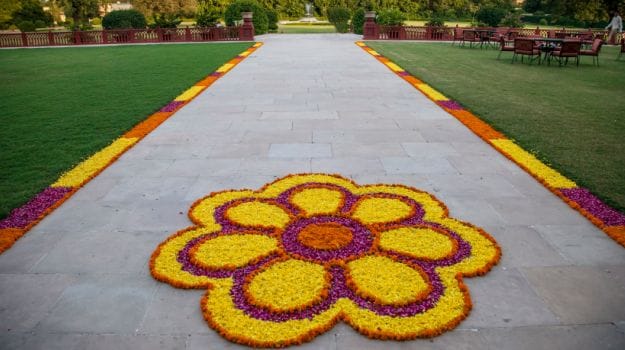 Breakfast follows with the much looked forward to faral (Diwali snacks). Traditionally, moms and grandmoms would start making faral a week before Diwali. These are Chakli (spicy spirals), Besan Ladu (Laddoo), Ravaa Ladu (Laddoo), Karanji (sweet crescent moon shaped snack, usually with a stuffing of sweet greeted coconut), Poha Chivda, Shankarpaali (small diamond-shaped fried sweets), Chirotey (puri-shaped layered fried sweet), and Shev (fried sev).
These are made in large quantities and are enjoyed well after Diwali. Faral is offered to guests who drop in at home and even distributed to neighbors. We have Maharashtrian neighbours who live in the ground floor of our apartment in Mumbai and they distribute faral to all the families in the building just as Harshad's family does. Working couples don't have time to make faral at home and often pick it up from shops such as Aaswad, Prakash and Panshikar which are in Maharashtrian dominated Dadar Shivaji Park area of Mumbai.
This year Harshad's parents are off to Spain-Italy so his mom, Bharati Rajadhyaksha, very kindly, has given me her secret Faral Rava Ladoo recipe to share and spread the joy.

Bharati Rajadhyaksha's recipe of Ravaa Ladu in the Faral:
Ingredients:
3 vaatis (small bowl) of fine Rava (semolina powder)
1 vaati Besan (gram flour)
1.5 vaatis ghee
Almonds finely chopped
2.5 vaatis sugar (medium sized bowls)
Half cup milk. Full fat!
As a sprinkling: Raisins and Elaichi powder

Method:
1. Heat up 1.25 vaati ghee in a pan, add the rava to it and keep roasting it in the ghee until it acquires a rosy hue, and starts smelling fragrant. After that, spread half a cup of milk over it.
2. Similarly roast the 1 vaati Besan in the remaining ghee, and when that is perfectly roasted, spread it over the earlier roasted Ravaa and milk.
3. In another pan, mix 2.5 vaatis sugar and 1.5 vaati water, and heat it well to form Sugar 'paak' (syrup). In this syrup, add elaichi powder, chopped almonds and raisins. Mix it all stirring gently, and turn off the gas.
4. Now mix the prepared ravaa-milk-besan from the earlier pan into this syrup pan, and mix well. When the mixture looks slightly thin in appearance, put a lid on the pan and keep it covered.
5. After a while when it is slightly cooled down, it will be ready to be rolled by hand into consistent laddoos.
About the Author:
Kalyan loves to eat and he loves to talk about all that he eats. His wife urged him to start writing about it, otherwise she would have to hear it all. He blogs as 'finelychopped' and is the editor at large for the India Food Network.
Disclaimer:
The opinions expressed within this article are the personal opinions of the author. NDTV is not responsible for the accuracy, completeness, suitability, or validity of any information on this article. All information is provided on an as-is basis. The information, facts or opinions appearing in the article do not reflect the views of NDTV and NDTV does not assume any responsibility or liability for the same