Have you tasted the sweet Aloe Vera ka Halwa or Malai Kulfi stuffed in fruits? Well, if you haven't and desperately want to try out then head straight away towards Purani Dilli (Old Delhi).The lanes of the walled city amaze every time with their wide spectrum of delicacies to satisfy food cravings.
Old Delhi
has been home to many eateries that are continuing the legacy in making culinary dishes that they call an art with recipes which they prefer to keep a secret.As the city gets draped under a blanket of winter, a walk towards Old Delhi becomes compulsory for sweet maniacs as these lanes will never disappoint you.If you can manage to break through the potholes, cross over the maddening crowd, overtake the
rickshaw walas
, and walk across the dingy lanes, you will find the
sweet sho
p - Sheeren Bhawan, standing tall at Hauz Quazi Chowk for the past 70 years. The sweet shop, which specialises in making sweets of pure ghee, was started by Fayazuddin and is currently managed by his great-grandson Adnan Qureshi and his three brothers."We are the fourth generation in this business, looking after the shop", said Adnan.Asked what makes Sheeren Bhawan stand out from rest of the sweet shops, Adnan replied, "We make sweets of pure
desi ghee
. Even the
ghee
is home-made. Our sweets are freshly made. We haven't made any alteration in sweet making".Sheeren Bhawan expertise in Aloe Vera ka Halwa, a less sweeter dish, elicits the fine taste of aloe vera mingled with pure
ghee
and dry fruits; Habsi ka Halwa, which is made of
laung
(clove) and adorns a brownish look presented with heavy pourings of dry fruits; Safed Gajar (white carrot) ka Halwa, as name suggests, the
halwa
adorns a whitish look. And special ghee Kewar ka Halwa, which is made of high proportion of
ghee
and other milk products.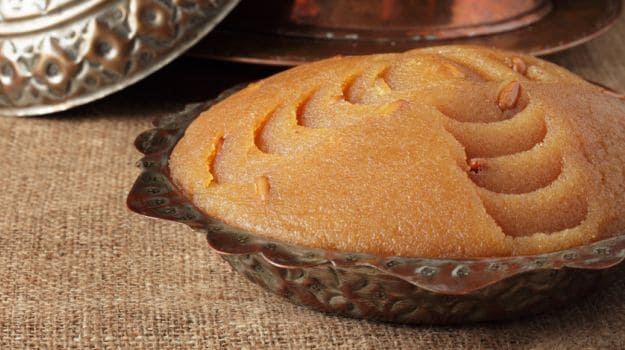 The
halwa
, heavily garnished with dry fruits and spices, speak of its rich ingredients and taste of pure ghee in every spoon of it."These few dishes are our specialities, you won't get it anywhere else", added Adnan.However, Gulab Jamun remains the hot favourite of local people. The
jamun
, made of 'mawa' are dipped deep in the sugary quotes reaching every part of the item.With no intention of opening outlets in other posh areas of Delhi or competing with other sweetmeat brands, Sheeren Bhawan is happy to be located in the lanes of the walled city.If your sweet craving is still not satisfied and you dare to have a bit of
kulfis
in winter, then your next stop should be Kuremal Mohanlal Kulfiwala, a shop that has been serving multiple flavours of
kulfis
for the past 100 years.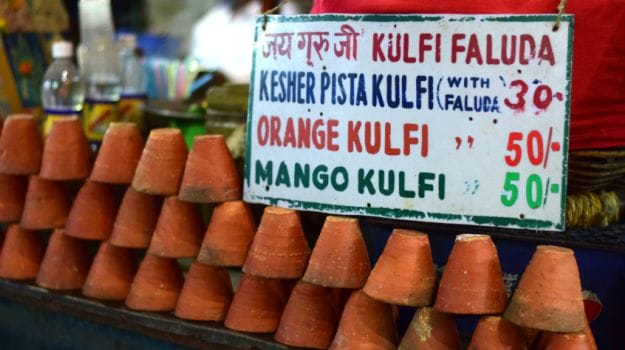 Located at Sitaram Bazar Road in Chawri Bazar, Kuremal's will amaze you with its variety of flavours. Starting off with
kesar pista
flavour, the shop now has come up with more than 60 flavours and there lies its uniqueness."We have more than 60 variety of
kulfis
," said Anil Sharma, now of the fourth generation continuing the legacy of Kuremal.The
namkeen kulfi
, fruit stuffed
kulfi
and Daulat ki Chaat
kulfi
are its specialities. There is a long list in variety of flavours. Some popular ones being
aam panna
, sweet mango,
paan, kesar pista
,
gulab
and
rabri.
The
namkeen
flavour kulfi lists
kaala khatta, imli
(tamarind),
aam papad
, sandalwood and
jamun
(blackberry)."We keep bringing out new flavours in
kulfi
. For us, the people's liking matters most. Our satisfaction is from customers' happiness," Sharma explained.Kuremal Mohanlal Kulfiwale is also a wholesale dealer for parties and other special occasions.With no other outlets in the city and not even planning so in the near future, Sharma said, "By god's grace our business flourished here. We cannot imagine to shift to any other place".So, take a walk into these old lanes and indulge yourself on a trip of sweet delights!FAQs:
Nearest Metro station for all these outlets: Chawri Bazaar
Prices: Rs.50 to Rs.600 depending on what you fancy and the quantity.