Outdoor Wine Glasses, and a Bottle for the Picnic
Eric Asimov, The New York Times | Updated: July 19, 2017 14:04 IST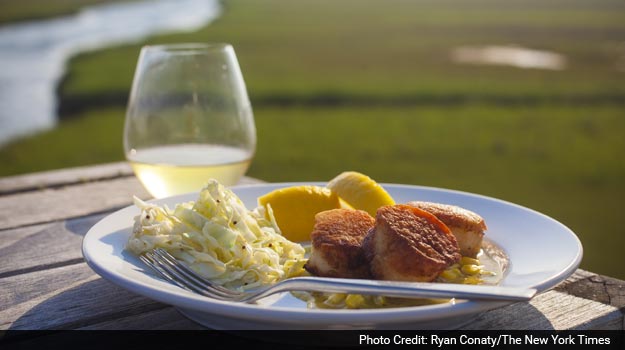 Drinking wine outdoors does not require a special set of rules. Yet it can be different from indoor drinking in crucial ways, particularly the farther you stray from the security of the house.

The meal on the patio or deck, just a screen door away from running water, cutlery drawers and glassware storage, is nothing but a modest change in location. But break the umbilical tether and transport that meal to a park, a lakeshore or a sandy beach, and things take a radical turn.
No longer do the fancy wineglasses seem like a great idea, unless a team of servants is trailing close behind. The meal will not arrive hot off the stove, unless a portable grill has traveled with you.

Everything will take a less formal turn: the presentation of the food, the manner of eating and, indeed, the drinking. That requires some thought about equipment.

Even in the easiest of settings, I'm not one to fetishize wineglasses. At home, I essentially use one set of good dishwasher-proof glasses for most meals, occasionally breaking out my set of Zalto Universals when I want the pleasure of handling beautifully designed objects.

Take me outdoors, far from the kitchen, and instead I want something modest, portable and unbreakable. Paper or plastic cups are unsatisfying compromises, though sometimes you can't do better.

But under no circumstances would I ever use flimsy plastic stemware. I've had the misfortune of lifting a glass of wine, not realizing that the stem and bowl had separated from the base until I tried to set the glass down on its spindly stem, sending a free glass to the ants.
Far better are good stemless plastic glasses like Govinos, which allow the pleasure of enjoying the wine in decent-size unbreakable vessels. They can even be reused, if like me you are plagued by a waste-fearing conscience.

Inventive minds are working on elegant alternatives, like the crowdsourced Pointer, picnic-worthy glass stemware in which the stem, like a metal tent peg, can be plunged into Mother Earth for stability.

The nature of the wine will, of course, be guided by the informality of the setting and the context of the meal. A backyard lawn party, with its proximity to creature comforts, poses a different challenge than a picnic or tar-beach gathering. Generally speaking, the farther you are from running water, and the lower the quality of your glassware, the more replaceable your wine should be.

Note that I said nothing about quality.

You should almost never drink bad wine, no matter what the circumstances. Why the qualifier? You sometimes have no control over the wine, as on a long airplane flight, and even then I may prefer a mass-market beer or water to the sort of faintly sweet red or artificially oaky white that would make a bad meal worse. If you are bringing the bottle, you have nothing to fear.

Replaceability is another matter entirely. Bottles that are precious, because they are old, expensive, rare or simply of sentimental value, ought to be given the respect they deserve. You want to consume them under the best possible circumstances so you can focus on the wine and its meaning rather than worrying whether its complexities can be appreciated in plastic.

Bottles that may require decanters, or special tools to extract fragile corks, are likewise not recommended. Save them for where they have the best opportunity to shine.

Instead, you want a bottle that will not compel you to throttle the oaf who accidentally kicks it over or invite deep self-loathing when you level a few glasses with an errant Frisbee toss. In other words, wines that can easily be replaced. You may consider having extras on hand.

What sort of wines? Every occasion makes its own demands. If you plan a Gatsby-like gathering, perhaps Champagne is in order, old sport, along with a decent white and red. Far more likely, your outdoor drinking will be relaxed and unaffected. In which case your wines should follow suit.
What are you eating? Sandwiches? Any number of decent rosés would be just fine. Burgers and hot dogs? Rosés would still work, though I may prefer a riesling with the franks and an easygoing red with the burgers: maybe a Loire gamay or Beaujolais or, really, any of hundreds of other choices.

You won't want to serve these wines warm. Are you bringing a cooler for the food? Stick a few bottles in, too. Which reminds me: Unless you are bringing screw-cap bottles, whatever you do, don't forget a corkscrew.

It's easy to raise the ante without sacrificing the replaceability principle. A good village Chablis will exalt any sort of seafood preparation. So will a Sancerre or other sauvignon blanc. Cold fried chicken will be great with a dry chenin blanc or sparkling wine. If you are grilling steaks, haul out the reds, unpretentious cabernet sauvignons or Bordeaux, syrahs or Crozes-Hermitage. Chiantis and other sangiovese-based wines can also be delicious.

Larger gatherings can be unwieldy. So let me suggest a departure: How about boxed wines, especially good ones, like the From the Tank series or the Wineberry Box?

These wines are perfectly suited to all sorts of occasions and foods. They require no special equipment; guests can help themselves; and they can be quite good. Because of their bag-in-the-box technology, they will stay fresh for many hours, to say nothing of days and weeks. Boxes are generally the equivalent of four bottles, so chances are you will have plenty.

Best of all, whatever is left over you can take home to finish at your leisure.

© 2015 New York Times News