Story Progress
Back to home
Aam ki Sabzi Recipe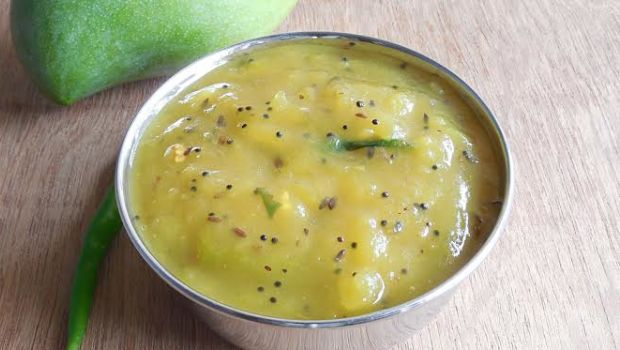 How to make Aam ki Sabzi
Chef Gunjan Goela cooks up an authentic festive dish straight from Purani Dilli. A sweet and tangy dish, Aam ki Sabzi.

Ingredients of Aam ki Sabzi
4 ripe mangoes, pulp with seeds (here the chef uses a variety called 'Dinga' but you can use any)
1 Tbsp ghee
1 tsp zeera
1/2 tsp heeng
2 tsp coriander powder
1/2 tsp haldi (turmeric)
1/2 tsp red chilly powder or to taste
1 tsp salt or to taste
2-3 glasses water
1.
Squeeze the mangoes to get the pulp. Retain the pip and keep aside.
2.
In a pan, heat some ghee. Add to it zeera, coriander powder and heeng.
3.
Add the rest of the masalas- haldi, red chilli powder, salt. Add a little water to it to prevent the masala from burning. (about 3/4 small cup).
4.
Now add the mangoes (with seeds) to the masalas. Add a little more water for it to boil well. (about 1 cup). Be careful not to make it to watery.
5.
Let it simmer for 5-7 minutes.
6.
Serve hot. It tastes best with rice.